Earlier this fall, Colt announced the release of its new Colt Combat Unit Carbine, a direct-impingement gas AR featuring Colt's first production mid-length gas system. The new rifle was an exciting offering from Colt on the heels of last year's entry-level Expanse M4 and represented a definite step up for shooters looking for an upgrade.
Recently, Colt conducted its annual Media Day event at Gunsite in Paulden, Arizona, where the company offers members of the media a sneak peak at upcoming new products for 2017. I was lucky enough to be in attendance, and while there are many new products I shot there that I can't talk about just yet, the Combat Unit Carbine is one that I can discuss.
In addition to utilizing Colt's first production mid-length gas system, the new Colt Combat Unit Carbine features a low-profile gas block, which permits the use of a slim and smooth Centurion CMR free-floated handguard with M-LOK attachment points. The gun also wears an assortment of Magpul furniture as opposed to standard GI accessories: a Magpul SL buttstock, a Magpul SL pistol grip, and a Magpul MOE trigger guard.
I've always preferred slimmer, extended forends such as the CMR, as there's less bulk and they permit a more forward hold, which feels steadier to me. And the Magpul furniture is similarly comfortable to use. The MOE trigger guard also seemed roomier, which might help those who choose to wear gloves.
The Colt Combat Unit Carbine features a 16-inch 4150 CMV steel barrel, which is chrome-lined and sports a manganese phosphate finish. The lightweight profile barrel comes with a 1:7 twist rate. The carbine also has a classic single-stage trigger that's perfectly adequate on its own, but can also be replaced for those looking to upgrade a bit.
Receivers are the standard 7075-T6 aluminum and are black hardcoat anodized. The upper is a flat top and comes optic-ready with no included iron sights. This seems like a good move on Colt's part, as many either find irons unnecessary these days or have strong preferences on which type of iron sights they want to use.
The gun incorporates an ambidextrous safety, which should help any lefties in the crowd. However, the bolt release and charging handle are of standard design, and not ambidextrous. A fully ambi design might've been a nice touch, but there are still plenty of other great features on the rifle.
None of this is of course surprising given some of the names that worked to help bring this carbine to fruition. Colt's Combat Unit, which had a great deal of input on the design of the gun, includes legendary firearms trainers Mike Pannone, Ken Hackathorn and Daryl Holland. Their influence and experience can be seen quite clearly in virtually every aspect of the gun, including the decision to go with a mid-length gas system and extended forend.
Functionally, the Colt Combat Unit Carbine seemed to perform just fine during my limited time with it. Colt had set up several steel plates at 50 yards and had outfitted the rifle with Trijicon's MRO red dot sight. The combo made easy work of the plates and was a joy to shoot. Transitioning between plates was simple due to the gun's relatively low weight (6.47 pounds unloaded) combined with somewhat reduced recoil because of the slightly longer mid-length gas system. Overall, Colt and the folks in the Combat Unit have done an excellent job here.
The new Colt Combat Unit Carbine is available now at an MSRP of $1,299. It is available exclusively from TALO Distributors.
Specifications:
Colt Combat Unit Carbine
Type: Semi-auto, direct impingement gas
Caliber: 5.56 NATO
Gas System: Mid-length
Barrel: 16-in., chrome-lined, 1:7 twist
Overall Length: 33-36.5 in.
Weight: 6.47 lbs. (unloaded)
Trigger: Single Stage
Stock: Magpul MOE SL buttstock
Sights: None, optic ready
Grip: Magpul MOE SL Pistol Grip
Receivers: 7075-T6 aluminum, black hardcoat anodized
Capacity: 30+1 rounds
MSRP: $1,299
Manufacturer: Colt
---
Find Out More About Iconic Colt
---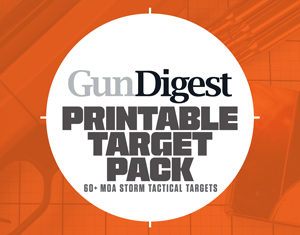 Next Step: Get your FREE Printable Target Pack
Enhance your shooting precision with our 62 MOA Targets, perfect for rifles and handguns. Crafted in collaboration with Storm Tactical for accuracy and versatility.
Subscribe to the Gun Digest email newsletter and get your downloadable target pack sent straight to your inbox. Stay updated with the latest firearms info in the industry.