The new Colt Lightweight Commander is an accurate, fast-shooting pistol perfect for everyday carry.
Given its slim frame and single-stack magazine, the 1911 pistol has always been a popular choice for concealed carry. This became especially true around the mid-20th century when Colt introduced the first-ever Commander-style 1911. Because of its lighter weight and more concealable overall length, many shooters preferred carrying the Commander to its larger Government model counterpart.
For 2016, Colt is continuing its development of the Commander platform by offering a new lightweight version specifically designed for those who carry. The new pistol will be offered in .45 ACP and 9mm variants.
The all-new Colt Lightweight Commander® features a lightweight aluminum alloy frame that results in a reduced weight, making it well suited for all-day carry. The light, yet durable, frame comes with a subdued black anodized finish that doesn't draw attention or reflect a lot of light, while the slide is made from rugged carbon steel and wears a classy blued finish. The pistol itself weights a relatively slight 29.4 ounces.
The Lightweight Commander® also comes equipped with a Commander-length Colt Dual Spring Recoil System™ similar to the one found on Colt's M45A1 designed for the U.S. Marine Corps, which is present on many of Colt's new pistols. The Colt Dual Spring Recoil System™ is designed to reduce the recoil felt by the shooter and to extend recoil spring life.
The system succeeds in both of these intents. Recoil spring life is dramatically improved at between 15,000 and 20,000 rounds, and felt recoil is noticeably reduced, especially with the 9mm model, which is remarkably easy to keep on target during rapid firing.
The sights on the new Lightweight Commander® are practical and efficient. The front is a simple Novak white dot, while the rear is a Novak Low Mount Carry notch sight. Target acquisition with the sights is quick and reliable, exactly what a shooter needs to feel confident in his or her carry choice.
The Lightweight Commander® uses a slightly shorter 4.25-inch, stainless steel barrel with 1:16-inch rifling and a polished finish. The quality barrel combined with a smooth and crisp 4.5- to 6-pound three-hole aluminum, single-action trigger results in a pistol capable of remarkable accuracy in spite of its reduced barrel length.
Additionally, the Lightweight Commander® is very well designed from an ergonomics standpoint. An extended thumb safety allows for quick and easy on-and-off activation for right-handed shooters, an essential for those drawing from concealment. There are easy-to-grip cocking serrations near the rear of the slide, and the pistol features elegant but functional Black Cherry G10 checkered grips. Other comfortable elements include an upswept Beavertail grip safety and an undercut trigger guard for proper hand placement.
With an overall length of 7.75 inches, an overall height of 5.5 inches and an overall width of 1.25 inches, the Lightweight Commander® tucks away easily but also isn't so small that it becomes uncomfortable to shoot or inaccurate, as some firearms designed for carry tend to. In addition, the magazine capacity is more than adequate with magazines holding 8+1 rounds in the .45 ACP version and 9+1 rounds in the 9mm model.
Each pistol ships with two magazines. Both models of the new Colt Lightweight Commander® are available for $949.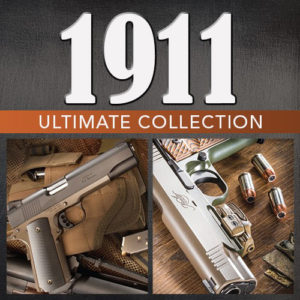 Colt Lightweight Commander®
Type    Semi-auto
Caliber    .45 ACP or 9mm
Barrel    4.25-in., stainless steel, polished
Overall Length    7.75 in.
Overall Height    5.5 in.
Overall Width    1.25 in.
Slide    Carbon steel
Frame    Aluminum alloy
Weight    29.4 oz.
Trigger    3-hole aluminum 4.5 to 6.0 lbs.
Sights    3-dot, Novak White Dot front, Novak Low Mount Carry rear notch
Finish    Blued (slide), black anodized (frame)
Grips    G10 checkered Black Cherry
Magazine Capacity    8+1 (.45 ACP), 9+1 (9mm)
MSRP    $949
Manufacturer    Colt.com
This review appeared in the Winter 2016 issue of Modern Shooter Magazine.
---
NEXT STEP: Download Your Free Storm Tactical Printable Target Pack
62 Printable MOA Targets with DOT Drills - Rifle Range in YARDS
This impressive target pack from our friends at Storm Tactical contains
62 printable targets
for rifle and handgun range use. Target grids and bullseye sizes are in MOA. Ideal for long-range shooting!
Subscribe to the Gun Digest email newsletter and we'll send your print-at-home target pack right away.
Just enter your email address below.
---