Updated 3/23/2023
No need to break the bank, these are the best AR-15 options that will get you on target and leave money for ammo.
What Are The Best Budget AR-15 Options:
White-hot as a plasma cutter, that's how it was around a decade ago. When everyone was certain politics would quash ownership, demand for AR-15 rifles got so out of control the most basic models moved for an insane price. A grand, sometimes more. Hard to believe, but true.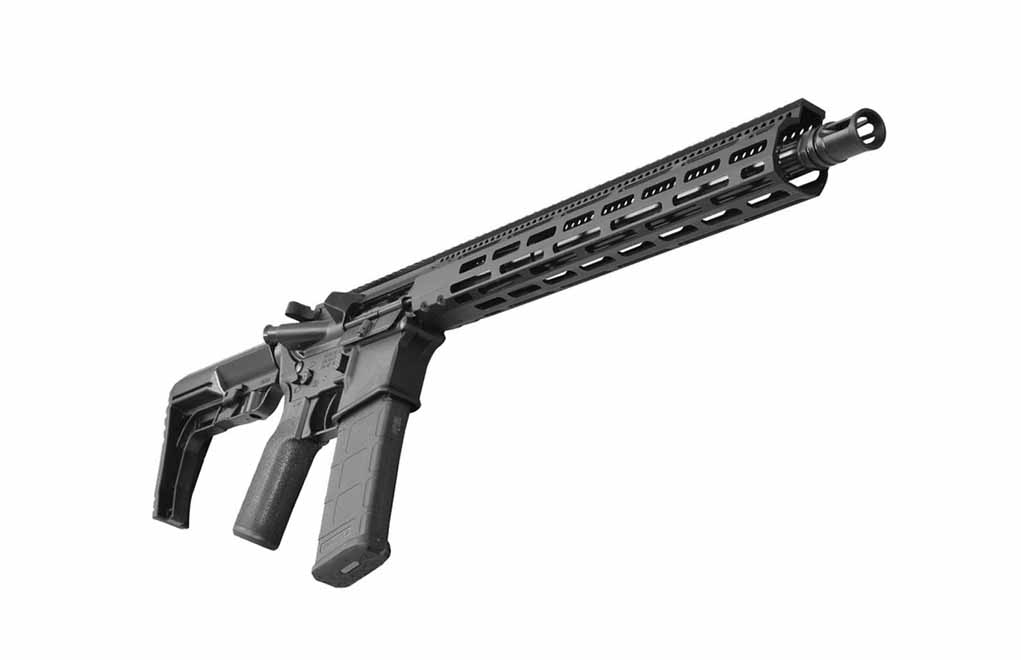 Outside of recent events of pandemic proportions—Covid 19 and the election of politicians hostile to gun rights—Americans' appetite for the handy rifle has been somewhat slaked. Certainly, shooters still love to build and buy Eugene Stoner's masterpiece. But they aren't donning their high school baseball spikes to trample over the rest of the market to nab one. In a word—again outside recent events—the market has normalized.
The performance of the AR-15 has not. In fact, given the wealth of top-rate ammunition, excellent upgrades and plenty of quality pre-built options, the rifle is better than ever. Spend the money and you can almost guarantee something tailored exactly to your needs. It'll shoot like a laser beam and be built to hand down to a son or daughter. The other end of the price spectrum isn't shabby either.
Entry-level models, though not tuned to the level of perfection of the top-shelf stuff, are still worthy investments—especially if you're new to the AR-15 game. Yeah, you'll most likely have a gritty mil-spec trigger out of the box and the handguard will be more Honda Civic than Corvette. But the rifle itself will hold its own well enough for home defense, target practice or even to fill a survival-gun role.
That said, we've collected 8 of the best budget AR-15 options that more than fit the bill for these applications and any others you might cook up. Our ceiling for this article is $1,050, which nets you a pretty good rifle, believe it or not. But before we get to the litany of rifles, it might be worth boning up on some basics of what to look for in an AR-15 in the first place.
However, if you know all this stuff and want to get to our entry-level AR-15 recommendations, you can skip ahead.
AR-15 Buyer's Guide Contents
AR-15: A Short History
Eugene Stoner designed the AR-15 in 1956 while working at Armalite, a smaller-caliber derivative of his earlier AR-10 design. A short aside for those who don't know, the AR designation stands for "Armalite Rifle" and nothing else. In operation the rifles are identical, just the chamberings are different. The AR-10 was chambered for 7.62x51mm (or .308 Winchester), the AR-15 5.56x45mm NATO, an evolved version of the .223 Remington based off the .222 Remington varmint cartridge. Why go small? Essentially so a soldier could carry more ammunition into battle. As far as its effectiveness, there's no doubt the 5.56 is deadly, but it remains a hot-button debate up to this day if it's optimal.
Anyhow, Armalite eventually sold the AR-10 and AR-15 rights to the company now most associated with the designs Colt. Under the guidance of the company, the rifle came under its first military contract by 1961 and was adopted by all United States Armed Forces in 1964.
This was a slightly redesigned model that was eventually designated the M16. Incidentally, today what is known as an AR-15—no matter what the chattering class tells you—is a much different animal to the original AR-15. What was produced in the '50s and '60s was a select-fire rifle, whereas the modern AR-15 is semi-automatic. Blame the confusion on Colt marketing folks, who designated the semi-auto civilian sporter model AR-15 to capitalize off its cousin's military cred.
Over time, the rifle evolved to meet the military's changing needs, until the M4 Carbine design was adopted in the 1990s. Barrel and gas system length are the changes here, with a 14.5-inch barrel and a carbine-length gas system. Overall, this is the most popular pattern found in AR-15s today, though the rifle comes in every shape and size. By The Way, AR-15 technically only applies to Colt rifles—they own the rights—hence the reason you find other manufacturers calling the gun all sorts of different names, such as Palmetto State's PA-15.
AR-15's Desirability
There is little arguing the AR-15 is the most popular rifle of the late 20th and early 21st Century. In fact, it is the most owned rifle in America, which raises the question Why? Multiple reasons.
History: Yeah, it's not the original military rifle, but is close enough to scratch most folks' vintage itch.
Shootability: The platform is very accurate at intermediate ranges and dang pleasurable to shoot. Most of the cartridges the rifle is chambered for are mild with little recoil.
Modularity: Next to its down-range performance this is the AR-15's biggest selling point—you can tailor the rifle to exactly your preferences. Handguard, trigger, sights, grip, mag release, you name it and there's an aftermarket upgrade. Bonus, most don't require armors certification to add to a rifle.
Breakdown Of The AR-15
Getting to the rifle proper, there are numerous factors to consider when investing in an AR-15. Let's skim over the major parts of the gun and hash out the importance of each and some specifics to look for when shopping.
Receivers
The AR-15 rifle has two receivers, the upper and lower. However, the lower carries special significance, given it is the part the Federal government technically considers the firearm. Hence the reason it is serialized. If you were to build a rifle from scratch, a very satisfying endeavor, you would require an FFL and background check to purchase even a stripped lower receiver. The upper, even a complete one—which includes all the internals, barrel and handguard—could be shipped directly to you without the need of a licensed intermediary.
The great majority of receivers are constructed from aircraft-grade aluminum alloy, usually 6061 and 7075. The numbers simply designate the type of alloy being used and sometimes include a sub-grade designation, such as "-T4" or "-T6". These specify the temper placed on the aluminum, that is, how the alloy was heat treated.
There are two types of lower receivers billet and forged. Billet receivers are produced from a single block of aluminum that is machined into the profile of a lower. It's a more time-consuming process, however, it yields more unique designed and integrated features. Forged receivers are made by hammering two roughly shaped halves of aluminum, then machining the profile later. This is the more affordable of the two methods, given machining is kept to a minimum.
Which is better? That's a can of worms, given billet and forged receivers each have the advocates. Overall, forgings tend to be more durable, given the alloy's grain structure remains intact. But billet receivers achieve tighter tolerances.
AR-15 Barrel
Simple as a fire tube seems, there the AR-15 barrel is a multi-faceted topic. Let's delve into what you'll find when you shop for a rifle.
AR-15 Chamberings
Quite simply, the chambering is what type of cartridge the rifle shoots. And the AR-15 shoots quite a few cartridges. Richard Mann has an excellent piece on AR-15 calibers if you want to survey what's out there. However, by far the most popular AR-15 chambering is 5.56x45mm NATO and accounts for nearly every option on our list below.
If this is your first endeavor into AR-style rifles, the common caliber is a solid choice. Outside of buying panics (hello 2020 and 2021), it is widely available and generally affordable. It's also lights out at intermediate ranges, is an absolute Thor's hammer versus varmints and is legal in many states to take deer. Also, it'll do a number on a home invader.
While the 5.56 NATO is essentially a .223 Remington, the two are not interchangeable. Patrick Sweeney gives the nitty-gritty on the .223 vs 5.56 if you're interested in specifics. For our purposes this is what matters:
A 5.56 NATO barrel will shoot both 5.56 and .223 Remington.
A .223 Remington barrel will only shoot .223 Remington.
A .223 Wylde will shoot both 5.56 and .223 Remington.
Barrel Length
While you won't find them on a production rifle, there are 26-inch AR-15 barrels in this world. At the other end of the spectrum 4-inch options. Also everything in between. On the surface, it's a bit of a muddle on what to choose, but law and performance help thin the field fairly quickly.
By Federal law, a rifle must have a 16-inch barrel, which can include a permanently affixed muzzle device (i.e. suppressor, muzzle brake). Go any shorter and the gun is considered a Short Barrel Rifle (SBR) and requires a tax stamp and registering it. For most, these are a hurdle not worth crossing, in turn, 16-inches is the basement. The ceiling, unless you get into custom rifles, is 20-inches on most production offerings.
As for performance between the top and bottom, it's marginal. In general, a 20-inch rifle produces more velocity, given it has more bore, thus ensuring a more complete powder burn. But it will only beat out a 16-inch AR by roughly 150 to 200 fps at the muzzle. In many shooter's books, it's a marginal difference, which tends to give the shorter barrel the advantage. With the same contour, the 16-inch barrel is stiffer, thus suffers less barrel whip and is much more nimble.
However, if you aim to milk as much range from an AR-15 as possible, the 20-inch flavor might be your cup of tea. It'll produce greater velocity, thus get the bullet where it's going faster and narrow the window in which wind and gravity work upon it.
Barrel Material
AR-15 barrels are either made of carbon steel or stainless steel. Here are the most common of each.
Carbon Steel
4140: The most affordable steel, the alloy contains .80 to 1.10 percent chromium, .15 to .25 percent molybdenum and .40 percent carbon. The materials increase the strength and hardness above standard carbon steel.
4150: Also containing chromium and molybdenum, this steel has .50 percent carbon. The steel has higher tensile strength, however, requires a stress-relieving treatment, thus is more expensive.
Chrome-Moly Vanadium (CMV): Developed by Colt, the steel is the official mil-spec material used in the military's M16 and M4 rifles and carbines. Essentially, it's 4150 steel with the addition of Vanadium, which significantly increases strength, hardness and stability in high temperatures.
4150 CMV, 41V50 Steel or 4150 V: Same as CMV, but the name's been dolled up for marketing purposes.
MIL B-11595: It's not steel, but a specifying document of the materials used in a mil-spec barrel. Some companies slang it up and use this designation for CMV barrel just to sound cool and confuse the entire world.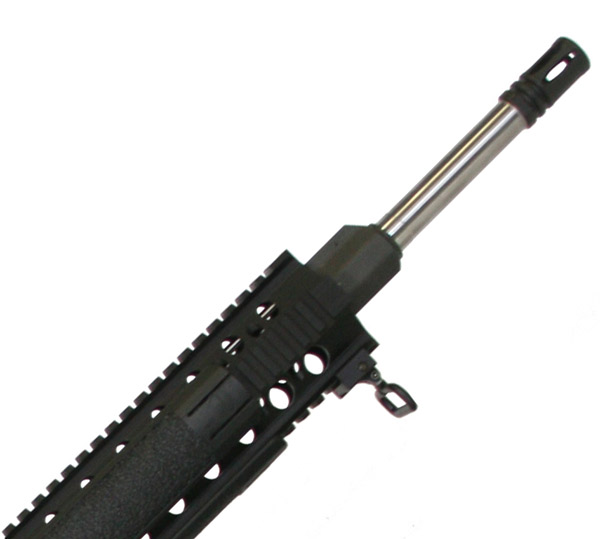 Stainless Steel
410: A stainless steel that includes molybdenum and is known for its durability (perhaps the best of the lot). However, it is not recommended for cold-weather duty. Below freezing, the risk of cracking is increased.
416: A highly machinable stainless steel, thus allowing for better rifling and performance. However, it is less corrosion resistant than 410. Not the top choice of the lot.
416R: A proprietary alloy from Crucible Industries, it's normal 416 stainless with molybdenum added. It machines like 416, however, has superior low-temperature performance and corrosion resistance.
17-4 PH: Known for its high strength, corrosion resistance, good mechanical properties and toughness. Precision shooters love barrels made from 17-4 PH, given the extreme uniformity and smoothness of the rifling—that and a barrel will last 3 times as long. However, the process in which its made—precipitation-hardening (PH)—makes it expensive.
Barrel Lining
Yup, there's something in the AR-15's bore (in many cases) besides rifling. Barrel linings are found in carbon steel barrels and improve their corrosion resistance and improve their longevity. Note, some manufacturers do not line their barrels, which isn't a sin against God. If you're in the market for a causal target rifle you'll take out occasionally and care for properly, a non-lined barrel will get the job done. Harder use on the horizon, consider a barrel with this lining.
Chrome: The longest and perhaps most-used lining, Chrome reduces the effects of friction and heat on the barrel proper. Additionally, it makes cleaning much easier. This all adds life to the barrel. However, the process is known to reduce a rifle's accuracy, though not to the extent that renders it useless. Most casual shooters won't know the difference.
Ferritic Nitrocarburizing (FNC): Most likely you see FNC lining called something different, usually Melonite or Nitride. It's essentially a case-hardening process that diffuses nitrogen and carbon into the steel. Thus treated a barrel can withstand direct exposure to water, heat, salt and corrosive elements better than any other process. Additionally, since it does not add material, it maintains the barrel's accuracy.
Barrel Rifling
Manufacturers use different methods to apply the rifling to the barrel's bore. Some methods are better for certain applications, here's a look.
Cut Rifling: The oldest method of rifling a barrel, the process removes metal from the bore using a single-blade, hook-type cutter. Each groove is cut individually and with multiple passes, making it time-consuming and expensive. However, it introduces no additional stress to the barrel and tolerances can be kept tight.
Broach Rifling: Very similar to cut rifling, except a multi-bladed broach (metal bar) is used to cut successively deeper grooves. All the rifling is cut at once and in a single pass. This is a more affordable method with little stress placed on the barrel that has very consistent results through the entire bore. Broach rifling a barrel, relative to other methods, is still expensive.
Button Rifling: Essentially, a button of tungsten carbide with a reverse of the rifling is drawn through the bore displacing metal to lay down the pattern. It is a fairly economical system that turns out excellent results. The lands and grooves are very uniform and have a smooth finish. However, this method puts stress on the barrel that typically must be relieved afterward.
Cold Hammer Forged (CHF): A tungsten-carbide mandril is run into a roughly shaped barrel blank and the rifling is hammered into the bore. Overall, a majority of AR-15 barrels are made in this fashion and they are extremely popular with shooters. Tough as nails, these barrels withstand a lot of abuse. However, the barrels must be stress-relieved after the process and CHF doesn't produce the uniformity of the other processes. Though, most shooters won't notice.
Types of Rifling
This used to be cut and dry, but with the advent of 5R rifling has become a factor. What is 5R rifling, simply put the leads are opposite of the grooves and tapered. The idea behind this is to create less bullet deformation, thus maintaining ballistic integrity. Additionally, it's supposed to be easier to clean. Traditional rifling still dominates the AR-15 market—lands opposing lands, with no taper. The jury is still out on if one outperforms the other.
Barrel Contours
Barrel contours, or barrel profiles, are simply the shape of the barrel. On the surface, a fire tube's form might not seem like much, but it has an effect on performance and the AR-15 manageability. Thick and heavy bull barrels tend to take longer to heat up, suffer less barrel whip and maintain their harmonics better. The trade-off, their heavy and not something most folks want to hump around. Conversely, thin pencil barrels are light and make for a fairly nimble rifle, but heat up quickly and become "whippy".
Fluting can provide an acceptable middle ground, removing material lengthwise along the barrel. This helps maintain rigidity, creates more surface area to dissipate heat and lightens an AR-15's burden. Still not as much as other styles. Here's a brief overview of common AR-15 barrel contours.
A1: The original pencil barrels found on the M16A1 rifle.
A2: Heavier profile forward of the gas port, found on the M16A2 rifle.
M4: Thin near the chamber, heavy just before and after the gas port, found on the M4 carbine.
Government: Same as the M4, but lacks the grenade launcher cut.
Heavy: Like it sounds, a thick bull barrel.
AR-15 Gas System
The gas system power behind how an AR-15 cycles. The gas from the conflagrated powder behind the bullet is bled off and either moves the bolt-carrier group (BCG) or a piston. Here's a brief overview of each.
Direct Impingement (DI): This is the system that directs gas back to the receiver to move the BCG. It is extremely light and does nothing to infringe on an AR-15's accuracy. However, it injects a good deal of carbon and fouling into the receiver, meaning the shooter must stay up on cleaning detail.
Piston: Gas forces a piston rearward which moves the BCG. While this keeps the receiver clean and is a somewhat more robust system, it does have its flaws. Pistons-driven guns are known for being less accurate, heavier and more expensive.
Gas System Lengths
The length of a gas system is determined by the distance to the gas port (where gas is bled). There are four lengths.
Pistol: 4 inches
Carbine: 7 inches
Mid-Length: 19 inches
Rifle: 12 inches
Gas Bocks
On a DI AR-15, the gas block is what diverts the gas from the barrel into the gas tube, thus back into the BCG. Most entry-level guns utilize a front sight base style gas block, in which the block is integral with the front sight. However, low-profile gas blocks, which reside under the handguard, are becoming more common.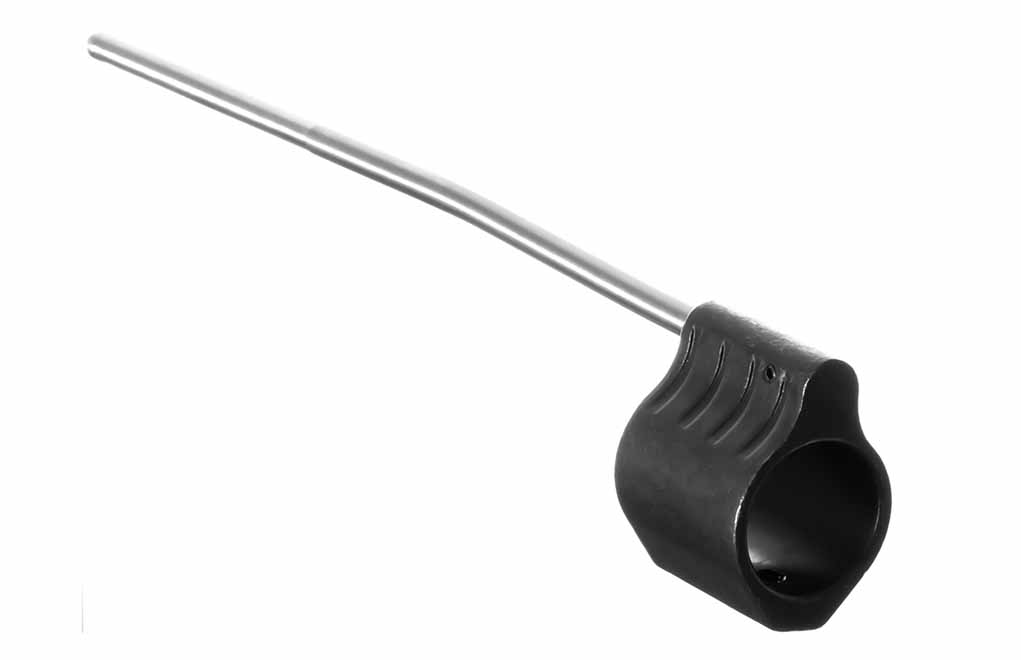 Bolt Carrier Group
The AR-15 bolt carrier group is where a lot of the action happens in the rifle's operation. The component loads the fresh round, fires it and ejects the spent case. Essentially it's made up of four main components.
Bolt: The rotating bolt locks the chamber for firing, as well as strips a fresh round off the magazine. It also has an extractor, whose job is to pull the spent case out and eject it from the receiver. Bolts are typically made of one of three kinds of steel, Carpenter No. 158, 860 or 9310.
Carrier: The heart of the BCG, it houses all the other components and does all the heavy lifting. It deals with a ton of force and thus must be well made from tough material, the same kinds of steel as the bolt.
Gas Key: The small cupped device at the top of the BCG. It catches the diverted gas to thrust the BCG rearward, thus cycling the rifle.
Gas Rings: Traps the expanding gas, allowing it to operate the bolt.
Cam Pin: Stops the bolt from over-rotating when unlocking and keeps the cam pin, bolt, and firing pin rotating and moving as one unit.
Firing Pin: Strikes the primer to initiate the firing process.
Barrel And Bolt Testing
Most manufacturers give a damn about the quality of their products, thus test them for imperfections. There are two main tests Magnetic Particle (MP) and High Pressure (HP). Each is designed to detect any cracks or flaws in barrels and bolts, each component should be stamped with the acronyms if they've gone through the procedures.
Handguards
More the preventing you from singing your hand, many handguards serve as an accessory attachment point. Two of the most popular systems to this end are M-Lok and Keymod—the former more prevalent. As to the types of handguards, there are two main varieties: free-floated and non-free-floated. As the name suggests, it is all determined by if the handguard makes physical contact with the barrel. Free-floated handguards a preferred as they enhance the accuracy potential of a rifle. But non-free-floated will get the job done without knocking a gun too far off-kilter.
Buffer Tube
This is the protrusion on the rear of an AR-15, where the buttstock attaches. It housed the buffer spring and weight, whose jobs are to slow the rearward path of the BCG and return it forward.
AR-15 Triggers
Next to the AR-15's performance, modularity is perhaps the gun's greatest attraction. From buttstock to front sight post, there isn't a facet of the rifle that can't be fiddled to perfection. Needless to say, your options are legion and far too vast to cover here. Instead, we'll zero in on one feature of the gun you should consider at the top of your AR-15 upgrade list—its trigger.
---
Get On Target With The AR:
---
By and large, what is known as a mil-spec trigger is a nasty beast. It'll get your gun to go BANG!, but it won't do much to enhance its performance. As you progress as a shooter, you'll find those crunchy, gritty, squishy triggers detract from your accuracy potential. Thankfully, putting a better bang switch into your rifle is among the simplest upgrades and for the money one of the best values. With that in mind, it's wise to factor an extra $100 to $200 into the base price for an upgraded AR-15 trigger. Yeah, it ups your investment, but you won't find it a waste of money by any stretch.
The fine print behind us let's jump into the meat of the matter.

Best Budget AR-15 Options
Smith & Wesson M&P 15 Sport II
While not as storied a history with the rifle as some, Smith & Wesson has proved more than adept at producing the platform since 2006. Its M&P 15 Sport II is a bare-bones budget AR-15, but one that performs superbly. It's an excellent choice to familiarize yourself with the platform or fill the role as a no-frills fighter for home defense.
The base model has a 16-inch barrel, Armornite finished including the bore and comes outfitted with an A2 front sight and folding Magpul MBUS rear. Standard, the direct-impingement gun boasts a 30-round magazine, though Smith & Wesson sells state-compliant models for both capacity and configuration.
Smith & Wesson keeps the rifle simple, which includes chambering—5.56. But the lack of variety in calibers gives the company time to concentrate on the M&P 15's top-notch performance. MSRP: $812, smith-wesson.com

Ruger AR-556
A latecomer to the AR game, Ruger has made up plenty of ground. Its AR-556 has fast become a favorite among newbies and old hands alike, offering clockwork performance at a fair price. Especially the standard model.
As its name implies its strictly a 5.56 chambering, though if you wander up the pricing tiers Ruger does offer some other calibers. The rifle has a medium contour 16.10-inch cold-hammer-forged barrel, with a 1:8 twist rate and is topped with a proprietary flash suppressor. The muzzle is cut with a ½-28 thread, so the AR-556 is more than ready for you to slap on a suppressor.
The budget AR-15 is outfitted with an A2 front sight and the company's rapid-deploy rear that folds away, but is ready at a moment's notice. The AR-556 has attachment points including a QD socket and bayonet lug, for a sling, as well as accessory mounting options. Though, its glass-filled polymer handguard does leave a bit to be desired. Still, it's functional and gets the job done. MSRP: $1,019, ruger.com

Core LO-PRO Scout
Core Rifles Systems has a solid line-up of AR-15s, include its entry-level Scout. A basic M4-pattern, there isn't a ton of surprises to the carbine, but in this case, boring is good. Well-made and familiar, the Scout is tediously reliable and right on the money downrange. What else do you need?
Core, however, does allow you to upgrade the 5.56 rifle before it gets in your hot little hands, none of the extra's putting the gun over this article's price threshold. Perhaps the most weighty, the option for a nickel-boron bolt-carrier group (BCG). The high-tech alloy is more wear-resistant, as well as self-lubricating, ensuring smoother performance over the long haul. MSRP: $850, core15rifles.com
Del-Ton Sierra 316L
If you're a penny pincher, Del-Ton is a good brand to fall in love with. The better part of its catalog comes in at less than $800, yet the company doesn't skimp with its builds.
We gravitate to the Sierra 316L ourselves, given the flattop has a better handguard than you'll find on most guns in its class. A free-floated unit, it keeps the barrel's harmonics pristine improving the rifle's overall accuracy potential. Furthermore, M-Lok slots at the 3, 6 and 9 o'clock positions give plenty of room for accessory attachment. Plus it has a load of high-end features: chrome-moly-vanadium barrel (1:7 twist), DTI low-profile gas block, phosphate steel carrier assembly and chrome-lined carrier interior, among other things.
The hitch for some on the 16-inch barreled carbine, it's a flattop. In turn, you'll have to invest in an optic or iron sights, if you don't have either. Still, if you're willing to take the extra leap at an aiming solution, the Sierra 316L provides you a superior platform for an entry-level price. MSRP: $675, del-ton.com
Palmetto State Armory (PSA) PA-15 M4
Long a purveyor of excellently priced and made ARs, few top Palmetto State AR Armory when it comes to value. Again, it's one of those companies where budget AR-15 options are the norm, but its base model PA-15 is tough to beat when you're getting your legs with the platform. First and foremost, because the carbine ticks like a clock, leaving you free to master the platform, not addressing stoppages (though, you should work on that too).
The M4-pattern carbine boasts a 16-inch M4 profile chrome-moly-vanadium barrel (1:7 twist), mid-length gas system and aircraft-grade aluminum receivers. It has an A2 front sight, as well as a stainless-steel carrier and Carpenter 158 steel bolt head, which is tough as nails. In the rear, the 5.56 has a 6-position M4 buttstock, upfront a plain-Jane M4 handguard, which isn't much to write home about, but gets the job done. MSRP: $849, palmettostatearmory.com

Anderson AM-15 A4 Carbine
For those who want a simple, no-frills AR-15 carbine that can get the job done out of the box for not a lot of money, Anderson Manufacturing's AM-15 line is worth a look. The company has quite a few variants available with different barrel lengths and furniture sets, but the A4 Carbine is a solid choice.
Unlike some of Anderson's "optic ready" variants that come with a low-profile gas block, the A4 Carbine comes with a classic A-frame front sight instead. Paired with the included Magpul MBUS rear sights, it's ready to rock right away. Of course, the upper receiver still features Picatinny rail for an optic if you choose to add one later. Otherwise, the AM-15 A4 Carbine is pretty standard. It has a 16-inch 4150 Chrome Moly Vanadium M4-profile barrel with a 1:8 twist, a carbine-length gas system, and standard AR carbine furniture. MSRP: $599, andersonmanufacturing.com
Springfield Armory SAINT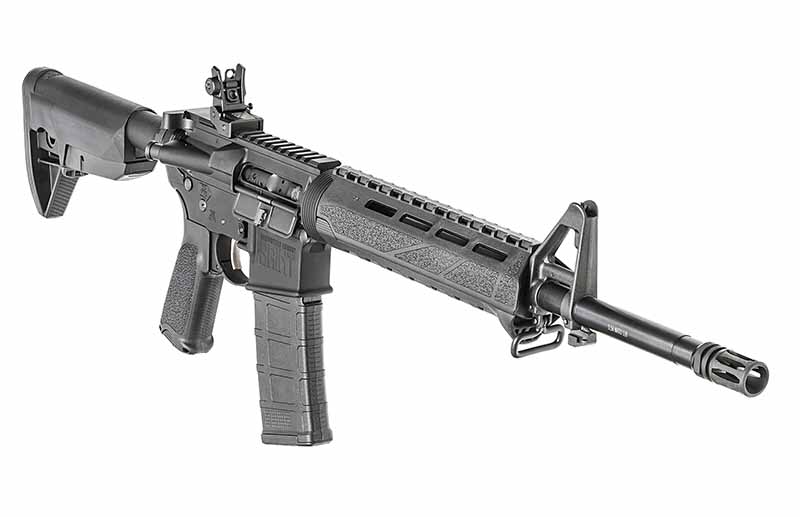 Honestly, for the money they ask, Springfield has cooked up among the best entry-level AR-15 options in the SAINT. While it does boast several spartan features, it has many assets generally not found in this class of rifles. Top-end component for one.
Whatever Springfield didn't make themselves, they picked top-shelf manufacturers to fill the role. These include Bravo Company furniture, including an M-Lok compatible handguard and a Gunfighter trigger. The switch is especially nice, not a bit of creep and a reset no bigger than a minute—just the thing to get the SAINT humming. The company's in-house assets are no slouches either: self-lubricating nickel-boron coated BCG, Melonite treated CMV 16-inch barrel and a mid-length gas system. It also boasts Springfield's Accu-Tite system, which tensions the receivers so there's no play.
The gun has a rugged fighter's feel to it, something that won't leave you high and dry when you need a carbine that will always go bang. Though, for a more discerning pleasure shooter, it certainly won't disappoint. MSRP: $1,023; springfield-armory.com

Sig Sauer M400 Tread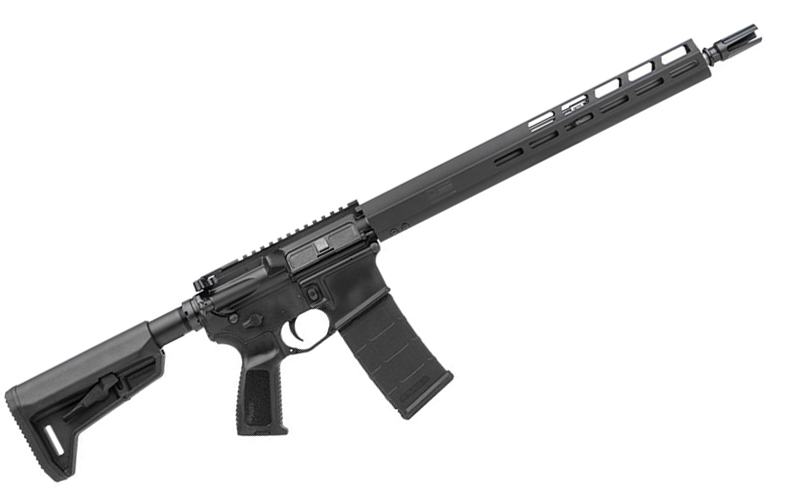 There were some dubious voices when Sig announced its first sub-$1,000 AR-15 a few years back. Once the M400 Tread was released, those voices were soon silenced. In many folks' opinion, the 5.56 carbine is the best of the budget class of carbine and for one simple reason. Sig didn't compromise.
Top to bottom the M400 Tread delivers a tightly built AR that goes bang every time you pull the trigger and hits the mark. What more could you want? And Sig went the extra mile, arming the 16-inch, stainless-steel barreled carbine with such assets as ambidextrous controls, crisp single-stage trigger, M-Lok compatible, free-floated aluminum handguard and 3-chamber compensator. The stainless-steel barrel catches our eye, upping the gun's accuracy potential and helping it blow off heat during long strings.
Overall, and perhaps more than any other AR on this list, the Tread feel, looks and performs like it was built for hard use. Truth be told, you might drop coin because it's entry-level price, but come to find it's all the gun you require. MSRP: $950; sigsauer.com

Bushmaster QRC II

Bushmaster was shuttered by Remington, but now is back. With it comes the Bushmaster QRC II. While not as affordable as the original model, the carbine carries on the nearly 40-year tradition of the company. The Quick Response Carbine (QRC) model is the way to go if you're in search of a solid, though stripped-down iron.
You'll have to supply your own aiming solution with the QRC, as it's a flattop without any iron sights. However, Bushmaster throws in an aluminum magazine with the deal that, at least in the looks department, gives the gun some retro appeal.
The carbine comes with a nitride-finished 16-inch pencil barrel (1:7 twist) and a carbine-length gas system. It's outfitted with a run-of-the-mill A2-style flash hider, M4 carbine buttstock and mil-spec trigger, as well as a 14-inch Bushmaster Free Float rail for mounting accessories. All pretty standard, but more than enough to get a shooter going. MSRP: $781.80, www.bushmaster.com
---
NEXT STEP: Download Your Free Storm Tactical Printable Target Pack
62 Printable MOA Targets with DOT Drills - Rifle Range in YARDS
This impressive target pack from our friends at Storm Tactical contains
62 printable targets
for rifle and handgun range use. Target grids and bullseye sizes are in MOA. Ideal for long-range shooting!
Subscribe to the Gun Digest email newsletter and we'll send your print-at-home target pack right away.
Just enter your email address below.
---