The new Browning X-Bolt Long Range Hunter pairs excellent accuracy with a stylish, born-to-hunt platform.
Every once in a while, you pick up a new rifle and find that you have difficulty putting it down. You examine it minutely and run your hands over it. You work the bolt repeatedly, shoulder the gun and maybe dry fire it a few times, and a little voice inside your head says, "This one's a shooter."
That was my first thought when I picked up Browning's new X-Bolt Long Range Hunter Stainless rifle. This model was introduced earlier this year along with its somewhat better-known stablemate, the X-Bolt Hell's Canyon Speed rifle, which has seemingly hogged the media spotlight since birth.
I really don't know what it was, but this new Long Range Hunter spoke to me, whispering sweet promises of tight bullet groupings down range. Maybe it was because I've been testing a string of entry-level rifles lately, and the Long Range Hunter exudes quality in ways that less-expensive rifles don't. Maybe it was the rifle's all-business, 26-inch stainless barrel. Maybe it was the carbon-fiber-finished stock, or the fact that the rifle sent for testing was chambered in 6.5 Creedmoor, an innately accurate cartridge.
Whatever it was, it didn't take long to discover that the rifle lived up to its promising first impression, as you'll soon see, by turning in a stellar performance at the range.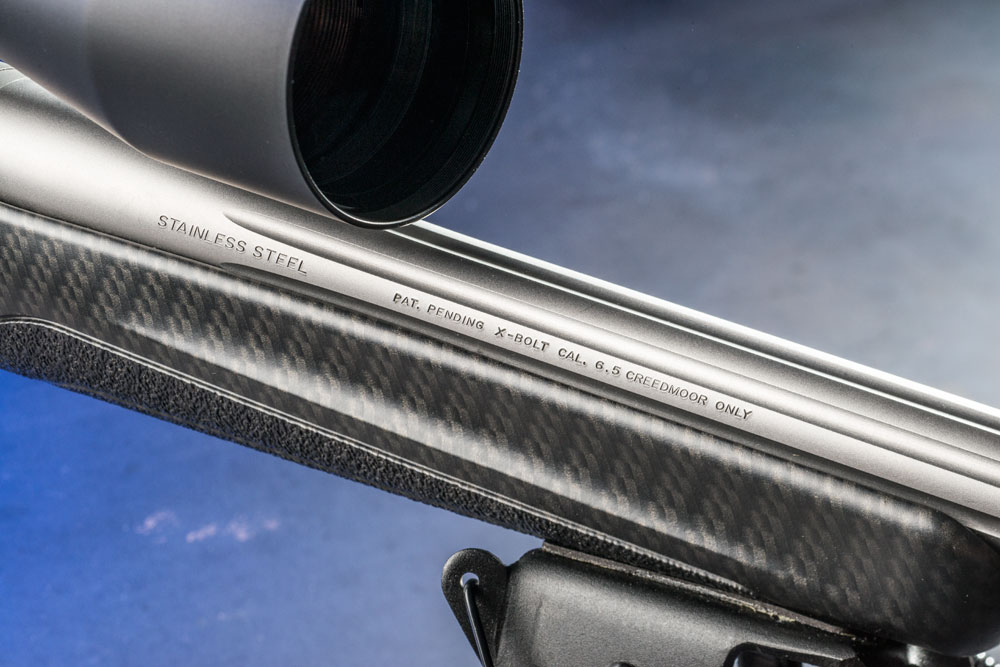 Grip and Grin
In addition to 6.5 Creedmoor, the new Long Range Hunter Stainless rifle is chambered for some potent long-legged hunting cartridges, including 7mm Rem. Mag., .300 Win. Mag., .300 WSM, .270 WSM and 26 Nosler.
The rifle may have a ubiquitous black-and-stainless appearance, but it manages to stand out, upon even cursory inspection, like a thoroughbred among mustangs. That's partly due to the rifle's stout, fluted, 26-inch matte stainless barrel, which has what Browning calls a "heavy sporter" contour. It's made to appear even more substantial with the addition of a muzzle brake (you can remove it and attach a suppressor, if you wish, using the muzzle's 5/8×24 threads).
You'll also quickly notice the rifle's carbon-fiber-dipped composite stock, which I find attractive in a nouveau-tech sort of way. The trigger guard sports the distinctive Browning Buckmark logo, in gold, and the rifle is further dressed up with matte nickel-coated sling swivel studs.
Handling the rifle, you'll find that it is, in a word, "grippy." Dura-Touch armor coating on the stock has a slightly tacky feel to it that I like. The coating works in concert with the soft-touch stippling in the forearm and pistol grip to ensure a solid grip in wet weather. As Browning notes, the coating adds a layer of protection to the stock, but it is not indestructible—just avoid spilling harsh solvents on the stock or insect repellants containing DEET.
Given its light stock and long barrel, the rifle has a definite weight-forward feel to it, but I don't see that as an issue since most rifles designed for long-range shooting are going to be shot off sticks, sand bags or some other rest. Having more weight out front can help steady things up, especially when shooting in wind.
The rifle, weighing in at 7 pounds, 3 ounces unloaded, is no lightweight compared to, say, newer lightweight mountain guns with barely-there stocks and pencil-thin barrels. It is, however, still light enough to tote anywhere you wish to tote it, and it's considerably lighter than many guns marketed as long-range rifles.
The gun's bottom metal and trigger guard are, happily, actually made of metal. This bucks the recent trend toward integral synthetic trigger guards, magazine wells and such. That's a good thing, as far as I'm concerned, because you'll never have to replace an entire stock simply because you broke a plastic trigger guard. Overall fit and finish are quite good with this rifle, which lives up to Browning's usual high standards in this department.
This extends to the well-fitted Browning Inflex recoil pad, which Browning designed to work on the principle of "directional deflection." The recoil pad has internal ribs that function, theoretically, to direct recoil energy downward, rather than straight to the rear, to lessen impact on your face and shoulder. For me, it seems to work as advertised. Between the rifle's muzzle brake and recoil pad, recoil was hardly noticeable.
X-Bolt Extras
The bolt has three substantial locking lugs and a short, fast, 60-degree lift, providing lots of clearance for mounting scopes. I found that the bolt cycles quite smoothly with a straight push to the front or pull to the rear of the action. However, it fits into the action with tight tolerances and can get a little sticky if you exert undue downward pressure on the bolt handle while cycling. Under normal conditions, and with a little muscle memory, it shouldn't be an issue. One minor annoyance, for me, is that shiny, sun-reflecting bolt finish common to X-Bolt rifles. I've never understood why anyone would put a highly reflective surface on any part of a hunting rifle.
This is just nit-picking on my part, as the positives far outweigh any possible negatives with this rifle. Consider, for example, the Browning Feather Trigger. It's a single-stage design utilizing polished and chrome-plated components inside an alloy housing. It has no creep, no take-up and minimal over-travel. Browning pre-sets the trigger pull weight on X-Bolt rifles at approximately 4 pounds. The trigger on our test gun broke at 3 pounds, 14 ounces, as measured with a Lyman trigger gauge. That's a bit heavier than I prefer, but the trigger is adjustable down to 3 pounds. Because it broke so cleanly and crisply, I left it at the factory setting, which is perfectly acceptable for most hunting purposes.
The rifle's two-position tang safety engages and disengages with an audible click, and the bolt is locked when the safety is engaged. A bolt unlock button atop the bolt handle allows you to cycle rounds through the action with the safety engaged. Three-position safeties do the same thing, but the Browning design doesn't require you to manipulate the safety to unlock the bolt. There's a cocking indicator at the rear of the bolt that you can both see and feel.
Another well-designed component of this rifle is its polymer rotary four-round magazine. I normally make a curmudgeonly frown when I hear the word "polymer" associated with any part of a rifle other than a stock, but this magazine evokes nothing but smiles. First and foremost, it is sturdily constructed. The release button is protected within a recess in the bottom of the stock to prevent accidental dumping of the magazine. The magazine inserts smoothly into the mag well and pops freely into your hand when you press the release button. It does not rattle in place, as some detachable magazines do. Rounds loaded smoothly and easily into the magazine, and they fed flawlessly through the action. There were no issues with extraction or ejection of fired cases.
One other feature of X-Bolt rifles that I'm somewhat enamored of is the X-Lock scope mounting system, which consists of four holes drilled into the top of the receiver bridge for each front and rear scope-mount base. The holes are placed outboard from center and angle in toward the bolt. This system effectively doubles the standard number of attachment points over conventional base-mounting systems, adding strength and robustness. The precise placement of the holes allows bases to be attached at all four corners, ensuring proper alignment of the scope atop the receiver. For testing, I used a set of Talley Lightweight 30mm rings designed for the X-Lock system, and the resulting setup was as solid as it gets short of welding rings onto a rifle.
Consistently Accurate
In testing the rifle with five factory loads, with bullet weights ranging from 120 grain to 140 grains, I expected the 26-inch barrel to deliver good velocities, and I wasn't disappointed with the numbers reported by my CED M2 chronograph. In most cases, velocities mildly exceeded factory-stated velocities. The biggest surprise was Nosler's Match Grade 140-grain load, which beat the factory number by 205 feet per second (fps), making it slightly faster than the Federal American Eagle 140-grain load.
As good as those figures are, accuracy testing produced some real eye-popping numbers. For starters, every single load tested delivered sub-MOA best groups at 100 yards. All but one load served up average groups under an inch, and the only one that didn't grouped into an average of 1.19 inches. The best of the bunch, in this rifle, was Hornady's Match 120-grain A-MAX load, which shot a best group of 0.30 inches and average groups of 0.57 inches. Federal's American Eagle 140-grain OTM load wasn't far behind, with 0.70-inch average groups and a half-inch best group. As for loads using hunting versus match bullets, Hornady's Full Boar 120-grain GMX load also averaged under an inch with a 0.54-inch best group.
It's been quite some time since I tested a new factory rifle that shot this well, this consistently, with a range of bullet types and weights in factory ammunition. With a MSRP of $1,429.99, the new Long Range Hunter isn't cheap, but based on what I've seen, it can go toe-to-toe with some custom long-range hunting rifles costing far more. Compared to many guns in this category, the price of entry suddenly seems a lot more affordable.
Specifications:
Browning X-Bolt Long Range Hunter
Type: Bolt Action, Push-feed
Caliber: 6.5 Creedmoor, as tested
Barrel: 26-in. matte stainless steel
Rate of Twist: 1:8
Weight: 7 lbs. 3 oz.
Stock: Composite, carbon fiber finish
Trigger: Adjustable Feather Trigger
Magazine: Detachable four-round
Muzzle Device: Removable muzzle brake
MSRP: $1,429.99
Manufacturer: Browning; Browning.com
Editor's Note: This article is an excerpt from the October 2016 issue of Gun Digest the Magazine.
---
NEXT STEP: Download Your Free Storm Tactical Printable Target Pack
62 Printable MOA Targets with DOT Drills - Rifle Range in YARDS
This impressive target pack from our friends at Storm Tactical contains
62 printable targets
for rifle and handgun range use. Target grids and bullseye sizes are in MOA. Ideal for long-range shooting!
Subscribe to the Gun Digest email newsletter and we'll send your print-at-home target pack right away.
Just enter your email address below.
---