While classic 1873 Colt Single-Action Army revolvers are cost prohibitive, there are a number of modern-day replicas that look great, shoot well and are priced affordably.
Who makes some of the best 1873 Colt Single-Action Army replicas?
The LOOK! Maybe that's one of the many factors that make the 1873 Colt Single-Action Army (SAA) so enduring. Hardly a gun nut anywhere doesn't know the LOOK. Such guns can be picked out under the glass at local gun shops — with only the slightest glance. The reason for this article is that so many Peacemaker replicas have sprung up — made both in this country and abroad — and those old-time/new-time guns are selling well. Obviously, we will be covering a lot of them here in solid detail.
Despite the Colt Single-Action Army being born in 1873, it pays to go back to earlier Colt models, for these were the guns that set the universe in motion to produce one of the most iconic revolvers ever. The Colt Walker model might be the handgun that started the LOOK. At the time of its introduction in 1847, the Colt Walker was the most powerful handgun ever. Each of its six chambers fired a .454-caliber round ball ahead of as much as 60 grains of black powder. Glance at any Colt Walker and you will see a bit of the LOOK.
The Walker weighed all of 4.5 pounds, so this one was not for quick draw work. Not in 1847. In 1851, Colt came out with the Navy model in .36-caliber. This one fired a lead round ball in the .375- to .380-inch diameter range with a much-reduced black powder load compared to the Walker. Obviously, weight compared to the Walker was significantly reduced. With lower weight and smaller size, the Colt Navy of 1851 was ideal for carrying in the holster, or even pocket carrying, though the latter might be a stretch. The .36-caliber ball was still able to go out the muzzle at about 1,000 feet per second (fps).
The next step toward the 1873 SAA was the Colt 1860 Army model. Look at the Walker, the Navy and the Army models, and maybe you, too, can see the emergence of the 1873 coming. The 1860 Army's receiver was the same size as the 1851 Navy. Due to a different rebated cylinder design, the "Army" was able to fire those .44-caliber round balls.
If you purchased a real Colt 1873 SAA in the late 1950s and/or early 1960s — you did or have done very well financially. However, it's still possible to own a piece of this Colt history through the many SAA replicas that are available today. Though the following isn't meant to encompass all the replicas available, we'll try to cover as many as possible or as many as this writer knows about — which is a good many.
Ruger
In 1953, Ruger introduced its Single-Six model — in .22 rimfire — a small version of the SAA, but which retained the LOOK. Two years later, Bill Ruger introduced his Blackhawk — again, with the LOOK, but with the addition of an adjustable rear sight. No doubt due to the popularity of TV Westerns, Blackhawk sales took off. Years later and they're still going strong in popularity.
The Single Action Shooting Society (SASS) was formed in 1987 — a sport of fun competition involving shooting with old-time guns — only with firearms of the Old West's earlier times, and one of the rules was no open sights. Thus, in 1993, Bill Ruger came out with his Vaquero model — perhaps mainly to accommodate those SASS members who didn't own or couldn't find original Colt Single-Action Army six-shooters at a reasonable price.
The first Vaquero had a 7.5-inch barrel, and I had the good sense to buy one. This one has a case-colored receiver, wood grips, blued steel barrel, cylinder and trigger guard. Only offered in .45 Colt originally, this long-barrel rendition was next offered with a 5.5-inch barrel, later still a 4.62-inch barrel. The Vaquero is still available today, though not with the 7.5-inch barrel — only 5.5 and 4.62. However, stainless steel Vaquero versions are available. Recently, I bought a 4.62-inch barrel Vaquero in stainless. It's one lovely gun to look at, and one great gun to shoot. This one is still available in .45 Colt and .38/.357. Calibers .44/40 and a few others have been discontinued. There's also a Bisley Vaquero with tighter reverse to the grip and the SASS model — a matched pair of .45 Colt revolvers with a 5.5-inch barrel or a matched pair of .38/.357 4.62-inch barrel revolvers — both in the matched pair series with consecutive serial numbers. Many Cowboy Action Shooters wear and use two SAA types when practicing or competing. Check photos of my 7.5-inch blued and 4.62-inch stainless Vaqueros.
Cimarron
When I saw the Cimarron Teddy Roosevelt Commemorative online, I had to have one. This is a Single-Action Army 1873 replica with 7.5-inch barrel, all metal parts nickel plated, mock ivory grips and deeply etched engraving all over. The "T.R." initials are engraved on the frame to the left of the hammer. Since this one is a "commemorative," I shouldn't have shot it — but I couldn't resist. The trigger is creep free and goes off at 3 pounds! When I got to the range and started shooting, I discovered this one to be extremely accurate. "Commemorative" or not, I'm going to keep shooting this great-looking replica.
This is a good time to point out that many of these replicas are built with better, more modern steels than the original Colts. Further, sophisticated CNC machines are capable of extreme close milling tolerances — compared to the 1870s, even through into the mid 1970s.
Going back to the Cimarron Teddy gun … like the original Colts, you can bring the hammer to half cock so the cylinder can be spun for loading and unloading once the loading gate has been opened. With the Vaquero — just open the loading gate — the cylinder can be spun (turned).
Cimarron's basic Single-Action Army model is called the Model P (Pre-War 1896–1940). These guns have case-colored receivers with blued barrels and cylinders. The company's best seller in the P Model wears the 4.75-inch barrel, but 5.5-inch and 7.5-inch barrels are offered. Stocks are walnut with the Cimarron medallion.
Stainless-steel seems appropriately common for Cimarron customers as there's a Stainless Frontier in .38/.357 with a 4.75-inch barrel, the same with a 5.5-inch barrel — as well as a 7.5-incher. Ditto for all these in .45 Colt. Suggested retail is listed at $740. This is for top steels and guns made to tight tolerances, as well as the LOOK.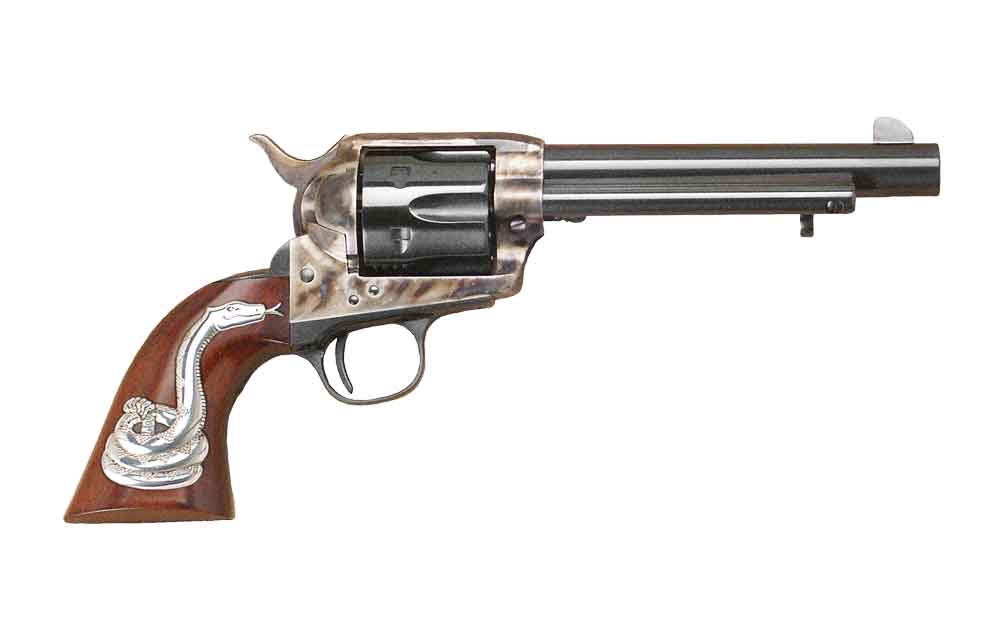 At less than $550 suggested retail, in the Cimarron Value series is the El Malo, Big Iron and Pistolero. All these models are available in more than one barrel length, and in most cases .38/.357 and .45 Colt. There's also the blued version of the stainless Frontier.
A most interesting Cimarron series is the Hollywood line. Start with "The Man with No Name" model. This is a facsimile of the six-shooter Clint Eastwood carried in "A Fistful of Dollars" and "For a Few Dollars More." A silver snake adorns the right side of the grip. Select from a 4.75- and 5.5-inch barrel — .45 Colt only. There's also the Holy Smoker model with a gold cross on the grip — this one carried by Russel Crowe in the movie "3:10 to Yuma." Barrel is 4.75 inches, and chambered for .45 Colt. The Cimarron Wyatt Earp Buntline wears a 10-inch barrel. On the grip is a silver panel with Earp's name and more — another .45 Colt. The Rooster Shooter was carried by John Wayne who played Rooster Cogburn in "True Grit" — a 4.75-inch barrel in .45 Colt with grips turned yellowish. These Cimarron SAA replicas are imported from Pietta in Italy.
Uberti
Also from Italy comes the SAA replicas from Uberti. These days Uberti — at least the imports — are under the control of the company that owns Benelli, Franchi, Stoeger and perhaps others. My first Uberti is called the Cattleman. The Cattleman is right out of 1873 Single-Action Army history with a case-colored receiver, blued barrel and cylinder with walnut grips — in .45 Colt. Mine wears a 5.5-inch barrel. Like the originals, open the loading gate, and bring the hammer to half cock to turn the cylinder for loading and unloading. The trigger is excellent. It goes off at 3 pounds on my Lyman Digital Trigger Pull Scale. Mike Crevar has done superb triggers on both my Vaqueros and other handguns.
The Cattleman does not have a safety transfer bar, so load it with five cartridges, then let the hammer down on the empty cylinder. Normal procedure is load one, skip a cylinder, and then load the remaining four. Cock the hammer from half cock to the empty chamber. In Cowboy Action Shooting competition, only five cartridges can be loaded — and the hammer must rest on an empty chamber. Recommendation: Load any Single-Action Army with five, whether the gun has a safety transfer bar or not.
If you were ever wondering about the popularity of Single-Action Army replicas, consider that Uberti offers 13 different Cattleman models, ranging from Charcoal Blue, Nickel, Stainless, plus a Chisholm, Cody, Desperado, Matching Pair, Frisco, Old West, Hombre, Callahan, Callahan Target (with adjustable sights) and an engraved Cattleman. Many of these are offered in multiple barrel lengths — all in .45 Colt, a few in other calibers. The number of SKUs in just the Cattlemen Uberti models is thus staggering. In most cases, there are minor changes in these above models, like brass trigger guard, steel back strap, blued frame with casehardened hammer and more.
But the Cattlemen only touches the surface of what's available in the Uberti SAA line. The .22 rimfire SAA-type six-shooters are not being covered here, but the Stallion is in .22 rimfire but also .38 with 5.5-inch barrel — the same with the Stallion Target, which features adjustable rear sights. The Cattleman II has a retractable firing pin — again — lots of different II models. There are also several different El Patron models from Uberti.
Parting Shots
But by now you have the picture. An entire gun-making industry has arisen from the death of the old Single-Action Army. As already covered, these replicas can be excellent, in some cases even better than the original 1873 model Colts — due to better steels and tighter machining tolerances. Most of us can't afford a real 1873 Single-Action Army Colt. Even for those who can, those guns are most often stored and not shot due to their value. The 1873 replicas are not only shooters, they're top shooters!
Editor's Note: This article originally appeared in the April 2018 issue of Gun Digest the Magazine.
---
Find Out More About Iconic Colt
---
---
NEXT STEP: Download Your Free Storm Tactical Printable Target Pack
62 Printable MOA Targets with DOT Drills - Rifle Range in YARDS
This impressive target pack from our friends at Storm Tactical contains
62 printable targets
for rifle and handgun range use. Target grids and bullseye sizes are in MOA. Ideal for long-range shooting!
Subscribe to the Gun Digest email newsletter and we'll send your print-at-home target pack right away.
Just enter your email address below.
---