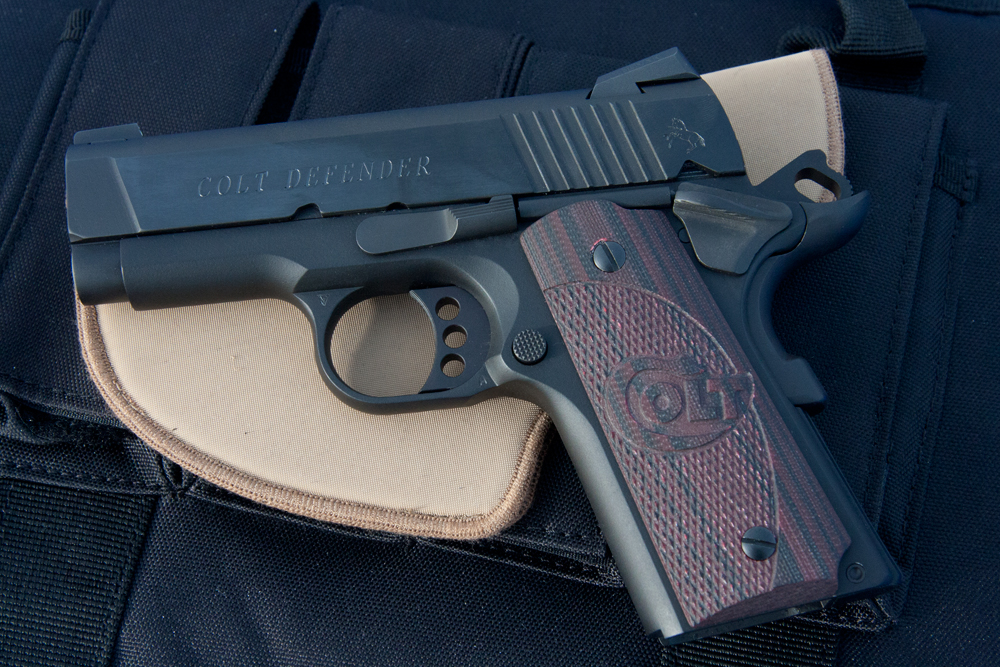 The Colt Defender pistol has been around for quite some time now, hitting the market back in 2000. This summer, Colt revamped the established Defender design to improve upon the areas that in the words of Paul Spitale, Senior VP at Colt, "kept it from being perfect for concealed carry."
Colt introduced the new and improved Defender back in May during the NRA Annual Meetings and Exhibits in Louisville, Kentucky. Earlier this November while attending Colt's annual Media Day event at the legendary Gunsite in Paulden, Arizona, I was able to finally get my hands on a new Defender for a little bit of trigger time.
A couple of the most noticeable changes to the original design include the addition of custom Colt G10 black cherry grips and a carry cut on the front of the slide for easier concealment. The custom G10 grips used on some of Colt's other 1911s have always felt very comfortable to me, and the grips featured on the new Defender were no exception. The texturing ensured a steady purchase during firing but wasn't so rugged that it caused discomfort on the hands, as I've noticed with some highly textured grips in the past. The gun also featured an upswept beavertail grip safety, which further helped with control and comfort. And of course, the carry cut is a nice touch for a carry gun like the Defender.
Colt produces two versions of the new Defender: a stainless steel model available only in .45 ACP and a black and blued model chambered in either .45 ACP or 9mm. The stainless model features the same brushed stainless steel slide, stainless Cerakote coated aluminum receiver and three dot sights as the original Defender, but also has the new grips and carry cut. The new black and blued models, on the other hand, incorporate the two upgrades already mentioned, as well as some other changes. Both feature the Defender's classic 3-inch stainless steel barrel and a 4.5- to 6-pound three hole aluminum trigger.
The black and blued Colt Defender is what the company had available to the media at the event in Arizona. In addition to the features it shares with the stainless model, this Defender also comes equipped with a blued carbon steel slide and a black Cerakote coated aluminum receiver and features a different sight setup.
Instead of the usual three dot sights, the black and blued Defender sports a wide notch Novak Low Mount Carry rear sight and a Tritium night sight up front. Although it was the middle of the afternoon when I had the opportunity to shoot this gun, I found that I really liked the night sight front paired with the wide notch rear, and I had no issue hitting the steel targets set up about 15 to 20 yards away in rapid fire strings.
As with most of Colt's newly produced guns, the new Defender also utilizes the manufacturer's Dual Spring Recoil System. This results in slightly reduced recoil, and is intended to increase the spring life substantially, putting off the inevitable replacement date. I first experienced Colt's Dual Spring Recoil System at the company's 2015 Media Day, and I'm just as impressed with the system today as I was then.
Just as the original Defender was, the updated version is very well suited for concealed carry. It weighs 24 ounces unloaded, has an overall length of 6.75 inches, a height of 5.125 inches and a width of 1.25 inches. Magazine capacity is 7+1 in the .45 ACP models and 8+1 in the 9mm variant.
The new and improved Colt Defender is available now with an MSRP of $899 for the stainless model and $949 for the two black and blued versions. Each gun ships with two magazines, a cable lock and an instruction manual.
For more information on the new Colt Defender, check out the specifications below and visit the Colt website.
Specifications:
Colt Defender
Type: Semi-auto, single action
Caliber: .45 ACP or 9mm
Barrel: 3-in., stainless steel
Overall Length: 6.75 in.
Overall Height: 5.125 in.
Overall Width: 1.25 in.
Weight: 24 oz. (unloaded)
Slide: Stainless steel, brushed stainless finish (stainless model); carbon steel, blued finish (blued model)
Frame: Aluminum alloy, Cerakote matte stainless finish (stainless); aluminum alloy, Cerakote matte black finish (blued)
Trigger: three-hole aluminum, 4.5 to 6 lbs.
Grips: Custom G10, partial checkered, black cherry
Capacity: 7+1 (.45 ACP), 8+1 (9mm)
Price: $899 or $949
Manufacturer: Colt
---
Find Out More About Iconic Colt
---
---
NEXT STEP: Download Your Free Storm Tactical Printable Target Pack
62 Printable MOA Targets with DOT Drills - Rifle Range in YARDS
This impressive target pack from our friends at Storm Tactical contains
62 printable targets
for rifle and handgun range use. Target grids and bullseye sizes are in MOA. Ideal for long-range shooting!
Subscribe to the Gun Digest email newsletter and we'll send your print-at-home target pack right away.
Just enter your email address below.
---