Sponsored Content
Top-tier, battle-proven products, Radian Weapons turns out rifles and accessories in which you can trust your life.
At Radian Weapons, we think American gun companies should make or source their parts from right here in the USA. That's why 100-percent of the firearms products we sell are manufactured in America, by Americans.
We machine the majority of our rifle and accessory components in Redmond, Oregon, using state of the art CNC equipment.
At Radian, we've prioritized vertical integration of our manufacturing processes over product development to ensure that whenever we deliver goods to the consumer, it's of the highest quality and reliability standards.
---
Be sure to enter our American Made giveaway, with great gear from great American companies. Click the tab at the bottom right of page to enter.
---
The temptation in most industries is to rush new products to market. At Radian, we actively choose not to release "me too" products or rely on sourcing major components for new products from third party vendors. This helps protect our brand integrity, and hopefully gives consumers peace of mind when they purchase Radian products.
Our flagship products are the Model 1 rifle and related receiver sets, Talon ambidextrous safeties, and Raptor charging handles. Featured here:
MODEL 1 – 17.5-INCH 223 WYLDE

Clandestine Desert™ Cerakote Finish (Cerakoted by our finishing business, High Desert Coatings—www.highdesertcoatings.com)
RAPTOR CHARGING HANDLE FOR A15/M4

The original all-billet design with Cerakoted FDE handles.
TALON 45/90 AMBIDEXTROUS SAFETY

The screwless safety design ensures your levers won't come loose and gives you two throw degree options to choose from. Finished with FDE Cerakote.
Buy with confidence, as all Radian products are backed with a limited lifetime warranty against manufacturer defects.
For more information on Radian Weapons, please visit radianweapons.com.
---
More American Made Guns And Gear: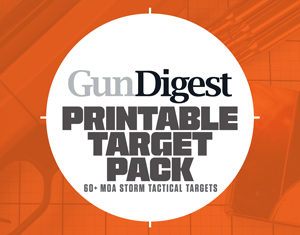 Next Step: Get your FREE Printable Target Pack
Enhance your shooting precision with our 62 MOA Targets, perfect for rifles and handguns. Crafted in collaboration with Storm Tactical for accuracy and versatility.
Subscribe to the Gun Digest email newsletter and get your downloadable target pack sent straight to your inbox. Stay updated with the latest firearms info in the industry.