Blue Force Gear – MUSA – Micro Trauma Kit Giveaway

Sponsored Content
Best known for body armor, Blue Force Gear also offers the everyday carry essential Micro Trauma Kit.
The Micro Trauma Kit NOW!, or Micro TKN, is our smallest version of the Trauma Kit NOW! yet. It was designed to hold essential lifesaving gear with minimal size in mind. The Micro TKNTM is designed to be worn horizontally with minimal bulk—perfect for everyday carry, for law enforcement professionals, prepared citizens, or in low-profile mission sets. The inner carrier can be deployed with one hand or one finger from either the left or right side by pulling the BLIP featured pull tabs. The Micro TKN consists of two main components – the outer MOLLE or Belt mounted pouch utilizing the Ten-Speed® technology, and a removable insert that keeps medical supplies organized.
---
Be sure to enter our American Made giveaway, with great gear from great American companies. Click the tab at the bottom right of page to enter.
---
Supplies
Hemostatic dressing for wound packing/clotting (1 included)
4" Emergency Trauma Dressing (1 included)
9" Medical Grade Easy Tape (6 included)
Tourni-Kwik Compression Tourniquet (1 included)
Heavy Duty Medical Gloves (1 pair of Large sized gloves)
For more information on Blue Force Gear, please visit blueforcegear.com.
---
More American Made Guns And Gear: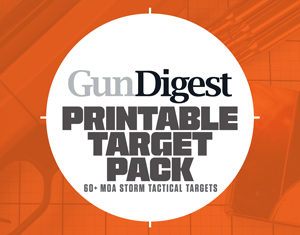 Next Step: Get your FREE Printable Target Pack
Enhance your shooting precision with our 62 MOA Targets, perfect for rifles and handguns. Crafted in collaboration with Storm Tactical for accuracy and versatility.
Subscribe to the Gun Digest email newsletter and get your downloadable target pack sent straight to your inbox. Stay updated with the latest firearms info in the industry.