Sponsored Content
Born out of a bid for the U.S. Army's Modular Handgun System contract, each FN American 509 proudly made in the company's South Carolina factory.
The FN 509® Tactical is a 9mm striker-fired pistol based on the FN 509 series of handguns introduced by FN in 2017. It features FN's patented Low-Profile Optics Mounting System™, which enables the platform to accept more than 10 commercially available miniature red dot (MRD) optics that co-witness with the suppressor-height night sights, while remaining adaptable to future optics releases with no need for direct milling of the slide.
---
Be sure to enter our American Made giveaway, with great gear from great American companies. Click the tab at the bottom right of page to enter.
---
The slide cap, for use when not shooting with an optic, has raised sight wings that protect iron sight alignment if the pistol is dropped or jostled, and provides a textured ramp for racking the slide against a belt loop, pants pocket, or boot. An FN-signature 4.5-inch, cold hammer-forged, stainless-steel barrel with target crown, ½x28-inch threads that accept the bulk of 9mm suppressors available, and threaded cap with integrated O-ring to prevent loosening during use complete the top end.
Lastly, the 24-round magazines, nearly identical in length to the pistol's slide, maximize ammunition capacity without impacting carry convenience.
For more information on FN America, please visit fnamerica.com.
---
More American Made Guns And Gear: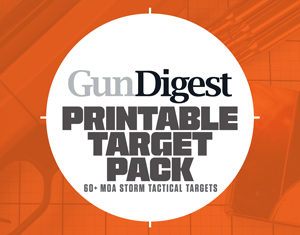 Next Step: Get your FREE Printable Target Pack
Enhance your shooting precision with our 62 MOA Targets, perfect for rifles and handguns. Crafted in collaboration with Storm Tactical for accuracy and versatility.
Subscribe to the Gun Digest email newsletter and get your downloadable target pack sent straight to your inbox. Stay updated with the latest firearms info in the industry.