Sponsored Content
MUSA – Dawson Knives Pathfinder

Modern traditionalists, Dawson Knives craft one-of-a-kind knives fit to master any situation.
Dawson Knives has been building custom knives and swords for nearly 50 years, with three generations of our family working together out of our shop near Prescott, Arizona. We use CPM-3V powder steel for all our blades – an incredibly tough, flexible, American-made super steel that holds an edge up to 3x longer than D2. We're modern traditionalists, holding ourselves to a standard of heirloom quality and outstanding American craftsmanship while constantly researching new ways and methods to make something that was already good, better.
---
Be sure to enter our American Made giveaway, with great gear from great American companies. Click the tab at the bottom right of page to enter.
---
Deep Notch
A sleek, classic drop point style blade and deep finger notch make the Deep Notch Skinner one of the most comfortable and intuitive knives you'll ever use.
Pathfinder
The Pathfinder rocks as an all-around field and camping knife. Its heavy-duty drop point blade has plenty of heft for chopping, shelter building, camp chores and game quartering.
Relentless Sword
This modern samurai-style sword features a full length top bevel that strips away excess weight, revealing a lean, hungry beast with a nasty attitude and plenty of teeth.
Helmsman
An exceptionally well-balanced chopper, the Helmsman feels light and fast despite the considerable power it brings to bear.
Chief
The Chief excels in both the woods and field; a tough, all-purpose blade ideal for backpacking, camping and bushcrafting in every kind of terrain.
For more information on Dawson Knives, please visit dawsonknives.com.
---
More American Made Guns And Gear:
---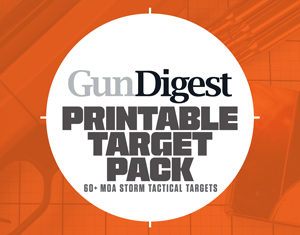 Next Step: Get your FREE Printable Target Pack
Enhance your shooting precision with our 62 MOA Targets, perfect for rifles and handguns. Crafted in collaboration with Storm Tactical for accuracy and versatility.
Subscribe to the Gun Digest email newsletter and get your downloadable target pack sent straight to your inbox. Stay updated with the latest firearms info in the industry.