A throwback to the earliest days of polymer perfection, Lipsey's Glock P80 puts a Gen 1 G17 back into shooters' hands.
Gen 1 single pin style frame
Wrap-around pebble texture grip
P80 roll mark
Flat Extractor
No front cocking serrations
Glock pistols still have a new vibe about them. Polymer frame and all black, the guns seem a rejection of the preceding pistol-smithing dogma and a glimpse into the future. Then the realization washes over Glock made its first appearance when they still sold leaded gas and the Berlin Wall cut the German city in twain. In other words, it's old, or at least vintage enough to merit a retro edition.
Like a favorite song come up on the oldies station that's exactly what Lipsey's delivers in its special edition Glock P80. A faithful reproduction of the original pistol adopted by the Austrian Army in 1982, the P80 is a throwback to the 9mm that sparked a revolution. Today we know the pistol as the Glock 17, but the partnership figured they reach back to the gun's roots and give it a similar designation as military—Glock Pistole 80. For those perplexed about where the 80 comes from, it's the year the Austrian military announced it sought a replacement for its aging duty pistol—the Walther P38.
Essentially, the new Glock P80 replicates a somewhat rare firearm in the U.S.—the Gen1 G17. First imported stateside in 1986, two short years later Glock introduced its Gen2 pistols, limiting the number of specimens on the market. Lipsey's retro P80s are likely to prove as rare with a total run of 10,000 planned. Especially given the guns are dead ringers for the original, down to the packaging. Yup, they ship in the "Tupperware" style box shooters remember.
"I have always wanted to do a retro Glock pistol." Jason Cloessner, Lipsey's Vice President & Product Development Manager said. "Glock took painstaking measures to recreate the original frames and packaging to make this P80 edition as close to the original as we could get. Not only is this edition a great shooter, but it also helps tell the amazing story of how Glock came to be."
So, what does a shooter get out of a G17 … eh, Glock P80? Certainly not an accessory rail or front cocking serrations. The most notable features are the wrap-around pebble texturing on the grip (no finger grooves), flat extractor, single pin frame and smooth fore—slide and frame. And, of course, a P80 rollmark at the front. Forty years on, it's still a sleek looking design, one which Glock appears to draw from in its latest generations of pistols. Everything old is new again …
As to price, the Glock P80 commands a decidedly none-1980s price, with an MSRP of $669. Consider it a deal. It's not uncommon to find a Gen 1 G17 moving north $1,000 on GunBroker.com.
Lipsey's Glock P20 Specs:
Caliber: 9mm
Finish: nDLC Finish
Frame: Polymer Frame
Barrel: 4.49″
Overall Length: 7.95″
Capacity: 17 + 1
Magazines: 2 17 rd.
Weight: 25.26 oz.
MSRP: $669
For More information on Lipsey's Glock P80, please visit lipseys.com.
More Glock Reviews: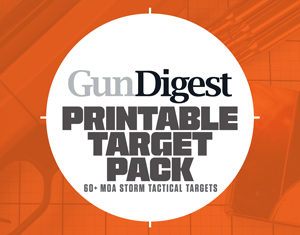 Next Step: Get your FREE Printable Target Pack
Enhance your shooting precision with our 62 MOA Targets, perfect for rifles and handguns. Crafted in collaboration with Storm Tactical for accuracy and versatility.
Subscribe to the Gun Digest email newsletter and get your downloadable target pack sent straight to your inbox. Stay updated with the latest firearms info in the industry.