Built with the gunmaker's simple dependability, the Glock 43X and Glock 48 offer shooters slim and effective concealed carry choices in 9mm.
I've carried a Glock 19 concealed for almost 18 years on a rather regular basis. The first few years I was still on the job. After that, I had our state's version of the Law Enforcement Officers Safety Act, plus I got a permit to carry from the state — belt and suspenders style.
I first started carrying concealed handguns in the 1970s — remember Jimmy Carter, double-digit inflation and double-digit unemployment? Yes, I started carrying that far back, and long before a movie actor was elected.
With that in mind, I was stunned to find out that the Glock 19, a service compact by design, was just too much to carry for many people. And, once I really thought about it, it makes sense. If you're in a classic non-permissive environment — not that it's illegal to carry or even a job requirement that you be helpless — but if you work with people who have that unreasoned terror of inanimate objects, "smaller" really is important when it comes to concealment.
But smaller is not necessarily better.
In the race to smaller guns, people have gone with flyweight calibers in very small guns and hoped for the best. Sadly, how well the guns can be shot has gotten lost. I've shot the micro .380 pistols, as well as some unpleasant mini 9mm guns: The results were not stellar.
Meanwhile, various states have been allowed to ban "boxes with springs" — in other words, magazines that hold "too many" rounds of ammunition. Deadly weapons, the lack of reasoning goes, can be less deadly with these limitations.
During the late, unlamented Clinton Gun Ban of 1994, the whole country was strapped with such a magazine ban. The industry had gone on to service- and service-compact-sized double-stack handguns. The Glock 19 became just one example of a gun that suddenly needed neutered Clinton magazines. Oh, what we'd have given to have a ready supply of 10-shot concealable handguns. There were a few that were under 10 rounds, but there was nearly no support gear (spare magazines, holsters, magazine pouches).
Glock Goes Slim
Today, our wait is over, and it seems that it's just in time for the modern incarnation of legislative buffoonery. Glock has released larger versions of their Slimline 9mm pistols. Their first effort available in the United States was the Glock 43. As a six-shot 9mm, it's truly sub-compact. With a short barrel/slide mated to a short frame, it can disappear in a bellyband under scrubs, be worn in an ankle holster or tucked into a pocket holster.
However, it's a chore to hang onto a Glock 43 when it's fired. It's not painful, but trying to pass the Wizard Drill — a benchmark to see if you're competent with the gun you carry, as you carry it — is tough. Some people get there, but others don't.
Meanwhile, certain people on the internet are saying there's never any real innovation from gun companies. Well, Glock didn't simply upsize the Glock 43; they had to make some other changes to make everything just right. While they were at it, realizing that much of the concealment chore is in the length of the magazine/frame and not in the barrel/slide due to carry inside the waist, they rolled out two models for 2019.
The upsized result is the Glock 43X. Essentially a Glock 43 upper on a taller frame, the magazine is different. With a capacity of 10 rounds of 9x19mm ammunition, it's only as long as the Glock 43 when loaded with a magazine that's fitted with the Vickers Tactical/Tango Down +2 basepad. To make 10 rounds fit into the space of eight, the new magazines are thicker and not backward compatible.
The short barrel and slide are quick out of the holster, but with a frame that gives you, the user, more to hang onto.
Flat G19
Not satisfied to make the Glock 43X "magazine ban compliant," they used that Glock 43X frame and add a barrel/slide that mirrors the length of the G19 (though it's much thinner). The result: the Glock 48. Likewise a 10-shot gun, the slightly longer barrel/slide gives you more of that vaunted sight radius.
For those who appendix carry, the longer barrel/slide gives the body something to press against to push the back of the gun back into the body. This actually enhances concealment.
The slide for the Glock 43X is the same sub-compact length as the G43 at just over 6 inches (with a 3.41-inch barrel). The Glock 48 is called "compact," with a length of 6.85 inches (a 4.17-inch barrel), making it compliant with current Canadian infringements.
Glock 43X And Glock 48
What do the guns have in common? Both ship with a pair of 10-shot magazines. Options for sights include the standard "ball-in-the-bucket" plastic sights if you want to change to your own preferred sights, Glock night sights (GNS) or Glock-branded Ameriglo Bold sights. The frames are nicely stippled, and the slides are silvery with a silver nPVD finish. There are front cocking serrations, which are handy for chamber-checks — if you keep your digits clear of the muzzle.
Also, the magazine release is reversible, there's a built-in "beavertail" at the rear of the frame to minimize the chances of slide bite, and the guns both feature the Glock Marksman barrels.
I found the Glock 48 to weigh in at 17.6 ounces on my scale, with an empty mag in place. The Glock 43X was 16.8 ounces, similarly fitted. Trigger presses were weighed on the Wheeler Engineering Professional digital trigger gauge: The Glock 48 averaged a 5-pound, 1.3-ounce pull; the Glock 43X averaged a pull of 5 pounds, 2.8 ounces.
Shooting Tests
I found the guns to produce a 2- to 3-inch group from 25 yards while using a bench rest, implementing the "best three of five" in the group for measurement to rule out my human errors. I shot ball and hollow-point ammo from several manufacturers. I also had my friend and colleague — legendary lawman "Marshal" Chuck Haggard — meet me at the range. He put a few boxes of ammo through the guns and got a feel for them as well.
I shot at a reduced-size USPSA steel silhouette (about 14 inches high by 11 inches wide, without the 4- by 4-inch head box) from 50 yards. I loaded up with four rounds of Federal 115-grain FMJ ammo in the Glock 43X and put three of the four into the body of the steel plate.
That first round that slipped by the left side of the plate did so because I nudged the trigger. Think about that: A less than 3½-inch barrel, on a gun that weighs less than 17 ounces empty, with a trigger press of just over 5 pounds — and I made the hits at 50 yards.
Things looked promising.
Chuck brought out his personal gun, a G43 that he wears a lot. As such, it's worn closely and gets linty, sweaty and dirty. As a Glock armorer, he simply detail strips the gun a few times a year for cleaning and inspection, and it keeps working. The holster he brought was the Hitchhiker, an AIWB from Dark Star Gear (DSG). He's allowed me to borrow the rig for some shooting evaluations with the guns. Incidentally, the DSG holster is long enough that it seems to be custom-made for the Glock 48, which is a handy arrangement.
His gun is equipped with the Tau Development Group Striker Control Device (SCD), which is a replacement for the factory striker cover plate. Easily installed, it prevents the striker from being drawn to the rear when you place your thumb over the rear of the slide. This takes the worry out of re-holstering. If something fouls the trigger, you might feel the pressure from the SCD. Stop and reverse course, but know that striker won't come back into firing position until you take pressure off the SCD.
Chuck installed it, and tested it dry- and live-fire on both samples. The Striker Control Device for the G43 works on the new guns. I shot various handling drills with each gun to see how they'd fit into a qualification-type of scenario, and I'm confident to report that both are easily up to that task.
Collective Thoughts
In shooting more-or-less standard drills from various law enforcement qualification courses, the results were easily within a few points of 'max' scoring. I also found that I had to actually look at the guns to determine which I was shooting, and that's something Chuck also noticed. When drawing from a holster, — shooting singles, pairs and failure drills — and seeing the gun only from the back, the two were indistinguishable in terms of shooting.
Overall, the Glock 43X and Glock 48 are exactly what you'd expect from Glock — simple dependability. But if I had to pick a weakness, I found the frames not really tacky enough. I'm hoping that Talon Grips will help that out soon.
Glock G43X Specs
Caliber: 9mm
Overall Length: 6.5″
Slide Length: 6.06″
Barrel Length: 3.41″
Overall Width: 1.1″
Slide Width: 0.87″
Height (including mag): 5.04″
Trigger Distance: 2.64″
Magazine: Slim 01 mag
Capacity: 10+1
Weight (loaded): 23.07 oz.
Glock G48 Specs
Caliber: 9mm
Overall Length: 7.28″
Slide Length: 6.85″
Barrel Length: 4.17″
Overall Width: 1.1″
Slide Width: 0.87″
Height (including mag): 5.04″
Trigger Distance: 2.64″
Magazine: Slim 01 mag
Capacity: 10+1
Weight (loaded): 25.12 oz.
Editor's Note: This article originally appeared in the March 2019 issue of Gun Digest the Magazine.
For more information on the Glock 43X and Glock 48, please visit www.glock.com/.
---
Learn More About Glock Options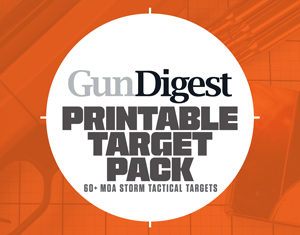 Next Step: Get your FREE Printable Target Pack
Enhance your shooting precision with our 62 MOA Targets, perfect for rifles and handguns. Crafted in collaboration with Storm Tactical for accuracy and versatility.
Subscribe to the Gun Digest email newsletter and get your downloadable target pack sent straight to your inbox. Stay updated with the latest firearms info in the industry.