Boyds Spike Camp is very likely the best aftermarket rifle stock you can buy for the money. The proof is plain as the clover leaves on the target.
What Assets The Spike Camp Delivers:
Ergonomically-designed thumbhole
Free-floated barrel channel
Abbreviated Monte Carlo Comb
Manageable 2.5 pounds in weight
Durable laminate hardwood construction
Pillar bedding available
It used to be that if you wanted to customize or personalize your rifle, you had to enlist the services of a gunsmith. Not only was this time-consuming, it was also expensive. Today—at least when it comes to rifle stocks—shooters have a seemingly endless variety of aftermarket stocks to choose from, with prices ranging from a few hundred bucks to over a grand; and most are DIY projects.
I recently tested a variety of aftermarket stocks and was impressed with how an affordable stock from Boyds performed. Not only was it the least-expensive stock tested, the rifle shot more precisely from that stock than with any of the others. Wondering if this might have been a fluke, I reached out to Boyds and asked if it would support a more comprehensive test.
Most of the time, when you read about a replacement rifle stock, it—much like the test I recently conducted—involves only one stock. The results, whether good or bad, are then based on an example of one. As a consumer, you might not feel confident spending your money on a review involving a single sample.
For 2020, Boyds released a new, drop-in rifle stock called the Spike Camp. I suggested that the company send me three of them so I could test them all to determine if they would perform equally well (or badly). Boyds agreed, and that's the basis for this test.
---
More Gunsmithing Tips:
---
Spike Camp Details
In a world of gadgets and adjustable features, the Boyds Spike Camp stock was designed to be an essentials-only stock, costing right at $100. It's made of American-sourced hardwoods, it's laminated, and then, it's passed through multiple CNC processes. Before a stock is completed, it'll also pass through the hands of more than 20 people to ensure strict quality-control standards are met.
The Spike Camp is about 29 inches long and weighs approximately 2.5 pounds. It's a thumbhole design with a low Monte Carlo negative drop comb. The forend is relieved enough for the barrel to free float. There are 14 color options available, and sling swivel studs are included as standard. It has a length of pull of 13.5 inches. Front and rear aluminum bedding pillars are available for an additional $55, bringing the total cost to about $170.
Boyds sent me three Spike Camp stocks to fit a Remington 700 SPS tactical AAC-SD. I didn't request any particular color and ended up with one of each of a Coyote laminate, a Forest Camo laminate and a Zombie Hunter laminate. Other than color differences, all three stocks were identical, including the aluminum pillars.
Establishing a Precision Baseline
Prior to testing, I wanted to establish a baseline for precision with the rifle. With the current AG Composite stock on the rifle, and with the help of a Nightforce ATACR riflescope and several boxes of Federal Premium 168-grain Sierra MatchKing ammunition, I fired three, three-shot groups at 100 yards from a sandbag rest. However, unlike most accuracy or precision tests, I fired these rounds quickly—nine shots in 150 seconds—because I wanted to see how the stock would respond to a hot barrel. The factory Remington-barreled action in the AG Composite stock shot really well, averaging 0.69-inch for three, three-shot groups.
Before we get into the actual shooting results with the Boyds stocks, we need to establish a practical fact: When it comes to the measurement and comparison of little groups, the shooter's skill level is a prime consideration.
With a really good-shooting rifle, I can occasionally shoot groups measuring as small as ½ inch. Regardless of how precise a rifle shoots, if I shoot a group smaller than ½ inch, celebration is in order. I mention this because, as far as I'm concerned—when I'm the one doing the shooting—group variances of under ¼ inch are inconsequential; I'm just not good enough to call a measurement "definitive" that's that small or smaller.
Now, I know that when I'm compared to other gun writers, it must seem as if I'm a terrible shot. I read those articles about rifles averaging under ½-inch and also about multiple one-hole groups. However, before you start believing I'm just not skilled enough to be a gun writer, consider the fact that I've actually seen most of the current gun writers shoot. I know of only a few folks who can consistently shoot groups measuring under ½ inch. It's not that easy.
So, with that in mind, when you look over the measured groups from this test, I suggest that you consider any groups or averages within ¼ inch of each other to represent the same level of precision. For example, the test rifle averaged 0.69 inch for three, three-shot groups out of the AG Composite stock and 0.81 inch out of the first Boyds stock tested. That's a difference of 0.12 inch. As far as I'm concerned, the barreled action performed the same from both stocks. On the other hand, the third Boyds stock I tested averaged 0.45 inch, which is 0.36 inch better than the first Boyds stock tested. I'd rate the third stock as delivering a level of precision equal to ¼ inch better than the first stock. Make sense?
It would appear that the Boyds stock I worked with in my previous test was representative of the line. If you're confident enough to take my shooting ability as gospel (I'm not!), one of the Boyds stocks performed 34 percent better than the $600 AG Composite stock. One performed 1 percent worse, and one 17 percent worse. But here's the thing: We're talking tenths of inches, and we're talking about shooting three, three-shot groups in under two minutes.
I think it's fair to say that for all practical purposes, all these stocks delivered the same level of precision and that there was more variance in the shooter than the stocks. I also think it's fair to say—definitively—that when it comes to Boyds Spike Camp stocks, you can expect one to work just as well as another. And finally, and I'm going out on a limb here: Based on my experience with this manufacturer's stocks, I wouldn't have any hesitation in saying that you can expect very good things from them, regardless of the stock you order. And I certainly don't think they'll make your rifle shoot worse.
But this needs to be qualified. I tested these stocks with a barreled action that shot very well; it's one that's proven to shoot well in many different stocks. But that won't always be the case. For example, Boyds stocks are made well and very consistently. As a consumer, that's what you expect, and that's what you should get.
That doesn't mean a Boyds stock—or any stock—will make your rifle shoot better. Some rifles come from the factory with a little bit of upward pressure on the barrel from the forearm. This is to help dampen barrel vibrations and allow the rifle to shoot better. You might take an action such as that and put it in a Boyds—or any other stock that free-floats the barrel—and discover the rifle doesn't shoot as well as it did in the factory stock. After all, rifles can be fickle creatures.
Some Observations
Let me also offer a few additional comments on the Spike Camp stock. The inletting was masterfully done, and the wood-to-metal fit was excellent. The Remington action had a Timney trigger, and no additional fitting was required. Installation only took a few minutes. In fact, I installed all three stocks right at the range.
However, as with almost any rifle stock, it's critical to tighten the action screws to a specified torque setting. Boyds suggests 27.5 pounds. I used the FixIt Sticks 25-pound torque setting, which seemed to work perfectly. Would glass-bedding have helped? Maybe. But one of the reasons I think the Boyds stocks work so well without bedding is because the recoil lug recess is not oversized (as you might find on many other aftermarket stocks).
Should you order a Boyds Spike Camp for your rifle? I'll leave that up to you to decide.
I'm not a fan of the thumbhole design. There's nothing wrong with it, but I just don't like it: When it comes to rifle stocks, I'm more of a traditionalist. I do, however, like the straight comb with the negative drop on the Spike Camp, which helped mitigate felt recoil very well. I found the stock very comfortable from the bench and when shooting off-hand.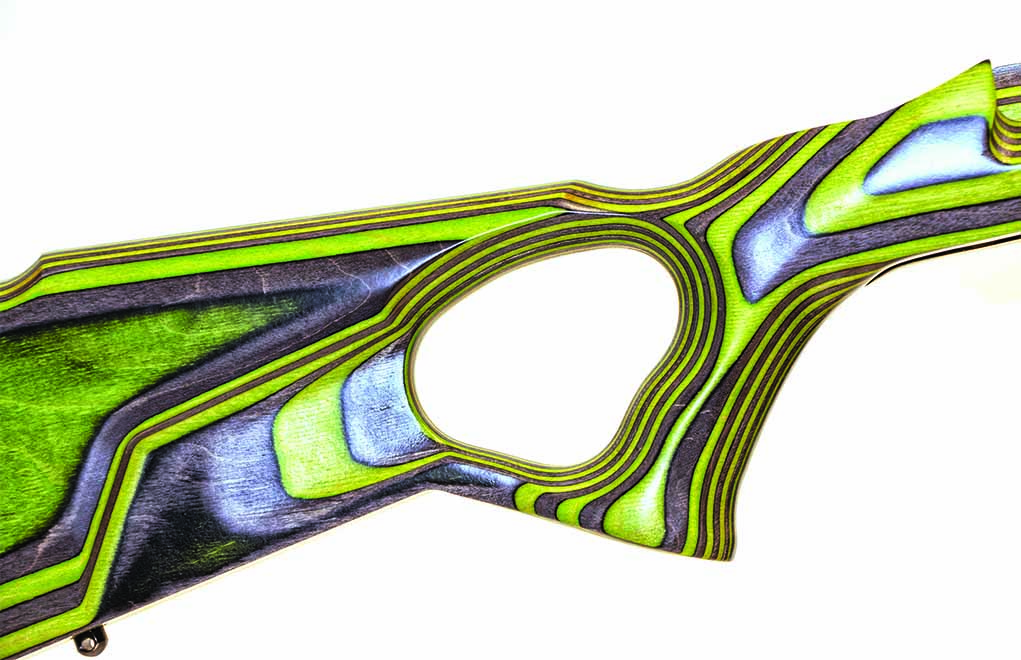 I think that regardless of your opinion about what this stock looks like, there's one undeniable fact: A Boyds stock is very likely the best aftermarket rifle stock you can buy for the money—period!
And finally, as a side note, we can't ignore how well the box-stock Remington-barreled action performed. To come from a rifle with a suggested retail price of only $842, and to average only 0.66 inch for 12 three-shot groups (36 shots) fired in fewer than 10 minutes—which equates to one shot every 16 seconds—is damned astounding! Not a single group fired exceeded the MOA mark!
For more information on Boyds Spike Camp stock, please visit boydsgunstocks.com.
The article originally appeared in the 2020 Buyer's Guide issues of Gun Digest the Magazine.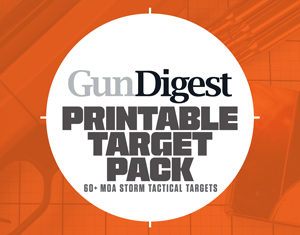 Next Step: Get your FREE Printable Target Pack
Enhance your shooting precision with our 62 MOA Targets, perfect for rifles and handguns. Crafted in collaboration with Storm Tactical for accuracy and versatility.
Subscribe to the Gun Digest email newsletter and get your downloadable target pack sent straight to your inbox. Stay updated with the latest firearms info in the industry.