An impressive performer, the Glock 42 sets the bar high for other .380 ACP pistols.
What makes the Glock 42 a good carry gun:
Single-stack makes it easy to conceal.
Lightweight, the pistol is comfortable to carry all day.
6+1 capacity provides ample firepower for most defensive situations.
.380 ACP ammunition is more formidable than ever.
The G42 digests nearly every load without a hiccup.
Despite short sight radius, pistol proves consistantly accurate.
Legions of American shooters have warmed up to the Glock striker-fired pistol platform over the past three decades but it could never quite get my juices flowing because of the rather square look and the grip frame simply didn't fit my hand.
Now along comes the dandy little pocket-sized G42, a model chambered for the .380 ACP with a single-stack profile, and it's gotten my attention. A pal of mine who is a reserve police officer rounded one up for an evaluation as a personal backup gun, and he let me run it through its paces. Long story short, I'm really impressed, and that comes from a guy who doesn't really care so much for striker-fired semi-autos, as I tend to prefer the looks of a Model 1911 and its clones.
But those are .45-caliber guns and this is a .380, a classic cartridge that has been chambered in some of the most popular pistol models, including my dad's Model 1934 Beretta, the legendary Walther PPK and the Colt Model 1908. In today's lineup, one still finds the PPK, along with the Ruger LCP, Sig Sauer P238, Kahr P380, Colt Mustang Lite, Smith & Wesson Bodyguard and others chambered for the cartridge.
Bad news for all of those guns, the Glock 42 is going to give them some very stiff competition. Glock's slim-line subcompact has already become very popular in a short time, and like other suddenly popular pistols, the gunmaker has had to race to keep up with demand. Models aren't sitting on store shelves very long.
Brass Tacks Of The G42
For my test, the piece proved itself a sizzler right out of the box. It liked Remington UMC and American Eagle ammunition, and it loved 85-grain Winchester Silvertips, though I had some trouble with Black Hills 90-grain JHPs when it came to feeding. However, as far as accuracy goes, all four of those loads went where I wanted them to go. I'm not entirely certain what was up with the Black Hills load, because I've had tremendous results with their ammunition over the years.
The Glock G42 holds a six-round magazine and in a tight spot by the time the ammunition is gone, you've gotten someone's attention. The magazine is not tough to load, as are some single-stack models when the last couple of cartridges need to go in. I was particularly pleased that the pistol is less than an inch wide on the slide and is less than six inches in length. It hits the scale at 14.36 ounces loaded, and it goes virtually unnoticeable when carried in the pocket of a down vest or parka.
Proven Safe Action
Like all of its larger siblings, the G42 has Glock's proven safe action, and I was really impressed with the trigger. Once I had the uptake down pat, the trigger broke crisp and that helped me not only plug away at Shoot-N-C targets, but also bits of broken clay targets, a couple of sticks and one empty plastic water bottle.
The Glock 42 has the earmarks of a great hideout gun, sized right for carry in a holster of my undershirt genre, the so-called "tuckable" (a term I personally detest, but I'll get over it). It will also tuck in an ankle holster or a pocket holster, and as noted earlier, it easily slides into a pocket without a holster. I'll hazard a guess that by the time you read this, every major holster maker in the country will be knocking IWB (inside waist band) rigs together for this gun, whether leather, nylon or Kydex, and if they're not, they are going to be behind the curve because I think Glock is going to sell a boatload of these pistols, and not just because of favorable reviews.
Today's modern ammunition will make the G42 rock, so nobody should worry about those tales of anemic .380 ACP performances. Modern propellants and bullet designs makes this cartridge a rather formidable little number at gunfighting range, and nobody should discount it for defensive purposes. The cartridge is one of those old-timers that simply won't die, and it goes through cyclic resurgences when a new generation of shooters seems to rediscover it for its close-up defensive potential. Such is the potential this G42 proposes to create.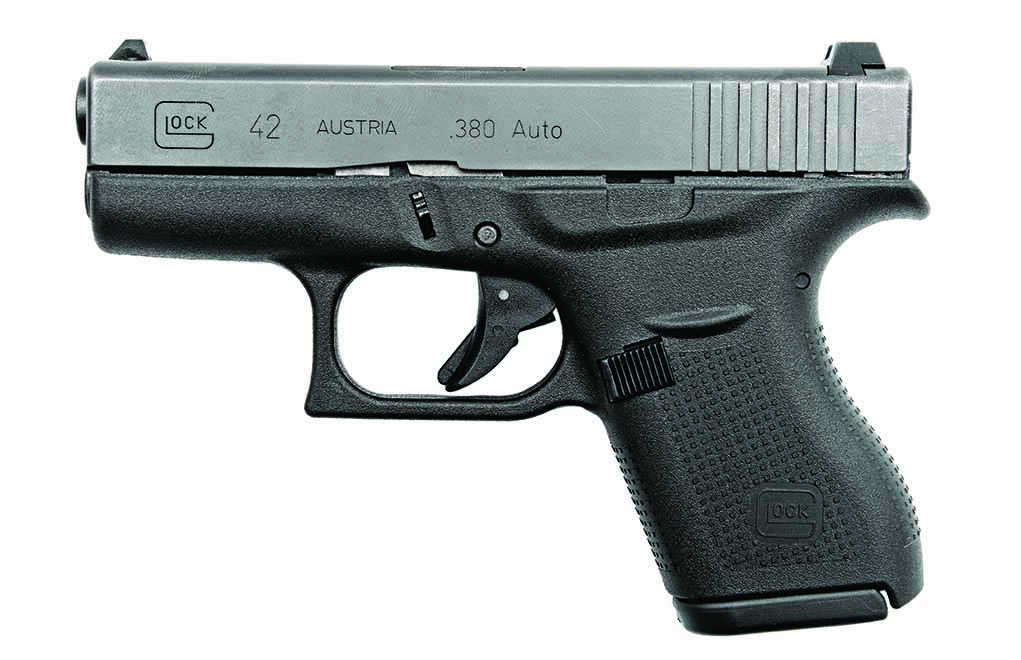 Winchester's 85-grain Silver Tip averaged 911.6 fps out of the muzzle, while the 95-grain American Eagle FMJ crossed the screens averaging 870.2 fps. The Remington UMC 95-grain range ammo averaged 848.7 fps and the Black Hills 90-grain JHP clocked a rather surprising 833.7 fps, which seemed a bit slow. I corresponded with Black Hills' Jeff Hoffman about this and it surprised him, too, since not long ago I'd used the same ammunition in a different .380-caliber pistol without so much as a hiccup. I'm going to chalk it up as one of those little unexplainable mysteries and keep shooting the same ammo.
The G42 tears down likeother Glocks and goes back together the same way. I had no trouble breaking it into its components for a quick cleaning.
Glock 42 Accuracy
Glock designers gave the G42 a 3.25-inch barrel, which is pretty average for small pistols of this caliber. With a sight radius of 4.92 inches, the Glock 42 maintains accuracy rather consistently, which is all anyone could ask for from a purely defensive handgun. This is not designed for precision target work, though I'll gamble that someone who spends time with this gun on the range and finds the perfect load would likely be able to pot a rabbit or two in an emergency.
People laugh at me occasionally for suggesting that a defensive handgun might double as a dinner provider, but I know other guys who have used handguns for just such a purpose. If you can hit something as small as a bunny in the noggin, you will be able to hit something considerably larger.
Speaking of the sights, the rear is dovetailed into the slide with a white outline square notch, and the front is pinned with a visible white dot. If I were to buy this gun, I'd consider swapping for a set of tritium sights.
Ejection of spent cases is positive and they tinkled rather well on the cement floor of the shooting shack, about three feet to my right rear. Another thing about the G42 that I found pleasing is the beavertail rear profile of the polymer frame. You're not going to pinch the flesh between thumb and index finger unless you get sloppy with your hold.
Glock packages this pistol in a handy hard plastic case that has egg carton padding inside, along with a lock and spare magazine. While Glock has a couple of other .380 ACP pistols that are European-made, the Glock 42 is the only one available to private citizens in this country because it is made here. The others are offered to civilian law enforcement only.
Anyone shopping for a concealed carry gun will want to give the Glock 42 a look. It's a great compact .380 option and is sure to find a warm spot in the hearts of pocket pistol aficionados everywhere.
Glock 42 Specs
Caliber: .380 ACP
Capacity: 6
Magazines: Spare included
Barrel: 3.25 inches
Sights: White dot
Frame: Polymer
Slide: Steel
Length: 5.94 inches
Height: 4.13 inches
Weight: 13.76 ounces unloaded
Rifling: Right hand, hexagonal
MSRP: $400
Editor's Note:This article appeared in the 2014 Special Concealed Carry Issue of Gun Digest the Magazine.
---
Learn More About Glock Options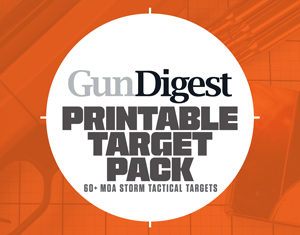 Next Step: Get your FREE Printable Target Pack
Enhance your shooting precision with our 62 MOA Targets, perfect for rifles and handguns. Crafted in collaboration with Storm Tactical for accuracy and versatility.
Subscribe to the Gun Digest email newsletter and get your downloadable target pack sent straight to your inbox. Stay updated with the latest firearms info in the industry.