Is there a place in concealed carry for 9mm handguns with reflex-style optics? In this Glock G19 MOS review, Robert Sadowski answers with an unequivocal yes!
With a little practice, concealing, drawing and shooting are very doable with a reflex-optic handgun.
The Glock MOS G19 was fast on target and even quicker on follow-up shots.
With groups around an inch at 25 yards, it's hard to argue with the accuracy of the reflex-sighted Glock.
A dramatic change in how concealed carry pistols are equipped has evolved with the G19 Gen4 MOS (Modular Optic System).
This Glock allows you to easily mount a small reflex red-dot sight and will no doubt change the way the next generation of concealed carry users defend themselves. Fast target acquisition and easy-to-conceal reflex sights are the next step in high-tech defense and this Glock made the transition from irons to optics seamless.
I put a G19 Gen4 MOS pistol through the day-in and day-out tasks we all do: strapping on a holster, holstering and carrying the gun, then removing it and starting all over the next day.
But the carry portion is only part of the story of the optics-ready Glock. The G19 took well to the Leupold DeltaPoint it wore. After a box of cartridges, I was drawing, aiming and hitting targets like I had carried it for years. Will iron sights become backup as they have on AR rifles? I say yes, and Glock has made it easier and infinitely more practical to mount an optic on a concealed carry pistol.
The Glock compact G19 is one of the most popular defense pistols available. It really does not need any introduction.
My expectation was the handgun would perform flawlessly, adapt to my hand size, and be extremely reliable. The G19 Gen4 MOS is nearly the same as current G19 pistols except for a cover plate just forward of the rear sight.
In MOS configuration, it is only a matter of removing two screws and the cover plate, choosing the MOS adaptor plate that is compatible with your reflex sight, mounting the adaptor plate to the slide, and affixing optic to the adapter plate. It actually takes more time to describe mounting an optic on the Glock than doing it.
The MOS adaptor plates are compatible with reflex red-dot sights from a number of manufacturers: Trijicon, Leupold, Meopta, C-More, Doctor, and Insight. The footprint of the adaptor plate on the slide is small, but the actual optic footprint will vary in width and height depending on the manufacturer. They all weigh nearly the same.
The Leupold DeltaPoint I mounted sits low on the slide. Its width is 1.2 inches, while the width of the G19 slide is 1.0 inches. An eighth of an inch of the DeltaPoint hangs over each side due to the shape of the sight's widow. It sits at an inch high, while standard Glock sights poke up 1/8-inch.
I've used red-dots for competition shooting, which affords greater speed over traditional iron sights. Plus, there is only one plane to focus on when aiming a red-dot. The three sight planes of traditional open sights — rear, front and target — need to be aligned for shots to hit accurately.
It takes practice and training. A reflex sight is far easier to acquire the target, aim, fire, and get back on target. Carrying a concealed pistol equipped with a reflex red-dot sight does not pose a drastic change in the way you carry, but it will change the ease with which you aim.
The iron sights on the G19 are standard height and do not co-witness with the DeltaPoint. Battery life is an issue with any electronics. Optics are rugged and can take abuse, but there is that voice in the back of your head asking what happens when the batteries die.
Here's one thing I found: In a pinch if the battery dies you can use the window of the reflex sight as an extra-large makeshift peep sight in conjunction with the front blade. For close distance, I tried that very thing out to 10 and 15 yards and it worked effectively allowing me to hit a target 18 inches in width or about the width of the average human torso.
Battery life should not be an issue barring unforeseen circumstances. Even if dropped in water the DeltaPoint is waterproof. Using any battery-operated accessory requires an additional maintenance task, routinely changing batteries like you do in a flashlight or smoke detector. It becomes second nature and ensures you are not caught unawares.
To carry the G19 I used a DGS Arms CDC (Compact Discreet Carry) Kydex IWB (Inside-the-Waistband) holster. I've used this holster to carry a standard G19 in appendix carry. Using a pencil, I marked the holster and used a Dremel tool to cut a slot to allow the handgun with mounted DeltaPoint to be completely holstered.
There are now several makers producing holsters for red-dot-equipped handguns.
I found the red-dot did not affect my concealed carry routine. I did need to slightly modify my training when drawing the new Glock from concealment. The taller sights have the potential to snag on concealing garments when drawing if you don't grab that shirttail and yank it as high as you can (which you should do anyway regardless of your carry gun's sights).
I did find the DeltaPoint made a great handle to rack the slide if needed. I admit I used it as a handle a lot to see if the sight would come loose or go out of zero. Nothing doing. I even employed the sight to rack the slide against the edge of the shooting bench, my holster mouth, and with my hand during a reload. Using the sight as a grip means it gets fingerprints.
Concealed carry also means lint can build up in the sight window. Part of my new routine became to blow out any lint or debris that would build up using the same canned air I use to clean out my computer keyboard.
The real test is making holes in paper. I averaged about 1.7 inches for 5-shot groups using a rest. Firing offhand and finding the red-dot in the sight window took a bit of ramp-up time. By the second magazine, I was drawing and aiming as if I had always used a red-dot on my concealed carry pistol.
SPECIFICATIONS
MODEL: Glock G19 Gen4 MOS
CALIBER: 9mm
ACTION: Locked Breech, Recoil Operated
BARREL LENGTH: 4.02 in.
OVERALL LENGTH: 7.28 in.
WEIGHT: 21.16 oz. (empty)
SIGHTS: Fixed, Dot/Outline
TRIGGER: Striker Fire
FINISH: Matte Black
GRIPS: Textured Polymer Modular Backstraps
CAPACITY: 15+1
This excerpt is from 9mm: Guide to America's Most Popular Caliber.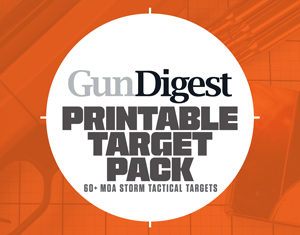 Next Step: Get your FREE Printable Target Pack
Enhance your shooting precision with our 62 MOA Targets, perfect for rifles and handguns. Crafted in collaboration with Storm Tactical for accuracy and versatility.
Subscribe to the Gun Digest email newsletter and get your downloadable target pack sent straight to your inbox. Stay updated with the latest firearms info in the industry.