The Bianchi Allusion Model 135 Suppression CCW holster is an inside the waistband, or IWB holster design, which is all about concealability and comfort.
The first word in concealed carry is, obviously, "concealed." For the longest time that meant simply hanging a holster on your belt and covering with a shirt or jacket. But as consumers demanded more options, holster makers became more creative and the Inside the Waistband (IWB) Holster has come a long way since the original "lay-flat" pouches used to hide J-Frame revolvers.
Today you have all kinds of options including tuck tabs so you can tuck your shirt in, but still have access to the pistol and, most importantly, molded internal components keep the holster open so you can easily re-holster your pistol, should you need to do so.
Still, there is one thing most IWB holster buyers forget: You need to get bigger pants when you carry IWB. The pistol and holster combination adds another entire waist size to your belt line. If you usually wear a 36-inch waist, get 38s to help you carry your .38 comfortably.
Now back to the holsters. One of the biggest names in the holster business has a new IWB that you will love. The Bianchi Allusion Model 135 Suppression inside the waistband design is all about concealability and comfort. Concealability is enhanced by the holster sitting low enough that the thickest part of the weapon lies directly underneath the belt, helping to obscure the shape.
Meanwhile, two shirt-tuckable C-clips grasp the belt and, taking as little real estate as possible; give the appearance of an empty belt. The gun cant is optimized to put the grip into the kidney area of the back, minimizing any visible printing. Comfort is enhanced with a body-facing holster liner composed of soft foam covered with an anti-microbial mesh coating to reduce bacteria growth and odor.
The MSRP for the holster is $74, but you can find it online for $55.
Bianchi Suppression Model 135 Holster Features:
• Dual tuckable C-clip design for attachment to the belt
• Provides strong belt retention on the holster
• Minimizes visible portion show
• Anti-bacterial and microbial foam padding on inside liner
• Prevents germs and odor from accumulating
• Padded liner provides added comfort
• Slight detent in trigger guard for enhanced weapon retention
• Available in Plain Tan or Plain Black finish
• Carry: Strongside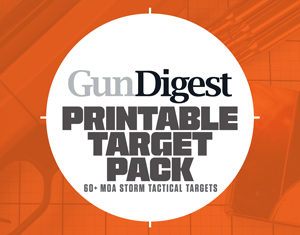 Next Step: Get your FREE Printable Target Pack
Enhance your shooting precision with our 62 MOA Targets, perfect for rifles and handguns. Crafted in collaboration with Storm Tactical for accuracy and versatility.
Subscribe to the Gun Digest email newsletter and get your downloadable target pack sent straight to your inbox. Stay updated with the latest firearms info in the industry.