The Colt Python is widely considered to be one of the best revolvers ever made, and with production ceased for more than a decade, it's also among the most collectible.
What makes this classic revolver the "queen" of a collection?
The Colt Python was released in 1955 and is considered by many the best gun made by the company.
The revolver was built on the Colt I-frame, also known as the "old .41 frame."
In the Python's early years it ran a mere $125.
Presently, it's not unusual for the .357 Magnum to demand $3,000 to $4,000.
What makes the Colt Python desirable is its tight tolerances, hand-fitting and hand-polishing.
The revolver was produced up to 1996 and by special order until 2005.
Those of us who are old enough to remember the '50s know what a great time it was to be a kid growing up in America. And the middle of the decade, 1955, was a really good year. The number one song on the radio was "Rock Around the Clock" by Bill Haley and the Comets, considered by some to have been the first rock 'n' roll song. It was the year that Ford introduced the Thunderbird, Walt Disney opened Disneyland, and a new TV western, "Gunsmoke," went on the air.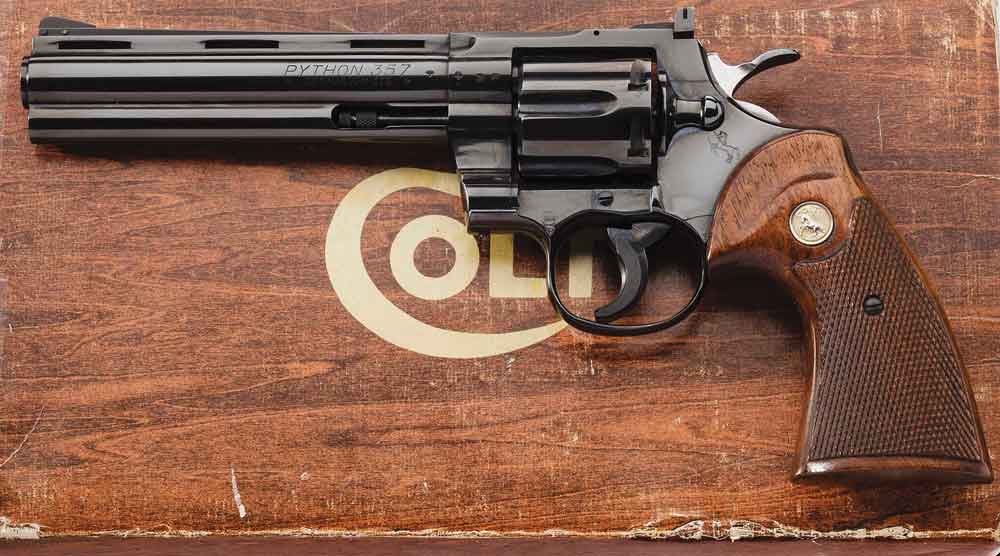 For fans of firearms, 1955 gave us several historically important new handguns. After years of insisting it would never happen, Colt brought back the Single Action Army revolver, in part because of the great popularity of TV shows like "Gunsmoke." Bill Ruger also saw the trend and, to give Colt some head-to-head competition, introduced the company's first centerfire, the single-action Blackhawk. And 1955 is also remembered as the year Colt introduced what many consider the finest Colt ever made, the Python.
A Legend Is Born
Some gun historians say it was the best revolver ever made. It was built on the Colt I-frame, which also was known as the "old .41 frame," referring to Colt's earliest swing-out cylinder, double-action Army and Navy models of the late 1800s and early 1900s. It has been said that some internal parts of these older models will interchange with those in the Pythons.
The first mention of the Colt Python I have found in print was in the 1956 edition of the Gun Digest Annual in an article about new revolvers by Major General Julian Hatcher, one of the very top gun writers of the day. It was just a short paragraph in the form of an editor's note by John Amber, the renowned editor of the book for many years.
"Another late offering from Colt is their new Python Model in .357 Magnum caliber. Features of the new revolver are a ventilated rib — the first time this has been factory installed — a new barrel form, and target type grips as standard equipment. Price has been set at $125."
General Hatcher and John Amber would be amazed at the prices being paid in recent years for Colt Pythons. Of course, condition is a big factor, but $3,000 to $4,000 is not unusual for the higher levels, and you can double those amounts for short-barreled nickel-finish models.
Fine In Form And Function
Why are these prices so much more than comparable Smith & Wessons, Rugers or other makes? The Python was a hand-fitted, hand-polished model and was often described as the Cadillac of Colt revolvers. Depending on one's taste, like a classic Caddy from the '50s, a Python is a thing of beauty and craftsmanship.
But it wasn't just an attractive firearm; it was also very accurate, due to its tight tolerances and handwork. Many shooters describe the trigger as being smoother than any other gun they had fired. It has been considered somewhat of a status symbol, especially in recent years as prices have skyrocketed. I'm sure many could be called "safe queens," which are taken out of the safe for show, but seldom if ever are fired.
It was originally intended to be an elite target gun in .38 Special. The .357 Magnum was announced by Remington and Smith & Wesson not long before the Python was ready to go into production. At the last minute Colt management decided to chamber their new gun for the magnum. Of course, it could also chamber the .38 Special. Later in the 1980s, a few Pythons were made in .38 Special only.
A Prized Possession
The Colt Python was in regular production from 1955 until 1996, and was offered in many different model variations with a wide range of barrel lengths, grips and finishes. After 1996, it was available only by special order from the Colt Custom Shop until 2005 when the model was discontinued. So it is now more than a decade since the last Python was produced, and "they aren't making them anymore" is a factor.
One of the common questions on gun forums is "will Colt ever bring back the Python?" As previously mentioned, the gun required a lot of hand fitting and polishing, skills that are hard to find today in the firearms industry. Even if you had the people to do the job, the time and talent involved would result in a very expensive gun. Most shooters, and certainly collectors, would rather put their money into an original Colt Python.
For several years, the Python has been one of the most sought after collectible guns. And, sad to say, this has resulted in many fake barrel lengths, finishes and other features. Readers are strongly advised to get an expert opinion before buying or selling one of these models that are described as excellent condition, new or unfired. It is also important to obtain a letter from the Colt company showing information on the background of the particular gun.
Editor's Note: This article originally appeared in the April 2018 issue of Gun Digest the Magazine.
---
Find Out More About Iconic Colt
---
---
NEXT STEP: Download Your Free Storm Tactical Printable Target Pack
62 Printable MOA Targets with DOT Drills - Rifle Range in YARDS
This impressive target pack from our friends at Storm Tactical contains
62 printable targets
for rifle and handgun range use. Target grids and bullseye sizes are in MOA. Ideal for long-range shooting!
Subscribe to the Gun Digest email newsletter and we'll send your print-at-home target pack right away.
Just enter your email address below.
---