With an adjustable comb and length of pull, Savage's new AccuFit System allow shooters to customize their rifles to their frame.
The skinny on the new AccuFit System:
The AccuFit System uses spacers to adjust comb height and length of pull.
Length of pull can be adjusted a full inch in 1/4-inch increments.
Comb height can be adjusted 1/2 inch in 1/8-inch increments.
The AccuFit System will be available on nine Model 110 rifles.
There's no replacing the bolt-action. The age-old design provides target shooters, competitors and hunters nearly the complete package — relatively decent rate of fire, simple manual of arms and, above all, accuracy.
If there is a sticky point to the design, it's the rigidness in adaptability — particularly when it comes to stocks. Certainly, at the higher end of things, there are precision stocks available, and there's always an option to upgrade. But as far as production rifles are concerned, a system adaptable to any shooter has been sorely missing.
Savage is out to change that in a big way. The Massachusetts gun maker is set to launch its fully adjustable AccuFit System at the Jan. 23-26 2018 SHOT Show in Las Vegas. Following in the footsteps of the AccuTrigger adjustable trigger and AccuStock, the system offers another step toward accuracy in a package that does not break the bank.
In essence, the system is a fully adjustable stock, both in length of pull and comb height through the use of spacers. Savage includes five comb risers and four LOP inserts, allowing the stock to adjust to nearly any shooter behind the trigger. The comb is adjustable from ½ inch to 1 inch of elevation in 1/8-inch increments, while there is a full inch of play in LOP, adjustable in ¼-inch increments. This should provide enough flexibility of fit for the greater swath of the shooting world.
The AccuFit System, however, requires forethought, compared to many of the precision-shooting numbers presently available; it's definitely not shift-on-the-fly. Customizing the fit requires tools — a Phillips-head screwdriver. But, as long as shooters aren't sharing a rifle on a backcountry elk hunt, this should not be a huge issue.
There will be a slew of choices when it comes to rifles outfitted with the AccuFit System, given Savage is releasing nine Model 110s outfitted with the stock, including: 110 Hunter, 110 Storm, 110 Long Range Hunter, 110 Varmint, 110 Predator, 110 Wolverine, 110 Bear Hunter, 110 Tactical Desert and 110 Scout. The rifles will also come with the AccuTrigger and AccuStock embedded rail system standard, giving shooters a fairly decked out bolt-action.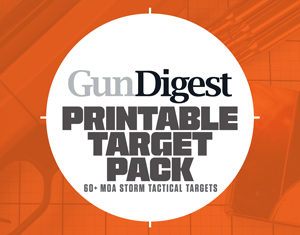 Next Step: Get your FREE Printable Target Pack
Enhance your shooting precision with our 62 MOA Targets, perfect for rifles and handguns. Crafted in collaboration with Storm Tactical for accuracy and versatility.
Subscribe to the Gun Digest email newsletter and get your downloadable target pack sent straight to your inbox. Stay updated with the latest firearms info in the industry.