Retro AR parts now are back on the market as H&R begins shipping lower receivers.
It came to light not too far back that JJE, the parent company that owns Palmetto State Armory, had acquired NoDak Spud as well as the rights to Harrington & Richardson. For those who haven't dived into the world of retro AR-15s, NoDak Spud has been the primary source for historically-accurate AR-15 receivers for many years. For anyone who was looking to build a clone of a military or police AR from the '60s through the '80s, NoDak was the place to go. H&R was also one of the original manufacturers of M16 rifles, and most of those used in Vietnam bore their mark.
Retro AR cloners can get quite obsessive about having the correct roll marks, and this merger will allow for H&R-marked receivers without causing any copyright controversies. By combining NoDak Spud's know-how with the legally-owned H&R brand name and JJE's production capacities, it means that some very historically-correct, mass-produced retro AR rifles and parts are about to become a reality.
While the new H&R promises that nearly the full catalog of old NoDak Spud components will eventually become available, tooling up to do so will take some time. The company decided to start with M16A1 parts, and the first batch of H&R-marked lower receivers was listed on July 22nd. They sold out incredibly fast, as many builders had been anticipating this for some time, but it's a sure sign that production has officially begun. A1 uppers will supposedly be the next component to be released.

Complete rifles will eventually be offered as well, such as the M16A1 that was featured at SHOT Show 2022. A2-series, C7 and even some more experimental receivers are supposedly in the pipeline too. Retro ARs have only grown more popular over the past few years, but the market has been devoid of affordable parts to build them with. This release of H&R lowers hopefully marks the beginning of a new era of accessible retro rifles that won't break the bank. MSRP for the new lower is $159.99.
For more information, please visit hr1871.com. They are being sold through palmettostatearmory.com.
---
More Retro AR Stuff: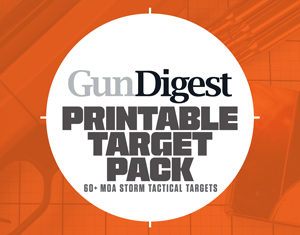 Next Step: Get your FREE Printable Target Pack
Enhance your shooting precision with our 62 MOA Targets, perfect for rifles and handguns. Crafted in collaboration with Storm Tactical for accuracy and versatility.
Subscribe to the Gun Digest email newsletter and get your downloadable target pack sent straight to your inbox. Stay updated with the latest firearms info in the industry.