An otherwise adequate budget red dot sight, the Riton X1 Tactix RRD can also look the part mounted on a carry handle retro carbine build.
As an AK guy, when I decided to finally build an AR I admittedly didn't shell out for top-of-the-line components. Since the only role I planned this rifle on filling was range toy, it was more important the gun looked how I wanted than have ready to survive the apocalypse. As an appreciator of military history, to me, that meant building some sort of "CAR-15".
I put CAR-15 in quotes because I mean it in the most colloquial sense possible. I didn't set out to accurately clone any specific AR-15 model, I simply began buying the most affordable parts I could use to cobble together something recognizable as a military carbine. The gun I ended up with is quite similar to a Colt 723, but with plenty of deviations in detail. The most obvious being its mid-length gas system and 16-inch barrel.
I was quite happy with how the rifle was configured for a while, but like many gun guys, I got bitten by a bug after watching a certain couple of movies. Black Hawk Down and Blood Diamond are two classic films that had their weaponry provided by the same prop company, and while the iconic AR-15s featured in them are not perfectly historically accurate either, they've left a lasting impression.
I say that the now-famous carbines used in these films aren't historically accurate mostly because of the optic mounted on them: the Aimpoint CompM2. It is an excellent red dot that was widely issued to U.S. and NATO troops for many years, but not until it was launched in the year 2000 several years after the events of Black Hawk Down took place. The problem with the historically accurate Aimpoint 3000 and 5000 optics that were actually used during Operation Gothic Serpent is that they are rare, expensive and don't have modern lookalikes. While the first two points also apply to the CompM2, the third is what leads us to today's review. The Riton X1 Tactix RRD is a modern, affordable red dot sight with a body shape similar enough to a CompM2 to play the part of a retro carry handle optic on a Blood Diamond carbine build or other similar endeavors. Oh, and for those who keep their AR builds a bit more contemporary, the X1 Tactix RRD can work fine for you too.
Riton X1 Tactix RRD Vs Aimpoint CompM2
Out of the box, the X1 Tactix RRD felt and looked good. The body is made of 6061-T6 aluminum and nothing about its construction suggested that it was a lower cost red dot option. It came pre-installed in the cantilever mount, but for my purposes I immediately removed it. Once out of the mount, its similarities to an Aimpoint CompM2 became more clear.
Both optics feature 30mm tubes, flip-up lens covers and an elevation knob on the top of the body. The shape of each optics' battery compartment is the biggest visual difference between them, with the X1 Tactix RRD taking one CR2032 and the Aimpoint being powered by an older 1/3N battery. The difference between power sources leads us to the first advantage of using a modern lookalike optic rather than an original, as the X1 Tactix RRD has an advertised 40,000 battery life as opposed to the Aimpoint's 10,000. The Riton is also capable of producing a 2 MOA dot while the CompM2 dot was only advertised as being 4 MOA. Despite being the older model, however, the Aimpoint does manage to weigh 2.4-ounces less than the X1 Tactix RRD (9.5 oz vs 7.1 oz).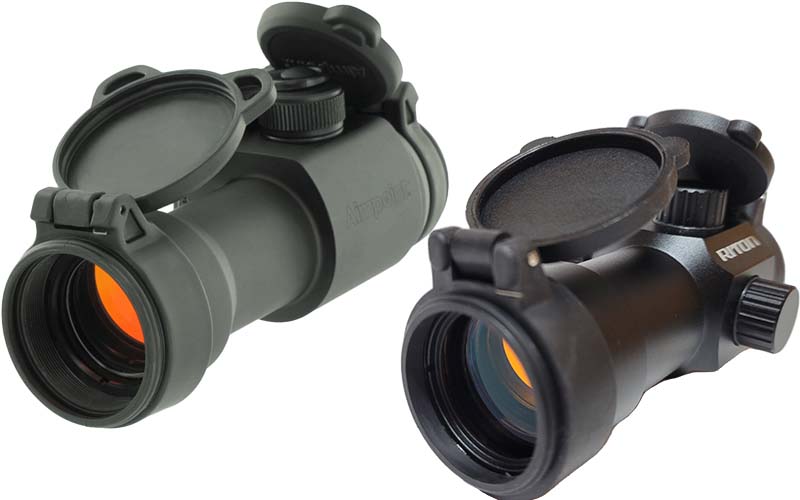 Both optics are compatible with night vision, although the CompM2 is more so. While the X1 Tactix RRD only has six brightness settings total, the Aimpoint features six daylight settings plus an additional 4 specific for night vision.
Mounting The X1 Tactix RRD
As previously mentioned, the X1 Tactix RRD includes a skeletonized cantilever mount. While I never tried out the one included with mine, it appears to be a decent mounting solution. Doubling as a riser, this mount leads to one of the reasons why retro ARs seem to be making a comeback in recent times. Besides the classic aesthetics provided by carry handle uppers, when used to mount optics they also happen to sit roughly the same height many modern shooters use riser mounts to achieve. Sometimes what's old is new again, and there's something to appreciate about the combination of carry handle uppers and modern red dot sights on fighting carbine setups.
Because I was mounting the X1 Tactix RRD to the carry handle of my C7 upper, the mount included by Riton was of no use to me. Instead, I attached it to my rifle using a single 30mm Vortex low ring in conjunction with a generic carry handle optics mount. Installation was quick and easy, and upon seeing the final product my desire for a retro-styled red dot was satisfied. Even though the goal of this AR build was purely one of aesthetics for me, I did want the rifle usable as well. While the X1 Tactix RRD may have looked the part as soon as it was installed, it took a trip to the range to see if its function was equal to its form.
X1 Tactix RRD At The Range
From the first shots out of this setup, I could tell that I liked it. While this is more of a comment on carry handle-mounted red dots in general rather than on the X1 Tactix RRD specifically, this configuration was extremely enjoyable to shoot. It made rapid target acquisition easy when using a heads-up, both-eyes-open shooting position, and it was able to make shots at longer ranges as well. Optics setups like this have a large height-over-bore compared to ARs with optics directly mounted to railed upper receivers. While it takes some getting used to, once the user understands the offset it is easy to compensate for it.
As far as the actual performance of the X1 Tactix RRD, I was impressed. For the price, the optic felt just as usable to me as some of the nicer red dot sights I've gotten to play with. The dot was crisp, the glass clarity was good and no issues presented themselves during testing. The optic has no shake-awake or auto-sleep features, and despite forgetting to turn it off more than once the battery was still going strong when I got it out to the range. This should be expected of an optic with an advertised 40,000-hour battery life, but it's a good sign nonetheless.
The 2 MOA dot was crisp and very capable of both rapid, close-quarters engagements as well as longer ranges, although I did not test it beyond about 100-yards. While the dot was crisp, the brightest setting was required to use it in the lighting conditions I experienced during testing. Midday daylight often requires the highest brightness setting, but what concerns me about the X1 Tactix RRD is that I was testing it in an environment that was not the brightest, to begin with. While it was plenty sunny out, I also live in the Midwest and was shooting in the woods. The X1 Tactix RRD was still bright enough to function in this light level, but I would be curious to see if the same could be said in the Arizona desert. I have suspicions that in the brightest environments that the Earth has to offer, the Riton may not be up to snuff. Someone who lives somewhere sunnier will have to determine that for us, however.
As far as durability goes, the X1 Tactix RRD feels solid, but I did not subject it to much abuse. It easily withstood the minor recoil provided by 5.56 as well as survived being lugged around the woods in a soft case. Admittedly, neither test is very demanding. Riton advertises the X1 Tactix RRD as being shock and waterproof, but without the optic being widely issued among military users it will never have the reputation of more battle-proven brands like Aimpoint.
Final Thoughts
As is often asked on customer surveys, would I recommend this product to a friend? When it comes to the X1 Tactix RRD, it depends on what that friend wants to accomplish.
The red dot market is currently saturated with plenty of good, affordable models. Most AR-owners seeking one will have a flat, railed upper receiver and no penchant for retro military aesthetics. For these individuals, the X1 Tactix RRD is just one of many fine budget red dot sights, and it doesn't do anything particularly special to make it stand out. The feature that does make it stand out is its 30mm diameter tube, and it's what would lead me to recommend the X1 Tactix RRD under certain circumstances.
For those seeking to mount a red dot optic on a carry handle without breaking the bank, the X1 Tactix RRD is an excellent choice. While not a perfect copy of an Aimpoint CompM2, it looks close enough to fill the role on a retro carbine build and it serves as a fully functional optic while doing it all for around $100. The only visual feature on the Riton that I'm not a fan of is its bright, white-colored branding emblazoned on each side. It's not too distracting, but it will probably lead me to give my whole rifle setup a rattle can job to hide it.
The Riton X1 Tactix RRD has an MSRP of $229.99. To me, this seems like an accurate representation of its quality, but they can currently be found for sale online for just over $100. At that price, the quality of optic you get for the money strikes me as a very good deal, especially when considering that it includes a fully functional cantilever mount. While the X1 Tactix RRD doesn't have anything special to offer most AR users, for those who are yet to retire their carry handles, this optic is still well worth a look.
To learn more, please visit ritonoptics.com.
---
More On AR-15 Red Dot Sights:
---
NEXT STEP: Download Your Free Storm Tactical Printable Target Pack
62 Printable MOA Targets with DOT Drills - Rifle Range in YARDS
This impressive target pack from our friends at Storm Tactical contains
62 printable targets
for rifle and handgun range use. Target grids and bullseye sizes are in MOA. Ideal for long-range shooting!
Subscribe to the Gun Digest email newsletter and we'll send your print-at-home target pack right away.
Just enter your email address below.
---