CZ-USA has just released the CZ 600 Lux, a new bolt-action rifle with a wooden stock available in four chamberings.
In late 2021, CZ-USA announced that the new 600 Series of bolt-action rifles would be replacing the famed CZ 527 and CZ 557 series. Five models were originally shown, but they were slated to only begin hitting store shelves in 2022. The CZ 600 Lux, arguably the most traditional entry in the lineup, is now widely available.
The CZ 600 Lux may look like a traditional European centerfire hunting rifle with its oil-finished and checkered Bavarian-style walnut stock, but several modern innovations have improved its functionality as well. The design features a new 60-degree bolt throw for faster and smoother cycling, an oversized wooden bolt knob for easier operation and a 2-position safety that is nearly silent to prevent spooking game in the field.
It feeds from detachable box magazines that can be topped off through the ejection port and has 5-round capacities in .223 Remington, .308 Winchester and .30-06 Springfield, and a 3-round capacity in .300 Win. Mag. All CZ 600 Lux rifles also feature a fiber optic front sight and are drilled and tapped for Remington 700-style scope bases.
The cherry on top of the CZ 600 Lux is its sub-MOA accuracy guarantee at 100 meters. Much of this is due to the barrels, which are cold hammer-forged, sporter-contoured and threaded M15x1 to be ready to accept suppressors. Both the .30-06 and .308 models feature 20-inch barrels with a 1:10 twist, the .223 Remington version has a 20-inch barrel and a 1:9 twist and the .300 Win. Mag. model sports a 24-inch barrel with a 1:10 twist. Each was chosen to extract the optimum performance from their respective cartridges. All models have an MSRP of $849 and are available now.
For more information, please visit cz-usa.com.
---
Build Your Rifle IQ: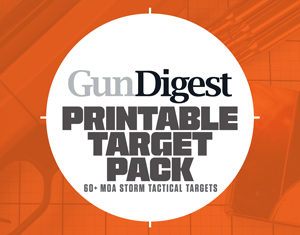 Next Step: Get your FREE Printable Target Pack
Enhance your shooting precision with our 62 MOA Targets, perfect for rifles and handguns. Crafted in collaboration with Storm Tactical for accuracy and versatility.
Subscribe to the Gun Digest email newsletter and get your downloadable target pack sent straight to your inbox. Stay updated with the latest firearms info in the industry.