Slimmed down and dolled up, Smith & Wesson's next-gen M&P15T II improves on an already solid model.
Where Is The M&P15T II upgraded:
Slimmed handguard for improved handling.
Grip modeled after M&P pistols with interchangeable palm swells.
Flat-faced trigger lessening the felt pull weight.
Rubber buffer system in the lower for a tighter, rattle-free fit.
Smith & Wesson, America's foremost revolver maker? Few would argue the long-running Massachusetts concern is definitely in the race for the title, producing some outright classics over the years. But the manufacturer has proven a nimble firearms company, turning out a slew of notable non-wheelguns that have more than earned a niche in the marketplace. Perhaps one of the most underrated is the M&P15 line of AR-style rifles.
Over the years, the long guns have earned the reputation as being among the best entry-level options available, offering shooters a Spartan, but a very reliable system. The M&P15 Sport II is legendary in this regard. However, the company offers the entire gamut of AR-style rifles, at nearly every price point, and recently revamped its popular mid-line model. Meet the M&P15 Tactical II (M&P15T II). Maintaining the same solid engineering as its predecessor, the M&P15T, the new model offers a few nice upgrades that most shooters should welcome.
Among the most appreciated, a relatively sane price tag. With an MSPR of $1,372, the gun remains very competitive in its class, while bringing plenty to the table.
Slimmed Handguard
So what do you get with the next-gen M&P15T II? Most obvious is an improved handguard system, much more in line with most shooter's expectations nowadays. Aside from boasting a full-length Picatinny rail, ample M-Lok slot real estate for accessory attachment and free-floating the barrel, its whisper-thin. Not that the version on the old model was a bear, but the new 13-inch aluminum handguard should prove much better at facilitating a forward c-clamp style grip and trimming the gun's overall weight.
Getting A Grip
Typically talking pistol grips elicits yawns. However, Smith & Wesson has done something fairly intriguing in the area, incorporating a grip modeled after its M&P pistols. It's not only a dead ringer with its fairly aggressive pebble texturing, but also that it includes four interchangeable palm swell inserts. Yeah, it's a bit gimmicky on the surface, but does potentially have some performance-enhancing capabilities. More so than just comfort, the inserts possibly could optimize finger position relative to the trigger, cutting down on placement time.
Trigger Time
To that end, Smith & Wesson has vastly improved on the M&P15T II's trigger, outfitting the carbine with a flat-faced switch that has a fairly nice break. Certainly better than the typical mil-spec trigger, which can even be found in this class of gun. Ergonomically, the trigger finger is easier to situate on a flat shoe, but the design also tends to make the pull weight feel less than it is.
The AR's Odds And Ends
As to other notable upgrades, the rifle boasts a Magpul CTR stock, rubber buffers in the lower for a tighter fit and less rattle, front and read Magpul MBUS flip-up sights and Radian Raptor-LT charging handle. Smith & Wesson has made all the M&P15T II's controls ambidextrous—save the mag release—which not only makes it lefty friendly. It also improves its handling for shooting weak side, a skill many shooters have recognized the importance of in recent times.
Finally, and common in S&W rifles, the gun has 5R rifling, which theoretically reduces bullet deformation and makes the bore easier to clean.
Parting Shot
The M&P15T was a popular AR option, if for other reason than the bang shooters got for their buck.
Smith & Wesson doesn't appear to have mucked up this winning formula with the M&P15T II.
Improved for modern shooter's tastes, the rifle maintains its two most important assets—relative affordability and effectiveness.
Model M&P15T II Specs
Caliber: 5.56mm NATO/.223
Capacity: 30+1
Safety: Manual Safety on Lower
Length: 36.9 inches
Front Sight: Folding Magpul MBUS
Rear Sight: Folding Magpul MBUS
Action: Gas Operated Semi-Auto
Stock: Magpul CTR Carbine Stock
Grip: M&P with Interchangeable Palmswell Grip Inserts
Barrel Material: 4140 Chrome-Moly Vanadium Steel
Barrel Twist: 1:8˝ Twist, 5R Rifling
Barrel Length: 16 inches
Weight: 6.7 pounds
MSRP: $1,372
For more information on the M&P15T II, please visit smith-wesson.com.
---
Raise Your Smith & Wesson IQ: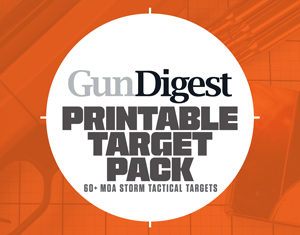 Next Step: Get your FREE Printable Target Pack
Enhance your shooting precision with our 62 MOA Targets, perfect for rifles and handguns. Crafted in collaboration with Storm Tactical for accuracy and versatility.
Subscribe to the Gun Digest email newsletter and get your downloadable target pack sent straight to your inbox. Stay updated with the latest firearms info in the industry.