With less slide resistance, the M&P9 Shield EZ opens the semi-auto pistol to more shooters.
How The Smith & Wesson Pistol Is Easier To Operate:
Easy to rack slide
Crisp, light trigger with tactile and audible reset
Easy-to-load, slide-assisted magazine
Grip safety
Disassembles without pulling trigger
Tactile Loaded Chamber Indicator (TLCI)
Facets—semi-auto pistols have a cut diamond's worth, each requiring mastery. In the shuffle of reloading and clearing malfunctions, slide manipulation is among the most overlooked. Generally, because most people have written it off as the nature of the beast. Racking a semi-auto is always going to pose a challenge, even for those with vice-like grips. But what if the slide's operation is so overwhelming a shooter pretty much writes off the style of handgun?
It was a question Smith & Wesson asked not long ago and answered with the M&P380 Shield EZ. The gunmaker obviously struck a nerve, given they recently followed up with a "big brother" version—the M&P9 Shield EZ. Chambered in more powerful 9mm, the gun remains as simple to manipulate as the .380, creating quite a potent platform that's open to a wide swath of the shooting world.
Like its predecessor, much of the magic for the M&P9 Shield EZ is thanks to Smith & Wesson breaking from market logic. Opting for an internal hammer, as opposed to the dominant striker-fired, the company was able to incorporate lighter springs into the gun. This, in turn, means less resistance from the slide and less force required to manipulate it in an effective and efficient manner. While the dominant design point, it's not the only feature Smith & Wesson has included to make the gun accessible.
Learn More About Handguns:
The pistol also features aggressive fore and aft cocking serrations common to the M&P line, a flared section of the slide at the very rear for a better grip and magazine with slide-assist loading. The M&P9 Shield EZ is also sized right for concealed carry. The pistol is outfitted with a 3.675-inch barrel and weighs in at 23 ounces, which makes it comparable to many sub-compacts in its class. The only knock on it for some shooters is capacity, with the single-stack only holding 8+1 rounds.
The M&P9 Shield EZ comes in at a reasonable price, with an MSRP of $479. And ambidextrous thumb-safety and factory-installed Crimson Trace Red Laserguard models are available.
More from Smith & Wesson:
SPRINGFIELD, Mass. – Smith & Wesson Inc. today announced that it has expanded its award-winning M&P Shield EZ pistol series to include the new M&P9 Shield EZ, chambered in the popular 9mm caliber. Built for personal protection and every day carry, the M&P9 Shield EZ further expands the M&P Shield EZ pistol platform, which was released in 2018 and features an easy-to-rack slide, easy-to-load magazine, and easy-to-clean design.

Lane Tobiassen, President of Smith & Wesson, said, "When the M&P380 Shield EZ was released in 2018, we received overwhelmingly positive feedback on the easy-to-use features of the innovative pistol platform. From that point on, we knew we would expand the M&P Shield EZ line with a pistol that incorporated the same features, chambered in the powerful and popular 9mm caliber. The new M&P9 Shield EZ is easy-to-rack, easy-to-load, easy-to-shoot and easy-to- clean, appealing to a wide range of consumers seeking out these popular features in 9mm. With over three million M&P Shield pistols adopted by consumers, we believe the 'M&P Shield' name has become synonymous with personal protection. This much anticipated release is the next evolution of the personal protection pistol."

Built for personal and home protection, the new M&P9 Shield EZ pistol is the latest addition to the M&P M2.0™ family and features an 8+1 round capacity and a 3.675" barrel. The M&P9 Shield EZ pistol ships with two 8 round magazines that feature a load assist tab for quick, easy loading, as well as a picatinny-style equipment rail to accommodate accessories. The pistol also features an optimal M&P pistol 18-degree grip angle for a natural point of aim, white-dot front and adjustable white-dot rear sights, and a light, crisp trigger. The MSRP on the M&P9 Shield EZ pistol is $479.
M&P9 SHIELD EZ Specs
Caliber: 9mm
Capacity: 8+1
Barrel Length: 3.675 inches
Overall Length: 6.8 inches
Front Sight: White Dot
Rear Sight: White Dot Adjustable for Windage
Action: Internal Hammer Fired
Grip: Polymer
Weight: 23.2 ounces
Barrel Material: Stainless Steel – Armornite Finish
Slide Material: Stainless Steel – Armornite Finish
Frame Material: Polymer
MSRP: $479
For more information on the M&P Shield EZ, please visit www.smith-wesson.com/.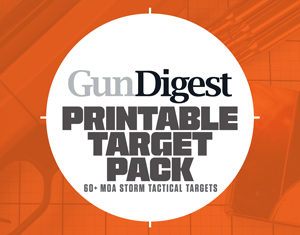 Next Step: Get your FREE Printable Target Pack
Enhance your shooting precision with our 62 MOA Targets, perfect for rifles and handguns. Crafted in collaboration with Storm Tactical for accuracy and versatility.
Subscribe to the Gun Digest email newsletter and get your downloadable target pack sent straight to your inbox. Stay updated with the latest firearms info in the industry.