Smith & Wesson's new Spec Series Kit includes a knife, challenge coin, and an M&P pistol chock-full of upgrades.
Features Of The M&P9 M2.0 OR Pistol:
17+1 Capacity Of 9mm
4.6-Inch Threaded Barrel
Optics Ready With Included Crimson Trace CTS-1500 Red Dot
Suppressor Height Night Sights
Two-Tone Finish
For some, half the fun of buying a new gun is tinkering with it. They enjoy installing various upgrades and accessories until they have it configured exactly how they want it. Others, however, prefer their guns to come exactly as they want them, straight out of the box. The M&P9 M2.0 OR Pistol included in Smith & Wesson's new Spec Series Kit definitely belongs in the latter category.
Looking like something straight out of a Tom Clancy game, the M&P9 M2.0 OR Pistol was built to be suppressed. It would seem wrong to not put a can on this gun given its included upgrades. A fixed blade M&P knife, S&W Spec Series challenge coin and custom fitted carry case make this kit one very presentable package.
The Pistol
The Spec Series Kit includes an M&P9 M2.0 OR Pistol. That name is a mouthful, but it means that it's a 9mm, second-generation Smith & Wesson M&P with an optics-ready slide. Being the newer 2.0 model, it includes an improved trigger and other upgrades over the original M&P.
The FDE slide has been cut to be optics ready, and the pistol ships with a Crimson Trace CTS-1500 red dot sight. The pistol also comes with suppressor height night sights, so it's set up right from the box to be suppressor ready.
The Knife
The knife included with the Spec Series Kit is an M&P full tang fixed blade boot knife. It has a single-edged, spear-point blade that's 4.5 inches long with an overall length of 9 inches. The rubber handle is marked M&P and is FDE colored, just like the included M&P pistol's slide. A nylon sheath is also included for carrying inside one's boot.
The Spec Series Kit obviously has some appeal for Smith & Wesson collectors and people who just appreciate fancy guns that come in fancy packages, but the included pistol has some very functional design features as well. The pistol comes from the factory set up for suppressor and optics use, making it a good choice for a home defense piece, especially if you're already familiar with the M&P platform. The Spec Series Kit has an MSRP of $969 and is backed by Smith & Wesson's lifetime service policy.
For more on Smith & Wesson, please visit smith-wesson.com.
---
More Smith & Wesson M&P Pistol Options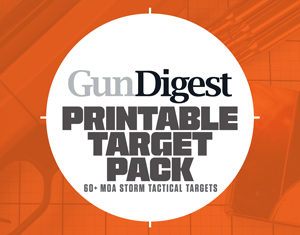 Next Step: Get your FREE Printable Target Pack
Enhance your shooting precision with our 62 MOA Targets, perfect for rifles and handguns. Crafted in collaboration with Storm Tactical for accuracy and versatility.
Subscribe to the Gun Digest email newsletter and get your downloadable target pack sent straight to your inbox. Stay updated with the latest firearms info in the industry.