The Smith & Wesson Model 629 V-Comp Performance Center in .44 Magnum offers the variable power to handle anything from varmints to big game.
Let's get reacquainted with the Smith & Wesson Model 629 V-Comp Performance Center .44 Magnum. This is one versatile and fun firearm.
In addition to a 4-inch barrel with a removable compensator, adjustable sights, stainless steel construction and synthetic grips, the PC 629 also features a non-fluted cylinder, chrome finishing on the teardrop-shaped hammer and trigger, and a trigger stop to eliminate unnecessary trigger over-travel. Additionally, the extremely skilled Performance Center gunsmiths have tuned up the action.
Upon first firing the revolver, I felt that the black synthetic grips that accompanied the 629 were too thin. I wasn't getting a good grip on the revolver with my hands, and the thin grips focused the recoil into the web of my hand in particular. I chucked them and ordered a set of Super Rosewood grips from Altamont.
While these grips were absolutely beautiful, they also allowed my hand to slip down the back strap during firing, so I turned to Ahrens for a set of their cocobolo tactical grips.
It is tough to beat the beauty of the Altamont grips, but the Ahrens grips are still pretty good looking, too! They are also thicker, so they disperse the recoil energy over a wider area through your hands for added comfort.
The finger grooves fit well and are deeper, which helps hold your fingers in place, even when dealing with the recoil of follow-up shots.
Now one of the first things you'll notice about this handgun is the compensator at the muzzle of the 4-inch barrel. The compensator is removable, but why would you? It's just so darn cool.
At the rear of the top strap is Smith & Wesson's fully adjustable all-black rear sight. Up front is a drift-adjustable blaze orange ramped front sight that is easy for my 58-year-old eyes to see.
Although the PC shop has tuned the action, it still required more than 12 pounds of pressure to fire the revolver, which is the limit that my digital scale can measure.
The double-action pull is extremely smooth, and before attempting to measure it, I had guessed that it was about 8 pounds. The single action has little take-up and a smooth 4.11-pound trigger pull.
OK, so it looks real cool, but the ultimate test of any firearm comes down to how well does it shoot?
Power Performance
I started off with a little warm-up using some Black Hills .44 Special Cowboy loads at 15 feet, and the light cowboy loads in the big 629 are very pleasant to shoot. I then moved back to see what she could do at 21 feet.
Quite frankly, I was a little disappointed with the spread of this group and seriously began to question my shooting skills.
My fears were put to rest when I set up another target at 21 feet and fed the 629 some PMC 240-grain .44 Magnum ammo. That group was much more respectable. Clearly this revolver suffered from some self-esteem issues when fed the puny cowboy loads, and it craved to show off what it could do when allowed to handle the full power magnums. But I do have to admit that after firing the first two rounds, I retreated to my range bag to grab a shooting glove.
As powerful as the Magnum loads were, the revolver was a lot of fun to handle. Power and accuracy combined can be quite a rush. So before packing up my gear and filing away all of the little bull's-eye targets, I just couldn't resist running a Zombified Nazi out to 31 feet and letting him have the last four rounds of the PMC Magnum ammo. To see all four rounds touching brought a big smile from yours truly.
Obviously a compensated .44 Magnum would be a great choice for the hunter who prefers to take game with a handgun. However, the 4-inch tube and the big front sight also make it a darn good choice for defending hearth and home. Whether you find yourself attacked by man, beast or a Chrysler 300 ala Dirty Harry, the punch of the .44 Magnum will always put the odds in your favor.
This article appeared in the May 15, 2014 issue of Gun Digest the Magazine.
S&W PC 629 V-Comp
Caliber: .44 Magnum
Action: Double/single
Capacity: 6 rounds
Barrel: 4" with removable compensator
Front Sight: Dovetail adjustable with blaze orange insert
Rear Sight: Adjustable black rear sight
Construction: Stainless steel
Weight: 3.11 lbs.
Overall Length: 10"
Grips: Synthetic
SRP: $1,509
Website: smith-wesson.com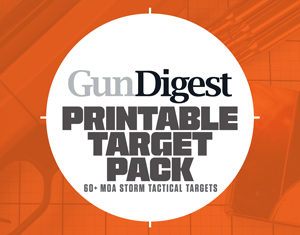 Next Step: Get your FREE Printable Target Pack
Enhance your shooting precision with our 62 MOA Targets, perfect for rifles and handguns. Crafted in collaboration with Storm Tactical for accuracy and versatility.
Subscribe to the Gun Digest email newsletter and get your downloadable target pack sent straight to your inbox. Stay updated with the latest firearms info in the industry.