Sig Sauer has just announced the P322, a .22 LR pistol similar to the P365 that comes suppressor and optics-ready with an enhanced capacity magazine.
There are many reasons to enjoy .22 LR handguns. Besides being a cheaper alternative for training, they also make for great suppressor hosts and allow for a greatly increased magazine capacities. Sig has taken advantage of all three benefits with their newly announced P322.
Sig's last .22 LR pistol was called the Mosquito, and it became infamous for issues with feeding and extracting rounds. The P322 is the company's attempt at rectifying its reputation in the rimfire world. Besides the claimed improvements to general reliability, the P322 also includes several desirable features out of the box while remaining as affordable as a .22 LR pistol should be.
Ready For Anything

The P322 comes ready to mount nearly any accessory you would want to attach to it. Besides having a 1913 rail for mounting lights or lasers, the P322 also includes a suppressor adaptor for its threaded barrel as well as a removable rear sight for mounting an optic. It also ships with a fiber optic front and rear sight as standard, so even those who don't want to utilize the pistol's RMSc-pattern footprint will have upgraded sights to shoot with.
More Is Better

Another important feature of the P322 is its large magazine capacity. Unlike the limited capacities of many rimfire handguns like the Sig Mosquito, the P322 takes full advantage of the available space to make its mags as large as possible. With a standard capacity of 20-rounds, this gives the P322 an even higher capacity than is possible with the Glock 44 using aftermarket, flush-fitting mags. This makes the P322 an attractive option for serious plinkers as well as those who may want a .22 LR handgun for self-defense. 25-round magazines from Sig will be available for purchase separately as well.
The P322's frame and ergonomics are similar to Sig's popular P365 concealed carry pistol, but the two guns are not the same. The new rimfire is slightly larger than its CCW counterparts, and it uses an internal single-action only hammer as opposed to a striker-fired mechanism.
Sig's new rimfire also has fully ambidextrous controls with a reversible mag release, an interchangeable trigger (flat or curved) and an integrated magwell for easier reloading. The Sig P322 has an MSRP of $399 and will include two 20-round mags and a magazine loader in the box.
For more on Sig Sauer, please visit sigsauer.com.
---
More On-Target Rimfire Info: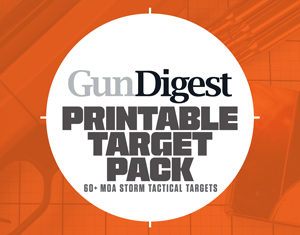 Next Step: Get your FREE Printable Target Pack
Enhance your shooting precision with our 62 MOA Targets, perfect for rifles and handguns. Crafted in collaboration with Storm Tactical for accuracy and versatility.
Subscribe to the Gun Digest email newsletter and get your downloadable target pack sent straight to your inbox. Stay updated with the latest firearms info in the industry.