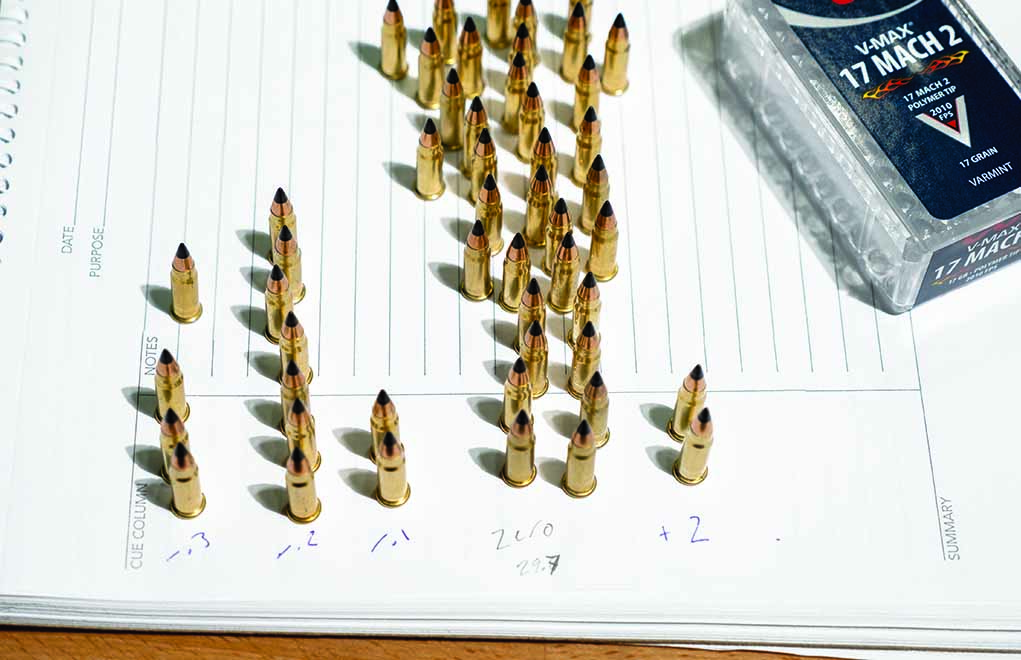 With muzzle velocities twice the speed of sound the return of the red-hot .17 Mach 2 is something to get fired up over.
Top .17 Mach 2 Rifle And Barrel Options:
The .17 HM2, or 17 Mach 2, was a joint venture between Hornady and CCI in 2003. A CCI Stinger case, which measures 0.100-inch longer than a standard .22 LR case, was necked down to take a 17-grain, 0.172-inch-diameter bullet. The result was a .17 that fit in a .22 LR action and magazines—the only change in most cases being a barrel—but with effectively double the velocity of a match-speed .22. At 2,100 fps, that little bullet ran flat. Run the numbers, and you see the .17 HM2 rises and falls 2 inches to 137 yards or so.
Hornady and CCI unveiled the round at SHOT Show 2004 hot on the heels of the previous .17 HMR launch. The HMR was a wild success, and much of the industry wasn't ready for the unprecedented demand in .17 ammo and firearms. So, in 2004, Hornady and CCI made a big to-do of the new .17 Mach 2, which produced muzzle velocities twice the speed of sound. All the major manufacturers had rifles ready to go.
But wild demand never materialized.
Many consumers felt the Mach 2 didn't do anything the HMR couldn't do better. The .22 WMR necked down to .17 was indeed flatter and hit with more sauce than the .22 LR Stinger necked down to .17. Small-game hunters engaging critters out to 120 yards were the exception.
Those rimfire hunters quickly realized the .17 HM2 had plenty of killing power, was more than flat enough, bucked the wind better than .22 LR and, most importantly, didn't make a mess of things if you intended to eat your target.
The Mach 2 was elegant, surgical, deadly, with even less recoil, less noise and much less meat damage. The caveat was it required head shots. The little bullet doesn't carry enough whoop-ass to instantly dispatch a body-shot squirrel. "Head shots or nothing," became the Mach 2 small-game hunters' credo.
In 2018, that thankfully changed. Hornady and CCI saw it fit to bring it back. Savage and Volquartsen put out new rifles in the caliber. (Hat tip to Savage who really never stopped.) Boutique options soon became available from Anschutz and Vudoo Gun Works.
The Volquartsen Summit is my favorite 17 Mach 2 for hunting—not because it's the most accurate Mach 2 in my collection, but because it's the most durable, weather-resistant and handiest in the woods.
Topped with a discontinued Nikon ProStaff P3 Target EFR 3-9x40mm scope, in a Magpul Hunter X-22 stock with a Volquartsen 16.5-inch carbon-fiber tension barrel and a Magpul Rifleman Loop Sling, the whole package weighs a shade under 7.25 pounds.
To test current 17 Mach 2 ammo, I went with this tried-and-true hunting setup. The average 0.57- to 0.41-inch five-shot groups at 50 yards are right in line most Mach 2 rifles, in my experience.
Four types of Mach 2 ammo were tested. The widely available CCI VNT, Hornady V-Max and Hornady NTX, plus the recently discontinued CCI V-Max and the long discontinued Eley V-Max, which has been out of production at least 10 years.
All told, 10 five-shot groups of each ammo type were sent into USBR targets at 50 yards. Every shot was chronographed with the Labradar system, which recorded the highest, lowest and average velocity, plus extreme spread and standard deviation. Groups were measured with a set of digital calipers edge-to-edge and 0.172—the diameter of a .17 bullet—was deducted and recorded.
---
More Rimfire Info:
---
Three notable things immediately jumped out:
Eley: Eley makes some of the very best rimfire ammunition in the world. That said, its older .17 HM2 offering doesn't outperform current runs from CCI and Hornady. Why does this matter? Because it's grown somewhat fashionable in rimfire circles to bemoan "no good ammo" when it comes to the .17s, and while it's true that only select .22 LR is made to Olympic-level precision, it's not accurate to think, "If only Eley or Lapua loaded the .17s we'd have better offerings." In reality, all the Mach 2 ammo performs about the same, and it always has.
CCI VNT: My go-to hunting load surprised me by not printing the smallest groups, as it has done on other occasions in this rifle and others. Notably, the standard deviation is a full 20-fps less than all the rest, which, in my experience, equates to less vertical stringing at 100 yards with Mach 2, but it doesn't seem to make much of an accuracy difference at 50. It's also worth noting that at 150 and 200 yards, the CCI and Hornady 17-grain offerings punch clean holes in paper with my rifles.
Some shooters have noticed tumbling, a loss of accuracy, and the ugly tears in paper beyond 150 yards. Accuracy-wise, on good days with little wind, all my Mach 2s will print sub 1-inch groups at 100 yards, but more often linger around the 1.25- to 1.5-inch mark. Just like we've seen at 50 yards, it's common to shoot a very nice cluster of four shots within an inch, with the fifth remaining round "way out" in left field, blowing the group.
Hornady: Hornady printed the best groups of the day, and my guess is their 17-grain V-Max is the best-selling Mach 2 ammunition out there. Interesting enough, Hornady labels their ammo with a velocity of 2,100 fps, whereas the CCI is marked 2,010 fps. All the Mach 2 ammo I've ever put through a chrono runs between 2,050 and 2,200 fps, whatever the gun. Pull a Hornady bullet and a CCI bullet, and you'll see the powder looks identical. The V-Max bullets are identical, save the different-colored tips.
Seeing how they're all loaded in the same place, I didn't see much difference until recently when CCI differentiated with the only VNT load. Hornady also has the only lead-free California bullet option, with the 15.5-grain NTX. Some Mach 2 rifles don't shoot this little copper bullet very well, but the Summit shoots it great. Were it not for a blown group in the .800s (that was probably me), it may very well have come in second place accuracy-wise. It's also a killing bullet.
Improvement Through Sorting?
One of the criticisms of the .17s is that they're not made with match .22-level precision. This is true, of course, but it's possible to improve groups by sorting. Sorting is largely a waste of time when it comes to .22 LR because Eley and Lapua do a much better job sorting their good ammo than any shooter with a powder scale ever could—and they package their most consistent, uniform ammo together under brands like X-Act and Tenex.
With the .17s, the manufacturers don't get this intense, so it's on the shooter to cherry pick the most uniform loads. To test this, I sorted a box of CCI V-Max by weight, and another box by cartridge overall length (COAL).
The CCI was very uniform by weight with 35 of the 50 rounds measuring to one-tenth of a grain, according to my RCBS powder scale. There was 0.5 grain extreme spread in weight over all 50, but 45 of those were within two grains of each other. That seems pretty damn consistent for non-premium hunting ammo.
On the other hand, COAL was more spread out. Interestingly enough, the 10 rounds that measured 0.991 COAL varied in weight by +-0.3 grains, so there doesn't appear to be any deep connection between seating depth and weight. A shooter who wants to make themselves extra crazy or typically finds themselves bored on a Saturday night could do both.
When the sorted ammo was sent downrange to 50 yards in five-shot groups, the weight-sorted rounds proved the most accurate. This was an extremely limited test by only working with two boxes. A better look would involve a brick, or multiple bricks, plus multiple rifles and shooters, but it does show that there's some value in sorting .17 HM2 for weight if peak accuracy is the goal.
Semi-Auto?
An early issue with Mach 2 was reliability in semi-auto actions, namely the Ruger 10/22. The pressure curve with .17 HM2 compared to .22 LR is dramatically steep. In the Ruger platform, this led to FTEs, out of battery ignitions and cracked brass. A solution was a heavier Ruger bolt, either with a block of tungsten attached on the underside as Volquartsen did, or with a heavy charging handle. Heavy charging handle kits can still be found online, and they work OK, but I've had more success by drilling out factory Ruger bolts and slugging them with tungsten.
This is an involved job and not for most everyone. A less involved alternative is finding an out-of-production Volquartsen Mach 2 bolt. Although the used-market price will certainly be more than the cost of a new Savage A17 HM2, a delayed blowback Mach 2 semi-auto works well right out of the box. For those who must have a semi-auto, the masochists will prefer modifying a 10/22. The sane should just buy a Savage.
Best .17 Mach 2 Rifles And Barrels
Savage A17 HM2
Savage has succeeded with semi-auto rimfires where most others have failed, thanks to their innovative delayed blow-back action. Most semi-auto .22 LRs have a direct blow-back action. That is, the detonation primer and powder sends the bullet down the barrel, and also moves the bolt back directly, ejecting the brass, then picking up and loading a fresh round from the magazine. The Savage does much of the same, but the bolt has a top lug that locks in place and delays the blowback a few critical milliseconds.
In the case of 17 Mach 2 (and .17 HMR and .22 WMR), that hair's width of delay lets the pressure curve drop back to earth, and the bolt can safely and reliably cycle in a new round. The A17 HM2 works, is inexpensive and can be made very accurate by glass bedding action to stock. The only "con" with this rifle is the trigger, which doesn't live up to the famous AccuTrigger name.
MSRP: $379
Vudoo Gun Works Raven
When only the best will do, there's Vudoo. The Raven is their dedicated small-game rifle, available in .22 LR, .22 WMR, .17 HMR and .17 HM2. The heart is the V22 action (V22m in the magnum calibers), attached to a 416R stainless ACE barrel in a "ranch" contour, which tapers down to 0.720 at the threaded muzzle. It sits in a custom Outlander stock by Grayboe, which shoulders, swings and all-around feels like a true sporter.
My .22 WMR is a wand of a rifle except for the big ACIS patterned magazine. Some love it, some don't, but you cannot argue with the interchangeability of the ACIS and Remington 700 footprint, allowing for the entire ecosystem of aftermarket Remington triggers, stocks, etc. Many react to the price of Vudoo rifles, but as I told a friend recently, "Sell your huge collection of $500 rimfires you never shoot, and you can buy two."
MSRP: $2,395
Volquartsen Summit
My favorite pure hunting rimfire rifle, the Summit from Volquartsen, is an odd duck. Basically, it's a toggle-bolt 10/22. Primary Weapons System developed the straight-pull 10/22 concept for hunting and running 10/22 platform accessories (stocks, barrels and triggers) with a suppressor.
In 2018, as the ammo companies rolled out new runs of .17 HM2, they released the Summit in 17 Mach 2. Stock options are numerous, but you'd be hard-pressed to find one better in the field than the Magpul X-22 Hunter. It's light, tight, fast and the tolerances are so legit that I've yet to find one that needed a bedding job. Volquartsen ships the rifle with their lightweight tension carbon-fiber barrel with a 0.920-inch bull profile. It's a perfect balance, in my estimation, of hunting rifle weight versus accuracy.
MSRP: $1,225
Savage Mark II FV
Unless you're made of money, this should be your first 17 Mach 2 rifle. Savage made the Mark II in .17 HM2 when all others abandoned the round—even the ammo companies. The rifle is accurate out of the box and can be improved with a high-quality stock and bedding job. The trigger is among the best compared to other sub-$500 rimfire rifles. It can also be worked on easily with a little kitchen-table gunsmithing. The Mark II FV is a heavy-barreled version, though it's not a true bull barrel. The thin-barrel version with iron sights, the Mark II F, costs a few dollars less.
MSRP: $355
Lothar Walther
For those disposed to taking apart things, barrel maker Lothar Walther makes a variety of rimfire barrels chambered in 17 Mach 2, including tubes for the CZ 455/457, the Ruger Precision Rimfire Rifle, the Tikka T1X and the disgustingly awesome Zermatt Arms RimX action. In all of these cases, a barrel swap is a fairly easy process with minimal tools. Because the .17 HM2 is just a necked-down .22 LR, existing magazines tend to work fine.
MSRP: $299-$399
Editor's Note: This article originally appeared in the January 2021 issue of Gun Digest the Magazine.
---
NEXT STEP: Download Your Free Storm Tactical Printable Target Pack
62 Printable MOA Targets with DOT Drills - Rifle Range in YARDS
This impressive target pack from our friends at Storm Tactical contains
62 printable targets
for rifle and handgun range use. Target grids and bullseye sizes are in MOA. Ideal for long-range shooting!
Subscribe to the Gun Digest email newsletter and we'll send your print-at-home target pack right away.
Just enter your email address below.
---