The tested, abused, disrespected — and incredibly tough SIG P320 is put to a real test to see if it truly passes muster.
SIG Sauer Pistols Tested:
This is a different kind of gun article. It took weeks to put this together because a cursory review was not the goal: I wanted to unequivocally determine the level of reliability that could be expected from the Sig Sauer P320 and the Sig Electro-Optics Romeo 1. This takes time — days, in fact — and lots of ammunition.
I'd been hearing good and bad things about the P320, as well as a lot of pontification on the durability and effectiveness of the Romeo 1 on defensive handguns. I wanted to see some results for myself.
You don't often read articles like this in gun magazines, because they're not profitable for the writer. I've been in this gun writing business — professionally — for more than two decades. Articles are most commonly generated when a writer sees a gun and queries an editor. Almost as frequently, editors assign writers to review and report on a gun of potential interest.
In both cases, the gun is often fired only a couple hundred times to get a feel for it. If a writer allots a day to arrange an article, a day to shoot, a day for photos and two days for writing, on average they'll make about $17 per hour. The report then essentially involves one day on a range. This is partly because that's all the free ammo the writer can get, and partly because the more time spent shooting, the less money is made.
This model provides hands-on review to the reader while maintaining some efficiency for the author.
However, the best gun writers learn how to provide more than a basic review, and the best editors — thus, the best gun magazines — provide content that goes much deeper than most.
Less common is when a writer fundamentally journals about a specific firearm with which they have extensive experience. In such case, you'll get to read about weeks, months or even years of experience with a certain gun. In other words, instead of getting a snapshot, you get a comprehensive evaluation.
And, that's what you have here. It's a look at how these guns performed — not 1,000 words about how they're made and how pretty they are.
Building The Gauntlet
I convinced Sig Sauer to send me four pistols, and I convinced various manufacturers to send me lots of ammunition. My goal was to see how reliable the Sig Sauer P320 and Romeo 1 reflex sight were. I did not conduct the usual velocity and accuracy testing: I shot these pistols and had others do the same. We abused these guns and sights — you could say we treated them like a borrowed hammer. We waited for the right conditions, on multiple days, and then did the work.
The four guns:
Sig Sauer P320 FDE Compact: $679
Sig Sauer P320 X-Five Full-Size: $1,005
Sig Sauer P320 RX Compact with a Sig Sauer Romeo 1 reflex sight: $952
Sig Sauer P229 RX with a Sig Sauer Romeo 1 reflex sight: $1,440
The munitions:
Hornady 9mm +P, 124-grain, XTP, American Gunner: 500 rounds
Remington 9mm, 124-grain, Golden Saber: 1,000 rounds
Remington 9mm, 124-grain, Black Belt: 800 rounds
Sig Sauer 9mm, 115-grain, Elite Ball, FMJ: 500 rounds
Sig Sauer 9mm, 124-grain, Elite V-Crown, JHP: 200 rounds
Sig Sauer P320 FDE Compact
The first pistol we took to task was the P320 FDE Compact. This pistol feels good in the hand and, importantly, it's not too big — only 7.2 inches long and 1.3 inches wide — for everyday carry. I shot it, my son shot it and a friend of his who was preparing to enter BUDs training with the Navy shot it. We shot it in hot weather, cold weather, in the rain and in the snow. It digested a 1,000-round mixture of all the loads without an issue.
Sig Sauer P320 X-Five Full-Size
Next up was the X-Five. This is a big handgun intended for competition, though I imagine — given its 21-round capacity — it could serve in a tactical environment as well. It has a 5-inch barrel, is 8.5 inches long and some of its unique features include a detachable, wide-mouth magazine well, a straight X-Series trigger and Dawson Precision adjustable sights. This pistol weighed 30.7 ounces without a magazine.
This is obviously a pistol for high-volume fire, and that's how we tested it. We repeatedly conducted a drill where we dumped four 21-round magazines, as fast as we could, while trying to keep all shots inside a five-inch circle, at five yards. Our best run was one miss out of 84 in 35.02 seconds. Like with the P320 FDE Compact, we shot it in the rain and the snow, and out of 840 rounds of a mixed variety of ammo, there were no stoppages.
Sig Sauer P320 RX Compact
The RX — Romeo 1 equipped — pistols were included, not as much to test the pistol as to test the suitability and ruggedness of the reflex sight on a defensive handgun. This pistol weighed 24.5 ounces — only 0.8 ounce more than the P320 FED Compact without the Romeo 1. Yes, it got the rain and snow treatment, but we also tossed this pistol in the deep mud and drove over it with a big Jeep.
When we dug it out of the goo it was, like a coal miner would say, "gobbed off." We had to slosh it around in a waterhole to even identify it. A magazine was inserted, the slide was racked — we did have to thumb the slide forward the last ¼-inch — and not only did the pistol run, the sight still worked and was still zeroed. Rounds fired: 750. Stoppages: 0. That's impressive.
Sig Sauer P229 RX
Figuring 2,590 rounds fired through three P320s in harsh conditions provided a reasonable idea how reliable that platform was, the P229 RX was included to give a second look at the Romeo 1 sight. This pistol/sight combination did not get the mud treatment, but it arguably got something worse. We dropped it repeatedly, stomped it, threw it as far as we could and even beat it against a railroad tie. The Romeo 1 did not fail.
Not only did the aiming point remain illuminated, it held perfect zero. At the end of the abuse, we fired a nearly one-hole, 10-shot group, at 10 yards from the off-hand position. Total shots fired: 410. Stoppages/issues: 0.
Observations
I was impressed with all three variants of the P320. They were reliable, the triggers were clean, I shot them well and they felt good in my hands. In fact, I liked P320 better than the P229, and I'm not a fan of striker-fired guns. I especially liked how easy the P320 is to disassemble. You can take it apart and put it back together with one hand in a matter of seconds. Yes, the chance you'll have to do this is slim, but it illustrates the simplicity of the process. I also really liked the smooth, flange-free trigger.
On the P320 Compacts, I really liked the location and diminutive size of the slide lock. On some handguns — particularly Glocks — the slide lock is positioned well forward and I struggle with keeping my support thumb from contacting it during recoil. When that happens, the slide locks back. On the P320, the slide lock is positioned more like a thumb safety or de-cock lever. Not once did I inadvertently activate the slide lock, which is, by the way, present on both sides of the frame.
However, on the P320 X-Five — again, a gun intended for competition — the slide lock, though un-shrouded, was just as small. During competition, releasing the slide with the thumb/slide lock — though not something I recommend with a defensive handgun — can be faster. But, it often necessitates an extended slide lock. On a defensive handgun, an extended slide lock might lead to that inadvertent lock-back — which is not good! On the other hand, competition shooters train much more than your average citizen carrying concealed. For those with judicious training, an extended slide lock can make sense, and maybe help them win a match. In my opinion, Sig ought to consider this alteration on the X-Five.
I'm considering buying a P320, but I'm having trouble deciding which model, since there are nearly a dozen to choose from.
The Romeo 1 reflex sight impressed me most. The initial impression is that this sight needs to be babied. After all, it's extremely petite and has glass in it for heaven's sake.
That said, I was unsuccessful at making this sight fail. Admittedly, it has to be relatively clean to work; if you drop the gun in the mud you'll have to wipe it off. However, heavy rain and snow did not render the Romeo 1 unusable. Unbelievably, this sight costs less than $400.
I will add, however, that I could not get hits as fast with the RXs fitted with the Romeo 1. To become proficient with a reflex sight, there's definitely a learning curve — you don't just pick it up and go to town on the targets. Accuracy was not the problem, rather it was conditioning myself to look for the dot instead of the sights.
On a 15-shot drill I often use for training, I was just as accurate but about 20 percent slower with the Romeo 1. With practice, I'm sure this gap would narrow and likely disappear, but I mention it in case you get yourself a Romeo 1-equipped Sig — it will take some getting used to.
This article took longer than most. I got wet, cold and muddy. And, in the end, I made about $5-per-hour while working on it. But it was worth it. No, this is not your average gun article, but now I — and you — have not just an idea, but a real-world, practical impression of the durability and reliability of the P320 and Romeo 1.
I can definitely say, I'd trust my life to both.
For more information on the P320 and Romeo 1 check out:
The Extreme Reliability Of Sig's P320 RX Compact
Video: Sig Sauer's P320 X5 Shooting Test
5 On Target Self-Defense Shooting Drills
Torture Testing SIG Sauer's ROMEO1 Red-Dot
Editor's Note: This article originally appeared in the May 2018 issue of Gun Digest the Magazine.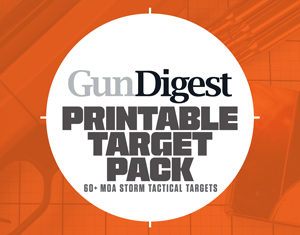 Next Step: Get your FREE Printable Target Pack
Enhance your shooting precision with our 62 MOA Targets, perfect for rifles and handguns. Crafted in collaboration with Storm Tactical for accuracy and versatility.
Subscribe to the Gun Digest email newsletter and get your downloadable target pack sent straight to your inbox. Stay updated with the latest firearms info in the industry.