Can SIG's P320 RX Compact stand up against water, muck and a Jeep Wrangler? You'd be surprised.
Throw all the hoopla about caliber to the side, and file chatter about hammer vs. striker-fired where it belongs — the trash bin. When fate has dealt a hand that requires lethal force, what counts is dependability. If the gun on your hip doesn't go bang no matter what, then it's nothing but a liability — a deadly one.
Richard Mann cuts to the quick of this issue, putting Sig Sauer's P320 RX Compact and factory-installed ROMEO1 Red-Dot to the test. Think water and muck can stall the polymer-framed pistol? How about a Jeep Wrangler? Like the old Timex watch tagline, "It takes a licking and keeps on ticking."
The P320's level of resilience should come as little surprise to Sig fans. In addition to its cutting-edge modularity — allowing it to jump between calibers and configurations with the greatest of ease — the pistol was also built as tough as granite.
Now, short of the zombie apocalypse, few armed citizen's will put their P320 through the sort or rigor Mann cooked up. But, in many respects, that's beside the point. What his testing is meant to drive home is the importance of arming yourself with a handgun you can rely on.
When lethal force is required, there will be multiple variables in play. You want the ability to concentrate on the ones you can control — proper decision making, crisp presentation of your firearm, precise trigger control. This is not a possibility when minor fouling hangs up a handgun or you have second-thoughts because it malfunctioned multiple times at the range.
Knowing a gun can withstand the punishment like the P320 RX Compact gives you peace of mind. And that, when the chips are down, just might save your life.
Editor's Note: This video is one of several that were created during a torture test of Sig Sauer P320 series pistols. Stay tuned for more videos, and keep an eye out for Richard Mann's full article in an upcoming issue of Gun Digest the Magazine.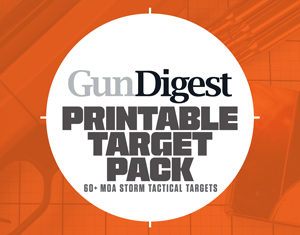 Next Step: Get your FREE Printable Target Pack
Enhance your shooting precision with our 62 MOA Targets, perfect for rifles and handguns. Crafted in collaboration with Storm Tactical for accuracy and versatility.
Subscribe to the Gun Digest email newsletter and get your downloadable target pack sent straight to your inbox. Stay updated with the latest firearms info in the industry.