Some Glocks are big and some are small, but the Glock 48 MOS may be just right.
The Glock 48 MOS (and its iron-sighted variant) are something of the middle children in Glock's catalog—not big enough to be duty guns, but just big enough to be (relatively) easy to shoot well. Slim for easy concealment and light, but with just the right amount of substance.
Here, we'll take a closer look at why the Glock 48 may just be the pinnacle of "Glock Perfection" when it comes to concealed carry pistols.
Glock 48 MOS Specifications
The Glock 48 was originally announced at SHOT Show 2019 along with the Glock 43X. It was billed as a slim, compact pistol with a similar barrel length to the Glock 19, but a 10-round magazine to make it legal in ban states (except California) and, as the rumor goes, in Canada.
The Glock 48 MOS and 43X MOS (Modular Optic System) were announced in April 2020.
Glock doesn't publish MSRP, but $485 to $490 is about the average of what you should expect to pay in-store. I bought my Glock 48 MOS using my own money (Glock doesn't know I exist).
The controls are right-hand-only, with a single-side slide stop and magazine release. The mag release can be swapped to the other side, but the slide stop cannot.
Standard polymer white dot sights are included (Glock 43 sights), and the case comes with a cleaning kit (a patch rod and cleaning brush) along with a gun lock, some literature, two 10-round magazines and a speed loader.
The Glock 48 MOS also has a railed frame for attaching a subcompact weapon light, forward cocking serrations and an optics-ready slide.
The Glock 48 MOS Specs:
Barrel length: 4.17 inches
Overall length: 7.28 inches
Overall height: 5.04 inches
Width at the grip: 1.1 inches
Trigger reach: 2.64 inches
Trigger pull weight: ~5.5 pounds
Unloaded weight: 18.31 ounces
Loaded weight: 24.97 ounces
Capacity: 10+1 of 9x19mm Parabellum
MSRP: ~$485
Glock 48 MOS Vs. Glock 19 And Other Glocks
How does the Glock 48 MOS compare to the company's other compact 9mm pistols?
Besides having a smaller accessory rail, a lower magazine capacity and a consequently thinner frame, the Glock 48 is about the same size as the Glock 19. This is good, because skilled shooters experience virtually no difference in performance between the G19 and its full-sized Glock 17 counterpart, contributing to the 19's reputation as the gold standard of handguns. Because of this, any commonalities between it and the Glock 48 work in the latter's favor.
Despite these qualities, the Glock 19 is not perfect for every person or occasion. Those with small hands may struggle to shoot the pistol well due to the thicker grip, and the thickness can also make it more difficult to conceal under light clothing.
This is where the Glock 48 really shines. Its thinner profile makes it more concealable and easier to grip for those with smaller hands, but it's otherwise G19-esque size keeps it more shootable than any of the subcompact models. Some people with larger hands and bodies will still prefer the full grip and greater capacity of a Glock 19, but most average- to smaller-sized individuals will likely appreciate what the Glock 48 brings to the table for concealed carry. This is especially true given the rise in popularity of appendix carry and the fact that more women are carrying concealed than ever before.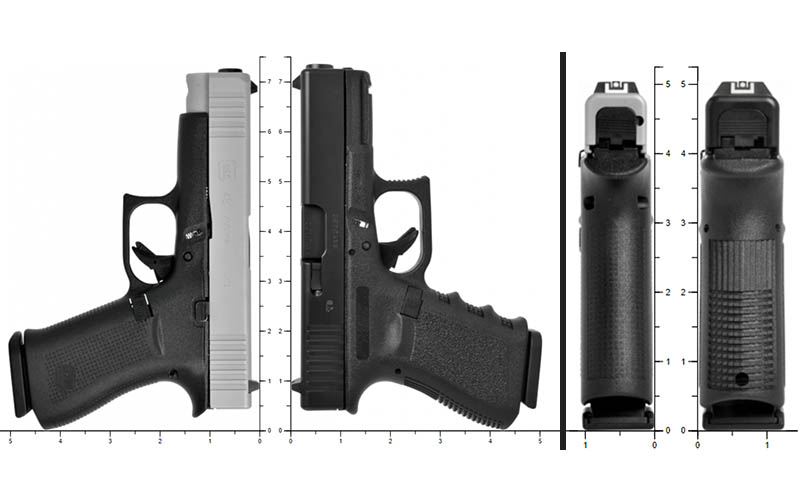 What Optic Is The Glock 48 MOS Cut For?
The Glock 48 MOS and 43X MOS are cut for the Shield RMSc footprint, one of the most common footprint patterns out there. There are many red dots available from popular manufacturers at a wide range of prices that are compatible with this pattern. It is not, however, universal, and care should be taken when selecting an optic for a MOS Glock.
For instance, Holosun K series optics (407/507) require additional slide milling or an adapter plate before they can be mounted.
With such a variety of optics mount footprints on the market, it can be difficult to determine the exact hardware you need. This is why you must be very careful to research the length of the mounting bolts that come with your optic, as they may cause issues with Glock's MOS slides. More on that later.
For my Glock 48 MOS, I purchased a Sig Sauer Romeo Zero, the 3-MOA version in FDE. I have no real affinity for anything in FDE, the truth is that model was on sale.
Glock 48 MOS Review Trials And Tribulations
To review the pistol, I took it to the BLM land I normally shoot on as being outdoors with fresh air and no range fees are usually better than paying to shoot indoors.
For the testing, I brought out some 115-grain Herter's, 124-grain Blazer, 147-grain Federal FMJ and some Federal 124-grain HST.
Zeroing the optic consumed far more ammunition than I anticipated as the Romeo Zero lacks click adjustments, so you have to hope that you didn't go too far with every incremental turn.
Once zeroed, I was set to start shooting for groups to test the Glock 48's mechanical accuracy. However, it was about this time the gun started having serious cycling issues. After experiencing failures to feed, eject and go into battery, it eventually dawned on me that an optic mounting bolt might be interfering with the extractor rod.
After removing the optic and test-firing the gun without it, it ran flawlessly.
In my defense, I had never heard of anyone having issues mounting a Romeo Zero to a Glock 48 or 43X MOS, whether in-person or on forums or social media (something I specifically researched before purchasing). I had heard of issues with the Springfield Hellcat, but not the Glock Slimline guns.
Buried deep on Sig Sauer's website, however, is a Hellcat/Glock mounting kit which includes a protective steel shroud and mounting bolts of the correct length. So, I went to my nearest Sig Sauer optics dealer to see if I could get the right ones.
The kind folks at SharpShooting Indoor Range And Gunshop had some of the correct bolts laying around (you need the 6mm length; Sig's M4 bolts are too long) and they reinstalled the optic free of charge. With that, the review was back on track.
So, I bought some more ammo and rented a lane to re-zero and see if I could finally put the pistol through its paces. I dumped a magazine's worth of doubles and triples to get a feel for how the gun needs to be gripped and then set up for some more serious work.
Since the Glock 48 MOS is designed as a concealed carry gun, I decided to take it through the Rangemaster Baseline Assessment Drill, a simple 20-round course of fire at 5, 7 and 10 yards. It's a good standard for concealed carry skills, and it gives you plenty of feedback without burning too much ammo.
It's shot on a B8 Repair Center target (or an FBI-IP-1 bullseye or LTT-1 target) with 200 possible points. Shots that are over time and anything outside the 8-ring are considered misses.
After having so much trouble getting this pistol ready for real testing, the shooting gods finally smiled upon me, allowing me to achieve a score of 178.
While not outstanding, that's pretty darned good (89 percent) and I'll take that any day. I cut the par times close and only dropped two, pushing one shot into the 7-ring on the 10-yard string and one shot off-target during the weak-handed string.
So, I didn't get to do anywhere near as much evaluative shooting as I would have liked, but I got in just enough to get some solid takeaways.
Glock 48 MOS Impressions
The Glock 48 MOS is more capable than its lithe frame and light weight suggests, but you need to do your part.
With a good high, tight grip, it's controllable. The dot will just barely leave the window (probably about 0.75 inches above the top of the housing) but returns quickly. Splits of 0.5 seconds or less are definitely achievable, and possibly as little as 0.3 seconds for a very skilled shooter.
For a personal protection pistol, the Glock 48 is absolutely enough gun to be shot quickly and effectively.
That said, it isn't likely to make any short lists of competitive sports pistols. While legal for IDPA and IPSC/USPSA, you'll be in the same division as Glock 19-sized pistols and 1911s, putting it at a disadvantage.
The Glock trigger is…the Glock trigger. It works, but there's room for improvement. The slick controls are usable, but I have the common problem of Glocks not reliably locking back on empty due to my thumb position.
It ran 115-, 124-, and 147-grain round nose, flat top and JHP ammo without issue. No surprise there. In terms of recoil, 147-grain was its sweet spot with a smoother impulse, so I will most likely switch to a 147-grain carry load.
Besides the optic, I also purchased a Dark Star Gear Apollo IWB holster. After some customization (I added a Modwing and a whole lot of foam) for appendix carry, it conceals incredibly well, carries comfortably and functions superbly.
The Glock 48 itself, however, definitely has some areas that can be improved with aftermarket accessories.
The grip texture is next to useless and, as mentioned, the controls are barely usable. Additions I will make and would heartily recommend to anyone include an extended mag release, a Kagwerks extended slide release and a Langdon Tactical Striker Control Device.
I could also do without the frame rail. My opinion on weapon lights is that if the gun can't mount a TLR-1 (or another quality weapon light of similar size and output), then it's not worth fooling with. Putting a compact light on a Glock 48 will increase its bulk and reduce holster options.
The 10-round capacity also warrants discussion. What about Shield Arms magazines, you ask? Their potential to increase the Glock 48's capacity to 15+1 is very alluring. However, reliability in the real world seems to be a mixed bag. Some people, including some very reputable shooters and instructors, have had fantastic results. Others, including some other very reputable shooters and instructors, have not.
That means the Shield Arms mags are a crapshoot, and to me, OEM magazines that are cheap ($20 online) and will run reliably with 10 rounds trump $40+ magazines of 15 that might.
What about the G48's direct competitors like the Sig P365XL or Hellcat Pro? They certainly have better capacities, but magazines are generally a bit harder to find and more expensive. While these pistols do have significant aftermarket support, it's still not nearly as extensive as it is for Glocks. When you stick with the original Austrian plastic fantastic, you will never be left wanting for holsters or accessories.
So, as long as you aren't wrapped completely around the axle of carrying capacity, the Glock 48 MOS has a lot to offer. It's pleasant enough to shoot and carry, and it's capable of impressive performance if you do your part as a shooter.
For those interested in carrying a Glock but want something slimmer than a double-stack model and more shootable than a subcompact, the Glock 48 may be just right.
---
More Pistol Reviews: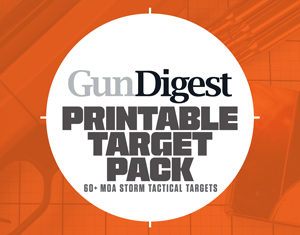 Next Step: Get your FREE Printable Target Pack
Enhance your shooting precision with our 62 MOA Targets, perfect for rifles and handguns. Crafted in collaboration with Storm Tactical for accuracy and versatility.
Subscribe to the Gun Digest email newsletter and get your downloadable target pack sent straight to your inbox. Stay updated with the latest firearms info in the industry.