Sig Sauer Custom Works has just expanded the custom Spectre series with the new P365XL Spectre Comp.


Sig Sauer's P365XL is probably the best-selling concealed carry pistol currently on the market, and Sig is attempting to fully capitalize on that reality. Rather than leaving money on the table by only selling stock models of the pistol, Sig's custom shop has been cranking out premium variants of the 365 for those who can afford to carry something a little fancier. The latest instalment to this lineup is the P365XL Spectre Comp, and it has more going on than just gold accents.
This new custom Sig features upgrades to both its performance and style, and it comes right out of the box with many desirable features. Besides including an optics-ready slide, the P365XL Spectre Comp also comes with a laser-stippled grip module and an integrated compensator. It also includes X-RAY 3 day/night sights and a titanium nitride "gold" barrel and flat trigger.
Tom Taylor, Chief Marketing Officer for Sig Sauer, described the pistol's new integrated compensator as the feature that really elevates the P365XL Spectre Comp above the standard models:
However, the true standout feature of the P365XL SPECTRE Comp is the uniquely integrated compensator that reduces muzzle flip and felt recoil by up to 30%, and because of the design will never come loose or cause function issues. The P365XL SPECTRE Comp offers all the benefits of a compensated pistol in a reliable, concealable, everyday carry package.
Each P365XL Spectre Comp will include three steel magazines, a limited-edition Sig Custom Works case, a coin and a certificate of authenticity. MSRP is listed as $1,199.
For more on Sig Sauer, please visit sigsauer.com.
---
More CCW Guns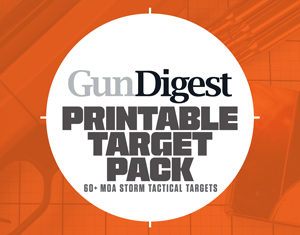 Next Step: Get your FREE Printable Target Pack
Enhance your shooting precision with our 62 MOA Targets, perfect for rifles and handguns. Crafted in collaboration with Storm Tactical for accuracy and versatility.
Subscribe to the Gun Digest email newsletter and get your downloadable target pack sent straight to your inbox. Stay updated with the latest firearms info in the industry.