Looking to maximize your Mini-14? Check out these top 5 Mini-14 stock options ranging from folders to sporters.
The Ruger Mini-14 rifle has unfortunately struggled to maintain an aftermarket following. Unlike the AR-15 with its nearly infinite accessory options, there isn't as much that can be done to alter the Mini-14. An exception here is the stock, an easily installed component that can be swapped during normal field disassembly. While there are not too many out there, there certainly are some notable examples. Chief among these are versions that have the ability to fold. There are of course modern versions of this, but the most desirable is arguably the most classic. The first one we're going to look at jumps right off your color TV, out of the back of a curiously painted van.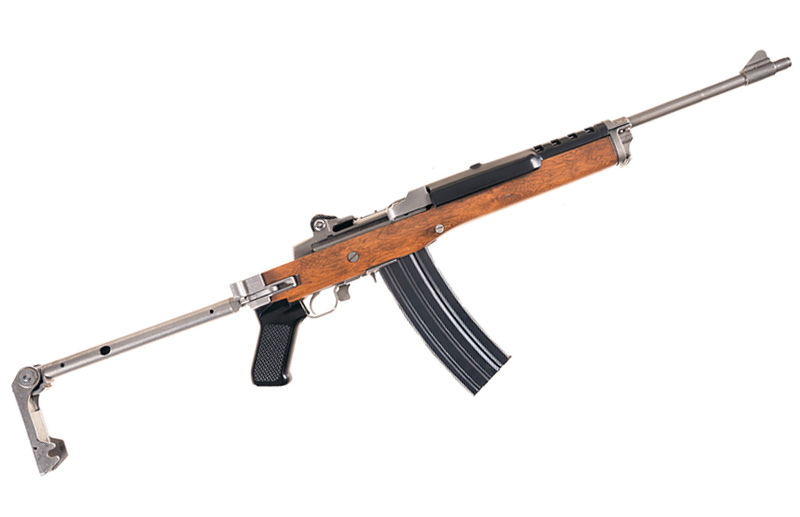 Top Mini-14 Stock Options:
Samson A-TM Folding Stock


Probably the most famous Mini-14 out there was used on the A-Team TV show. Along with the 1911, the folding stock Mini-14, though fully automatic on the show, was the signature weapon of the A-Team's leader, Hannibal Smith. Although the one on the show was technically the police AC-556 that came with a folding stock from the factory, you won't be able to get any closer to an original than this. In fact, the Samson stock is made on much of the same tooling as the original was, and it is available in the same color layout from the TV show.
Despite being a pop culture icon, this stock is actually very functional and makes for an extremely compact overall size. It can be stored easily and deploys quickly while still being very solid in terms of lockup. Of note, the butt plate also folds, making the pistol grip area at the rear of the stock the widest point of the gun. Although we tried, you simply can't talk about this stock without pitying the fool who doesn't have one on his Mini-14.
MSRP: $299.99(Stainless), $324.99 (Black) // samson-mfg.com.
Hogue Mini-14 Sporter Stock


If you find yourself dissatisfied with the factory synthetic stock, or just don't want to tear up your wood version, Hogue offers a very affordable replacement stock with a soft OverMolded rubber finish. If you find yourself in a wet or hot climate where your hands become slippery with muck or sweat, the stock will help alleviate that slick feeling and allow for a firm grip. Currently, this model is available in black and green. It is a drop-in fit and requires no permanent alteration to the rifle. Luckily, it also has a very affordable street price.
MSRP: $89.95 // hogueinc.com.
ProMag Archangel Sparta Stock


One of the many reasons why the Mini-14 has been overlooked as a tactical rifle is because it doesn't look the part. Some people very much prefer the clean, almost benign appearance of a stock Mini-14 while still recognizing that it is a very capable semi-auto. Because of the rifle's classic aesthetics, there have not been many attempts to force it into the territory of the AR-15; the Mini-14 looks quite out of place covered in rails and flashlights.
That said, ProMag has a relatively unique stock system that integrates a Picatinny top rail for optics as well as an adjustable stock for both comb height and length of pull. For the purist, this is certainly a bit much, and some may argue that it would be easier to simply just get an AR-15 rather than try to turn your Mini-14 into one. Regardless, the execution here is very good and it certainly does provide the features of a tactical rifle. All the parts on it are proprietary, however, so you will not be able to install common AR furniture or grips on it.
MSRP: $219.99 // promagindustries.com.
Boyd's Laminate Stocks



If you find yourself in the market for something that enhances the look and feel of your Mini-14, you should probably consider the laminate stock options from Boyd's. Boyd's has made a name for itself in the industry as a leader in aftermarket stocks. Indeed, they make just about anything you may need, with further options to customize it at the factory. Boyd's makes not just stocks for new guns, but also replacement stocks for vintage classics like the Mini-14's ancestor the M1 Garand.
The Mini-14 stocks offered by Boyd's are available in an incredible number of colors and styles, both traditional and modern. You have a choice between thumbhole, varmint and factory-profile options. The company offers eight styles for the Mini-14, which is the largest amount of options you will find from any single company for this gun. Many of the stocks offered by Boyd's will require minor fitting, which is something to be aware of when you buy. Prices vary on these stocks, as they are customizable by the purchaser, and one will have to decide what options and colors they want when ordering.
MSRP: Varies // boydsgunstocks.com.
ATI Strikeforce


The ATI Strikeforce stock packs in quite a number of features for its relatively low price. The stock is not only able to fold to the side, but can also telescope to adjust length of pull. It is capable of firing with the stock folded as well. Unlike the ProMag stock, the ATI does not offer a complete rail over the top of the receiver. Instead, it relies on the normal optic mounting system that comes standard on the Mini-14. You can add a Picatinny base, or simply use Ruger rings. If tactical features are your goal, this certainly fits the bill without breaking the bank. The stock's folding capability takes advantage of the Mini-14's short overall length while still being less than half the price of the Samson model, making it something worth considering for budget-conscious shooters.
MSRP: $129.99 // atioutdoors.com.
Stock Up!
Unfortunately, there never has been an abundance of available aftermarket options for the Mini-14. In fact, stocks comprise about one-third of the total Mini-14 accessory options on the market. The limited number of options may be a turn-off to some shooters, but if you are just looking to replace a damaged stock, all of the listed options would be suitable, with the Hogue and Boyd's models being the closest in appearance to a factory original.
---
Learn More About Rifle Stocks:
---
NEXT STEP: Download Your Free Storm Tactical Printable Target Pack
62 Printable MOA Targets with DOT Drills - Rifle Range in YARDS
This impressive target pack from our friends at Storm Tactical contains
62 printable targets
for rifle and handgun range use. Target grids and bullseye sizes are in MOA. Ideal for long-range shooting!
Subscribe to the Gun Digest email newsletter and we'll send your print-at-home target pack right away.
Just enter your email address below.
---