No need to stick to pitted and time-worn wood, aftermarket Mosin-Nagant stocks abound and are the fast lane to enhancing the iconic rifle.
Updated 4/23/2021
What Are The Top Aftermarket Mosin-Nagant Stocks:
Given its long and storied history, playing the aftermarket game with a Mosin-Nagant is sacrilege to some. It's difficult to argue their logic. Would you tinker with a vintage M1 Garand or a working order M1908A1? Best to leave these old warhorses alone and ticking like they always have.
That said, the affordable and plentiful Mosin-Nagant poses a different proposition. There are enough rough specimens should you break too much of a sweat bring one into the 21st Century. And despite its length of tooth, there are plenty of options to help dial the bolt-action up to contemporary performance expectations, which your average, everyday mil-surp M91-30 and otherwise more than needs.
Stock Mosin stocks aren't exactly a thing of beauty. Their aesthetics fit with those of a mud fence. And as to performance, let's simply say they weren't exactly designed to enhance the average Russian or Soviet soldier's innate marksmanship. An extremely linear stock, with a straight grip and a metal buttplate, does not a pleasurable shooter make. Plus, it feels just shy of a T-34 tank in the weight department.
---
Da Comrade! We Have More Russian Guns:
---
Much of this is easily solved. While the selection isn't as extensive as the Remington 700, there are plenty of solid aftermarket Mosin-Nagant stocks to tailor the rifle to your particular application. If we've piqued your interest, then you'll want to continue reading, because we've gathered together four of the best Mosin-Nagant stocks to help turn your Russian iron into a tack driver, hunter or whatever you can think up for it.
KPYK (Crook) Chassis
There isn't a wealth of Mosin-Nagant chassis options on the market, which makes Crook's KPYK (which means raven) variation worth its weight in gold. Released in 2015, the Ukrainian-made chassis is compatible with nearly every variation of the Russian rifle and is solidly built.
Manufactured from 7021 aluminum, the chassis has a fully adjustable buttstock, giving you plenty of play in comb rise and length of pull. The buttstock is also replaceable, given the threads are identical to those of a mil-spec AR-15 buffer. Additionally, the forearm boasts ample M-Lok slots, so dolling up your Mosin with the latest accessories is a snap. Honestly, these alone are well worth the price of entry, but there are a few other intriguing aspects of the Crooks Chassis.
V-Block bedding gives complete contact along the action, no matter if it's octagonal or rounded. And the system allows for the use of detectable box magazines—it accepts Archangel/ProMag magazines. Finally, it comes with three Picatinny rail sections, making optics mounting a snap. Also, the Crook Chassis is a drop-in installation, which might be the best feature of all. MSRP: $450, www.crook.com.ua
ATI Monte Carlo Stock
The most common chambering of the Mosin-Nagant is 7.62 Russian, which is a dandy hunting round. It's ballistically similar to the .30-06 Springfield. Yet, in its stock configuration, the Russian bang stick isn't the most wieldy field rifle. ATI changes this in a snap with its Monte Carlo Mosin-Nagant stock.
Giving the rifle a classic hunter look and feel, it also does a number on its heft and manageability. This is thanks to its glass-reinforced polymer construction, which not only cuts down on weight, but is impervious to most environmental factors. ATI bills the unit as compatible with most Mosin variations, and as a drop-in installation. Though, the latter might not always prove the case. To truly achieve the desired fit, there may be some material removal/addition required. Also, this is a straight polymer stock. Perhaps this might not matter to someone looking for a straight hunting upgrade or a range toy. But it will have plenty of flex under recoil, which means it might not be the first choice for a long-range Mosin build. MSRP: $110, www.americantactical.us
Pro Mag Archangel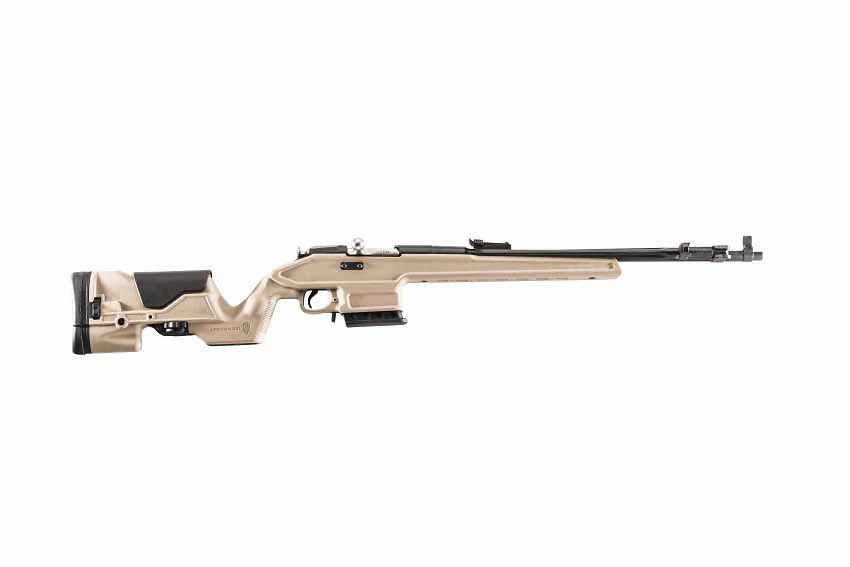 When it comes to precision builds, the Archangel has been the top choice among Mosin-Nagant stocks. For a long time that was a default position, since it was about the only precision option in the game. Even with other accuracy-enhancing stocks now in the running, the Archangel still remains an excellent option.
With carbon fiber- and glass-reinforced polymer, the Archangel is fully adjustable and conveniently so. Both length of pull and comb height are dialed in via thumbwheels, each with around 1 inch of play. Additionally, the stock has a goose-neck style grip, with an ambidextrous palm swell.
Nice as the ergonomics are, what's happening in the stock might be of more value in accurizing your Mosin. The Archangel features steel pillar bedding blocks, ensuring there is little to no wiggle once the action is in place. Furthermore, the system free-floats the barrel, making sure it has the pristine harmonics required to improve accuracy. Finally, Russian-made Mosin-Nagants—any variation—are simple drop-in installs; Finnish models may require a bit of finagling. Also, did we mention it makes the Mosin compatible with detachable box magazines? Pro Mag proprietary, but a nice upgrade nonetheless. MSRP: $170, www.promagindustries.com
Boyds At-One
Honestly, if you have a favorite Boyds stock, disregard this particular pick. Given their advanced manufacturing system, nearly any of its stocks are compatible with a majority of common Mosin-Nagant models. That said, it's difficult to look much further than Boyds' At-One Stock.
Among the most flexible systems available today, it takes the Mosin-Nagant to another level. And it's not just the fully adjustable comb riser and length of pull we're talking about. Though, push-button controlled, those are nice. But everything, from grip to forend and swivel points is either interchangeable or factory configurable to your needs.
Furthermore, Boyd's hardwood laminates—what the stocks are constructed of—provide a good deal of the needed rigidity to improve the rifle's accuracy. Not to mention, they're eye-catching.
At 3 pounds, the At-One is light enough to keep a build field ready. At the same time, it is more than capable of providing the base for a precision rifle. MSRP: $200, www.boydsgunstocks.com
---
NEXT STEP: Download Your Free Storm Tactical Printable Target Pack
62 Printable MOA Targets with DOT Drills - Rifle Range in YARDS
This impressive target pack from our friends at Storm Tactical contains
62 printable targets
for rifle and handgun range use. Target grids and bullseye sizes are in MOA. Ideal for long-range shooting!
Subscribe to the Gun Digest email newsletter and we'll send your print-at-home target pack right away.
Just enter your email address below.
---