Sponsored Content
The MDT ESS chassis is the cream of the crop and just the ticket to get your bolt-action to live up to its full potential.
How The MDT ESS Chassis Makes A More Precise Rifle:
Solid metal frame provides rigidity required to improve accuracy.
Buttstock is completely adjustable, fitting any shooter's frame.
Modular design allows shooters to tailor chassis to particular applications.
Drop-in installation for a wide spectrum of today's most popular rifle actions.
Accurate rifles are nothing new. Irons that could knock the eye out of an eagle on a quarter at 100 paces have nearly always existed. Getting your hands on one … that's another matter. Either they took a fat wallet and good gunsmith in your hip pocket or hours of free time and plenty of know-how to turn one out. Working knowledge of glass epoxy didn't hurt either.
Those days have vanished with the smoking section in restaurants and TV antennas on houses. Much as we might gripe about this and that in the firearms world, there is no better time to live if you're a shooter.
Off the shelf, ammunition is engineered to the level of jet fighters. Modern optics deliver clarity once only available at a planetarium. And off-the-shelf rifles are so consistently made, you could choose one at random and expect near tack-driver performance.
Impressive as these great leaps forward are, they pale in comparison one advancement in particular. The rifle chassis is the tie that binds all the other advancements together, ensuring they live up to the meticulous work put into perfecting them. And few options provide more punch for the penny than Modular Driven Technology's Elite Sniper System or ESS. At the business end of this Canadian masterpiece, 1,000 yards is much closer than you think.
At The Heart Of The MDT ESS
When you shoulder the MDT ESS you're struck by one thing – this thing is solid. Brick outhouse solid. Which is good, given the chassis is aimed primarily at competitive shooters and those serious about taking their marksmanship the distance … then some.
---
Learn More About MDT Chassis And Gear:
Weighing in at just shy of 5 pounds, I'm not sure it would do for much outside a precision rifle or F-Class match, unless you happened to be a glutton for punishment hunting. Yet, MDT has designed the chassis to modify to whatever objective you might have at hand. Much as their name implies, the company emphasizes the modularity of their systems, almost as heavily as they do their accuracy. It's the heart of their systems and apparent on the ESS – particularly its fore-end.
Attaching via pair of Allen screws, the component removes as quickly and easily as a barreled-action slips into the chassis itself. And with four fore-end options to choose from, the rifle chassis has a wealth of configurations. These include aluminum full rail, night vision rail and even a streamlined, no rail versions, with length options of 13, 15 and 18 inches. More recently, for the weight conscious and tactically minded, MDT added a carbon fiber option to the mix, which they've been promising for some time.
In each case, the ESS fore-ends come with ample M-Lok slots, which is a boon, as anyone who's shot a chassis rifle knows. For a long time, proprietary accessory attachment points were the rule, making it somewhat a hassle to get a cant level or other kit installed.
Interestingly, MDT also includes a sling swivel in addition to QD cups on their fore-ends. Though, paint me dubious, I figure 9 out of 10 shooters replace the swivel with a rail fairly quickly after opening the box.
The buttstock also gets the modular treatment, with MDT giving you the choice between standard SRS-X, folding SRS-FS and SRS-X Elite models upon order. No matter your choice, you get supreme customizability to your body frame via thumb wheel adjustments for both length of pull and comb rise – 1 inch each. Also, there's no worry about knocking them out of adjustment, as both have locking bolts. Additionally, the butt pad is height adjustable, which lets you dial the main interface into yourself.
A quick note on the stock options. All of them are on target, but you do get a couple extras with the Elite version, including a steel buttpad for added balance and a stability-enhancing second guide rod.
Installation
If you've ever dealt with an aftermarket stock or even an ill-fitting factory one, you understand the challenge you face. It's a balancing act of sorts, removing and adding just the right material so your barreled action fits without so much as a wiggle. It's about the furthest thing from an out-of-the-box experience as there is.
Given its materials, the ESS comes to you nearly custom fit for your action. No epoxy or Dremel tool required. This means you can pop your rifle into the chassis the day you receive it and expect to see results. Generally, it's just a matter of removing the barreled action from its old stock, putting it into the chassis and torquing down the new action screws MDT provides.
Fit and convenience aren't the only advantages of the ESS. It's bedding is also miles away from what you're most likely used to. In fact, MDT's V-block bedding beats about everything else hands down. The geometry of the main interface between action and chassis creates a monolithic contact point between the two elements. Simply put, this means the barreled-action isn't going anywhere, no matter the recoil. Furthermore, the recoil lug mortise in the ESS not only accommodate factory spec options, but also beefier aftermarket upgrades, up to .375 inch and tapered.
Ergonomics And Shooting Enhancements
You never knew you needed cruise control until you finally bought a car with the option. Then, most likely, you were ruined for all time on models without it. Fair warning, the same holds for the MDT ESS's ergonomics.
You might not have thought you needed a pistol grip or a thumb rest on your bolt-action. But brother, when you're holding on target for an extended period, attempting to execute pristine trigger control, you'll wonder how you did without them. And that goes for several other facets of the ESS system, each improving your accuracy, increasing your comfort and just plain enhancing your turn bolt.
A wide fore-end, perfect for nuzzling down on a rest, and barricade stop on the front of the mag well, are two such examples. The one that particularly sticks out is the ambidextrous magazine release situated between the trigger guard and magazine well.
When you become familiar with the ESS's controls, it's quite possible to drop an ACIS magazine (what the system is compatible with) and reload all without pulling your eye from the scope. That's a major advantage, one not generally found on traditional stock options.
Parting Shot
The MDT ESS is a competitive-level chassis, designed to deliver on the most challenging shots. If you're looking for a little something for your next match gun, the chassis should be on your radar. Especially if you aren't looking to break the bank. Few top-shelf options compete with its $990 MSRP.
That said, even if you aren't gunning for gold, the ESS still should remain a consideration. Certainly, it might not fit the bill for a lightweight, surgical hunter or entry-level accuracy enhancer. But for those unwilling to settle for average groups or truly want to test their and their rifle's potential, the MDT ESS will deliver. That's what it was designed to do.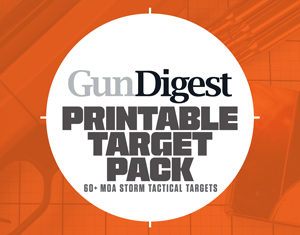 Next Step: Get your FREE Printable Target Pack
Enhance your shooting precision with our 62 MOA Targets, perfect for rifles and handguns. Crafted in collaboration with Storm Tactical for accuracy and versatility.
Subscribe to the Gun Digest email newsletter and get your downloadable target pack sent straight to your inbox. Stay updated with the latest firearms info in the industry.