Sponsored Content
With the advent of the rifle chassis, the bolt-action has never been a better performer. Here are five reasons why.
Why Should You Upgrade Your Bolt-Action With A Rifle Chassis:
It's a rock. The bolt-action that is.
For more than 100 years, the basic design of the rifle hasn't changed making it an ultimate example of, if isn't broke, don't fix. What else out there, shot to shot, trigger pull to trigger pull delivers greater accuracy on a more consistent basis? Improve on that, might as well ask for more shine in the sun. Though, in recent years, that's exactly what's happened to the tried and true rifle.
Well … kind of.
While the bolt-action in all its forms has remained amazingly unchanged in more than a century of service, in recent years its platform has made an incredible leap forward. One might even say, the rifle chassis has caught the gun's main interface with the bolt-action itself. A long time coming, but well worth the wait.
Still dubious? Then check out the top five reasons you need to upgrade to a rifle chassis. Get the right platform for your applications and you be dazzled at what these modern marvels can do for favorite turn-bolt.
Accuracy
Hands down, this is it—reason No. 1 to choose a rifle chassis. There's no other system out there that does more to make an average rifle an absolute tack driver. Bantered about in precision shooting circles, the expected accuracy improvement of installing a rifle chassis is somewhere around 20 percent. That is, the average groupings your rifle produces will shrink by that magnitude. That's incredible. A couple of things are at play in the rifle chassis that deliver such incredible results.
First, it's made of metal. In turn, it has much more rigidity than wood, polymer or carbon fiber stocks. This is important because it's more resistant to flexing under the recoil impulse. Lesser options that buckle send your bullet on an errant trip. This means less accuracy and more frustration.
Next, a rifle chassis offers superior bedding. Take the MDT LSS Gen2 for instance. The lightweight, entry-level chassis has a monolithic V-block bed, which makes metal-to-metal contact on the entirety of your rifle's action. Most traditional stocks either have little (maybe two points) or no metal-to-metal contact. What this adds up to is a system where an action can move and yawl shot to shot and overtime.
Finally, the rifle chassis free-floats your rifle's barrel no matter its profile. Therefore, your barrel's harmonics remain as pristine as first-fallen snow in the middle of the night. It's astonishing how many modern gunmakers still don't take the time to integrate this facet into their designs, despite the known benefits.
Adjustability
Metal might form the heart of the rifle chassis and provide its primary advantage, but it's far from its only asset. The system is also among the most adjustable available, giving shooters a truly custom experience each time they're behind the trigger.
Standard fare on the rifle chassis is the adjustable buttstock, important, given you can modify your rifle to your frame perfectly. A good example is the MDT ESS. The competition specialist has 1 inch of play in length of pull and comb height. Furthermore, the butt pad is height adjustable, letting you tinker it this way and that to get the perfect fit into your shoulder pocket.
While this is among the most important adjustment systems, it's not the end of the line for a rifle chassis. Again the ESS. This particular rifle chassis comes with ample M-Lok slots at the one, three, five, seven, nine and 11 o'clock positions of the fore-end. In short, accessories—whatever you might need—are a snap to add.
Additionally, if you need to balance your rifle or add more weight to soak up recoil, most rifle chassis offer ways to adjust the weight of the chassis. MDT's system, for instance, conveniently attaches via M-Lok slots.
Versatility
Buy a traditional stock and what you see is what you get. Not so with a rifle chassis. Many —not all mind you—are modular in design, meaning you are free to add different components as you see fit. The MDT LSS Gen2 mentioned before illustrates this point perfectly. The chassis is compatible with any AR-style buttstock and pistol grip on the market today. So, if you've had good luck with Magpul's PRS stock, there's no reason to switch up. Or if you can't stand a beavertail grip, there's no need to subject yourself to one. Much like the AR-15, the only limit to customizing your rifle chassis is your imagination.
Magazines
Certainly, there are traditional stocks that accept removable box magazines. However, there are a lot that stick to a rifle's proprietary version. A rifle chassis dashes this concept against the rocks and replaces it with universality. ACIS magazine compatibility is the standard, opening the door not only to higher capacity options than found with factory designs, but more affordable ones.
---
Learn More About MDT Chassis And Gear:
4 Must-Have MDT Chassis Rifle Upgrades
MDT ESS Chassis: Redefining The Modern Precision Rifle
MDT LSS Gen2 Chassis: Flexible Foundation Of A Precision Rifle
Application
In the world of stocks, the rifle chassis is a thoroughbred. But get it out of your head it purely exists in the realm of competition or professional operation. Like many firearms advancements, it certainly has roots in those spheres, yet has blossomed to the general shooting public.
With the right rifle chassis, your Sunday-afternoon plinker transforms into a laser-like joy machine. And hunting—especially in the more wide-open Western states—nothing could up your success rate more dramatically than restocking your standby deer or antelope rifle with a chassis. The only prerequisite to upgrade to a rifle chassis is a desire to shoot accurately on a more consistent basis.
For more information on MDT rifle chassis systems, please visit www.mdttac.com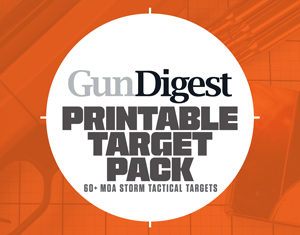 Next Step: Get your FREE Printable Target Pack
Enhance your shooting precision with our 62 MOA Targets, perfect for rifles and handguns. Crafted in collaboration with Storm Tactical for accuracy and versatility.
Subscribe to the Gun Digest email newsletter and get your downloadable target pack sent straight to your inbox. Stay updated with the latest firearms info in the industry.