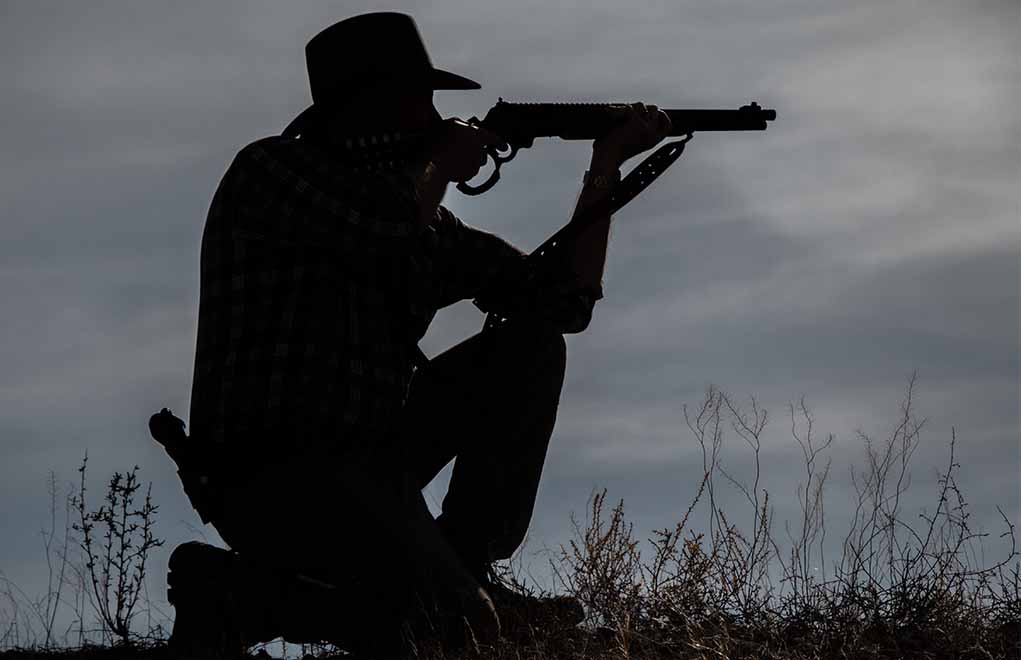 Five singularly American lever-action rifle choices for hunting or home defense.
What Are The Top Lever-Action Rifles:
You can rave all you want about how we won two world wars with the .30-06 and how the Colt Peacemaker is the iconic symbol of American freedom.
However, when it comes to the firearm that truly represents our country, it is, without question, the lever-action rifle. I've often said it's because every American has a little cowboy in them, but there's more to it than that. Lever-action rifles are so loved by the freest men in the world because they are so useful. They provide all the accuracy necessary for most of the shooting that needs to be done, they're handy, fast to operate and, well, singularly American.
When I was young, I was all about the bolt-action, because I looked at lever guns as ancient artifacts. But, as I grew older and gained more experience, I realized every man needs at least one lever gun—and ideally, several.
Here's a look at my five favorites. All are guns I use regularly for everything from squirrels to buffalo. They might give you some ideas about configuring your own perfect lever gun.
Henry Big Boy Steel Carbine .327 Federal Magnum
I've been a fan of the .327 Federal Magnum cartridge since its inception. This is a good-shooting, compact carbine that will handle both .327 Federal Magnum and .32 H&R Magnum ammunition. It comes with a leaf rear sight with a ladder and a brass-beaded front. I installed an XS Sights fully adjustable aperture rear sight. This required a new front sight—and a tall one at that. (If you decide to install XS Sights on your Henry Big Boy Steel, the front sight will need to be about 0.65 inch tall.)
This is one of my guns that stays loaded. It lives in my closet beside my bed with a magazine full of Federal's 100-grain JSP loads. They'll generate more than 2,000 fps from the Henry's barrel and are just as capable for dealing with bad guys as they are for deer. The carbine's trigger has a good, crisp pull weight of 3.5 pounds, and I really like the straight grip. It, in conjunction with the large loop, makes the rifle easy to carry at my side in one hand.
My favorite feature is the lack of an extra safety. This rifle is made the way a lever gun ought to be: The hammer and trigger are the safety. In the Henry tradition, the Big Boy is loaded through the magazine tube. This makes loading as you go impossible, but it also makes unloading at the end of a hunt easy and safe.
---
Raise Your Lever-Action IQ:
---
Marlin 336 Dark Series .30-30 Winchester
I coach a high school boys' soccer team, and my assistant runs a pawn shop. I was visiting one day and noticed a used Marlin on the rack. We haggled for a moment, and I ended up getting the rifle for under $150. Given that I'd scored such a sweet deal, my intention was to lightly customize this lever gun and create sort of a general-purpose rifle.
The project got moved to the back burner, and a year later, the only thing really new was that Marlin had introduced its Dark Series.
The features of the Dark Series 336 in .30-30 Winchester almost mirrored the customizations I'd planned for my pawn shop score. It has a hard-coat textured paint on the stock that's solvent resistant, a black, parkerized metal finish, an XS Sights Lever Rail and a 16-inch barrel with a threaded muzzle. It even comes with a paracord-wrapped big loop lever and sling. The only thing I added was a Leupold VX-II 1.5-4x scout scope that has had a German No. 1 reticle installed by the Leupold Custom Shop. This is an extremely handy rifle and a rugged setup.
So, I now have a great project lever gun for sale. If you're looking for a good deal on a used .30-30, give me a call. However, I'm betting that you—like me—should probably just opt for one of the new Marlin Dark Series 336s!
Brockman Custom Marlin 1894 .327 Federal Magnum
About a decade ago, Marlin offered its 1894 Cowboy chambered for the .32 H&R Magnum. It was intended to appeal to cowboy action shooters who were running .32 H&R Single Sixes. Marlin did not make many of these and, in a couple of years, it was discontinued. Look hard, and you can find one used … but expect to pay north of a grand.
Because I'm a devotee of the .327 Federal Magnum, I purchased the first one of these rifles I could find with the intention of having it rechambered. The man I found to do the job was Jim Brockman of Brockman's Custom Rifles. In addition to opening the chamber to .327 Federal Magnum, Jim cut the long, 24-inch barrel and magazine to 16 inches and gave the muzzle a deep crown. He opened the loop on the lever, performed an exquisite action job and installed a set of his Gen III adjustable/tritium sights. But the coolest modification Jim performed was to cut receptors in the octagonal barrel for Talley scope rings. This allows me to go between the open sights and a scout scope with just the twist of two levers. (In case you're wondering, this customization requires a high level of gunsmithing skill.)
The little Marlin is now one of my favorite rifles. I don't let a deer season go by that I don't take it to the timber, and I've used it for groundhogs, squirrels and a variety of vermin around my home. In fact, my oldest daughter took her first deer with this rifle.
Marlin Custom Shop 1895 Modern Lever Hunter .45-70 Government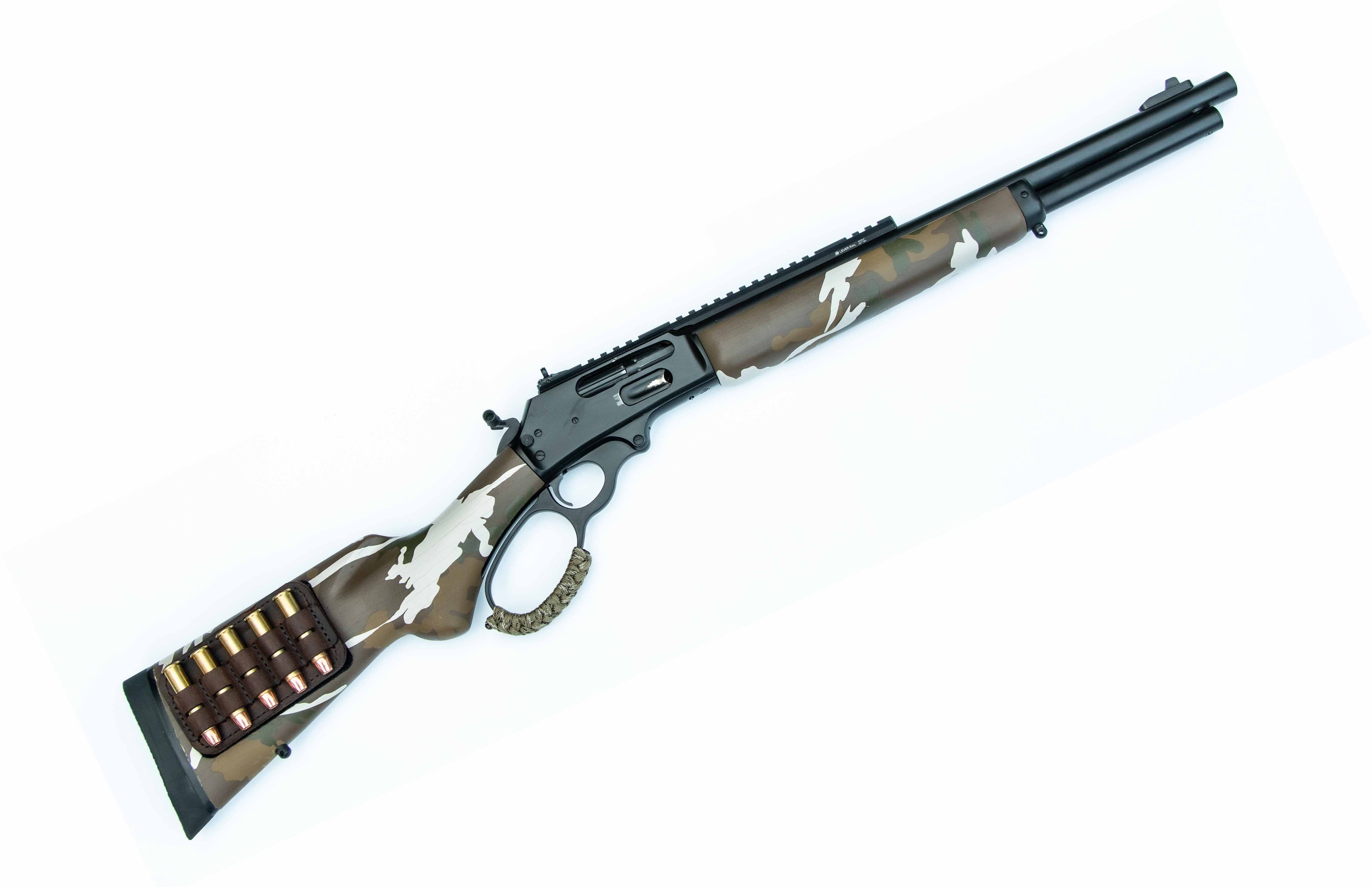 The first time I hunted buffalo in Africa, I did so with a factory-stock Marlin 1895 SBL. This is a short-barreled, stainless steel version of the standard 1895, but it has a pistol grip stock, larger lever loop and an XS Sights Lever Rail. I really enjoyed the rifle during the safari, taking a warthog, reedbuck and, after a bit of a gun battle that ended a lot closer than I would have liked, a buffalo.
That was in 2013. In 2018, I had the opportunity to do it again. Although I'd planned to use the same rifle, as fortune had it, I ended up with a Marlin Custom Shop version that's very similar: the 1985 Modern Lever Hunter out of the Marlin Custom Shop. It's one of the shop's top sellers and is configured very similarly to the 1895 SBL. However, it comes with a tuned action and a variety of finishes on the metal and wood. Mine is covered in Cerakote. It's black on all the metal parts and sports a cool camo pattern—to match my Remington Custom Shop Scout Rifle—on the stock. It's fitted with an XS Lever Rail, but for this hunt, I decided to forego optics and run the open sights.
Due to a poorly placed first shot (my fault), the buffalo hunt turned into another gun battle. But the rifle performed flawlessly and was used to take a variety of other game, including several warthogs and a mountain zebra.
The Modern Lever Hunter does not get a lot of use here, at home, but it's comforting to know it's there in the safe … just in case I need to knock the snot out of something.
Dove Custom Marlin 336 Takedown .35 Remington
I've always had an ongoing affair with the .35 Remington and have owned several, including a limited-edition Marlin 336 built like its famous Guide Gun. It was a fantastic rifle, and I took several deer with it. However, the integral muzzle brake made it unpleasant to shoot. A couple of years ago, a friend in Florida found me a pristine 336 in .35 Remington, and I snagged it for a good price.


My local gunsmith—Jerry Dove of Dove Custom Guns—had been making takedown lever guns, and I figured this would be the ideal platform for his genius to work on. Jerry crafts a cool and very rugged steel junction just forward of the receiver and mates it with a screw-locked magazine tube. This allows you to take the rifle apart—right in the middle—in about 10 seconds. It's an ideal solution for a gun you might want to carry in your pack (it will even fit in a motorcycle saddlebag) or keep conveniently stored behind the seat in your pickup.
In addition to the nifty takedown feature, Jerry also installed a scout scope rail on the barrel, along with XS sights. A slicked-up action, fantastic trigger, VersaCarry AmmoCaddy and a saddle-ring safety replacement from Beartooth Mercantile that allows the rifle to work with a single-point sling all round out what is probably my favorite of all the lever-action rifles I own. I've yet to take it to the timber, but when I do, the critters had better look out—this gun and I get along quite well.
Editor's Note: This article originally appeared in the October 2019 issue of Gun Digest the Magazine.
---
NEXT STEP: Download Your Free Storm Tactical Printable Target Pack
62 Printable MOA Targets with DOT Drills - Rifle Range in YARDS
This impressive target pack from our friends at Storm Tactical contains
62 printable targets
for rifle and handgun range use. Target grids and bullseye sizes are in MOA. Ideal for long-range shooting!
Subscribe to the Gun Digest email newsletter and we'll send your print-at-home target pack right away.
Just enter your email address below.
---