The future of precision rimfire: Zermatt RimX Precision .22 LR.
Why The RimX Rimfire Action Is A Game Changer:
An interchangeable bolt head system allows shooters to swap heads for a number of rimfire cartridges.
Its flush-faced extractor system means there are no extractor cuts in the breech face.
Given easy headspace adjustment, swapping barrels is matter of buying a pre-fit and torquing it on.
The bolt is remarkably easy to breakdown, simply twist the bolt nose and pull.
For decades, .22 LR rifles fell into three categories. There was the "grandpa's squirrel gun" class of rifles from Marlin, Ruger and the other big American manufacturers. Then, there was the Europeans—the Olympians—with hard-to-pronounce names like Anschütz and Feinwerkbau. The single-malt scotch set of American shooters had a few high-dollar walnut and blued-steel options—the Dakotas and Coopers—but by design they weren't widely available to the dirty, accuracy-obsessed masses.
Then, came the internet, where shooting nerds shared tips and tricks for ringing no-bull accuracy out of less-than-perfect rifles. With an accurate .22 LR, a competition Precision Rifle Series or National Rifle League shooter could train on the cheap. Hundreds of rimfire rounds could be sent downrange in a weekend without spending hundreds of dollars on centerfire components and a long evening reloading.
Some of the savvier gun companies watched this and responded, like CZ with their excellent Varmint Precision Trainer in .22 LR and Ruger with the Precision Rimfire. Other companies were born from the space, such as Vudoo Gun Works of St. George, Utah. The importance of Vudoo's innovation of a .22 LR action with a Remington 700 footprint that takes AICS-spec magazines cannot be overstated enough. Thanks to Vudoo, a fourth category of .22 LR rifles was created: the full-sized tactical trainer.
A New Category Is Born
With a Vudoo, a long-range shooter could build an exact replica of, say, his centerfire 6mm BR with a Trigger Tech in a Manners stock, but chambered in cheap-to-shoot, low-recoil .22 LR. The drop, wind and sniper math required to hit a steel at 200 yards with a .22 LR lined up with the physics and skills needed to connect with centerfire, but at much less range.
Around this time, the National Rifle League then launched NRL22, a rimfire-only PRS-style match that required only 100 yards. A whole new wave of shooters jumped in, guys and gals who may not have been a part of the centerfire PRS world, but soon went whole hog on .22s. At a match in southern New York, I spotted a sticker on another shooter's rifle case that summed this up in beautifully, big white letters on matte black: RIMFIRE ONLY.
Precision rimfire rifles have since gone mainstream. This past year at SHOT Show, Bergara launched a .22 LR bolt gun on a Rem. 700 footprint. Savage and CZ brought out .22 LR chassis rifles. Now, new custom rimfire actions are sprouting up. This is the next evolution in precision .22s—the custom action, with complete rifles built by leading gunsmiths, or put together at home shops by talented self-starters. Once the confined-to-niche world of rimfire benchrest shooting, tactical shooters with precision machined parts, some tools and a little know-how are finding that building a bolt-action rifle isn't much more difficult than building an AR-15.
Leading that growth curve toward this new future in precision rimfire is a centerfire favorite, the guys at Bighorn/Zermatt Arms. Building on, and shooting, their widely innovative RimX rimfire action is a hint at the future to come in precision rimfire. The future is bright.
---
More On-Target Rimfire Info:
---
Builder's Delight
AJ Goddard of Bighorn Arms has long been making some of the hottest precision centerfire actions around. The flagship TL3 centerfire action incorporates the best of Remington and Savage designs with a Remmy 700 footprint and fire-control system, along with a floating bolt head and action threads for Savage small shank pre-fits. This makes swapping barrels relatively easy with just the need for a vise and an action wrench. A few years ago, Bighorn partnered with Zermatt Arms of Bennet, Nebraska, to scale up production of these centerfire actions, and from that mind meld came the RimX, a rimfire action with remarkably similar DNA.
The RimX action has an interchangeable bolt head system, so shooters can swap heads from a .22 LR/.17 HM2 to the larger .22 WMR/.17 HMR pattern. A full bolt replacement is also available for .17WSM. The action has a threaded tenon print, so barrel swaps are a breeze, too. The innovative flush-faced extractor system means there are no extractor cuts in the breech face. Headspace is set by the threading combined with the recess in the bolt face, so swapping it out barrels is matter of buying a pre-fit and torquing it on. (Zermatt sells no-go gauges to double-check headspace.)
With most major barrel manufacturers now making pre-fits for the RimX action, this is remarkably easier—and less expensive—than buying a blank and having a gunsmith chamber and fit it. There are no V-blocks like a 10/22 or grub screws like a CZ. It's the Savage approach to easy barrel interchangeability, applied to rimfire.
Two things quickly distinguish the RimX from its peers, which currently include the Vudoos, the yet-to-be-released Deuce action from Ultimatum Precision and soon to be more. Those two things are the bolt and the magazine.
The bolt is remarkably easy to breakdown. Simply twist the bolt nose and pull. Nose off, grab the bolt handle and twist the shroud clockwise, and it separates from the handle. The heavy-duty stainless firing pin is tapered and stepped down to a narrow rectangle of a striking surface that marks cases cleanly at the rim edge. The firing pin is held to the shroud with a metal clip and can easily be pulled and replaced if damaged.
Assembled, the firing pin sits at the 6 o'clock position, meaning it strikes the ammunition case low center, at 6 o'clock. Custom rimfire actions from the benchrest world largely moved to the 6 o'clock position, thanks to the work of small-bore pioneer Bill Calfee. With a 6 o'clock impact, the ignition is more consistent as primer burns up and therefore more completely—though there's little beside anecdotal testing to confirm this. (Many Olympic-level European rifles don't have 6 o'clock firing pins.) Still, it's widely considered a gold standard among the accuracy-obsessed world of benchrest and certainly doesn't hurt. Zermatt was smart to design it into their action.
With the RimX, perhaps even more innovative, is the completely flush extraction and ejection system—the bolt face itself is completely flat. With a round in the chamber, the rim of that rimfire round snugs against the breech face, as with any rimfire firearm. What's different here is the bolt completely encapsulates that rim when the bolt is closed. There are no relief cuts in the breech face for extractors. It's a 360-degree pressure seal.
This is done with a spring-tensioned ejector that captures the case rim and applies enough pressure to snug the round into flat extractor. It creates 100 percent positive control of the round from the magazine to the chamber, holding the round by the rim securely in the bolt face. The stainless extractor plate is held with a small set screw and the ejector with a spring plunger. Should something break, both can easily be swapped out with minimal tools and just a few small parts.
It's hard to convey how elegant this flat-faced system looks and how strong it holds a round. Just for kicks, I secured a live shell in the bolt nose and dropped it on my office carpet. Three out of four times, the round didn't pop out. There's zero chance, in my mind, that the system will not extract short of ripping the brass case apart. It's just that strong.
The only drawback of this design is that a single round cannot be loaded into the action through the side port. It requires the round getting picked up from the magazine and slotted in the bolt face for the round to headspace properly and the bolt to close. For some, this might be a deal breaker. There are certainly times in NRL22-style matches when I've mistakenly ejected a live round and have had to stuff that 10th shot in the action to complete a stage of fire, often on the clock. The solution to that problem for shooters interested in a RimX is to pack a second magazine with one or two rounds stacked and ready. Nothing in life comes free, and this is the trade-off for such a robust "flat faced" bolt system.
Every RimX action ships with a 10-round AI-patterned 7075 aluminum magazine. The RimX mags are very similar to the single-stack design created by Mike Bush at Vudoo, but with a few innovative features. The mag is held together with screws at the four corners, so it can be completely disassembled for parts replacement or repair. There's an adjustable magazine catch on the rear of the mag. Adjust the set screw, and the catch can be moved up or down to tweak the height at which the mag sits. This helps ensure compatibility with the wide universe of Remington 700 stocks and chassis and is a must-do step when building a RimX rifle.
Additionally, the bottom plate of the magazine slides off to get at the spring and the follower without disassembling the entire thing. Overall, it's simple, tunable and a very impressive total package—as it should be with a retail price for extra mags running $125. After shooting it all summer, the magazine on my test rifle is scuffed and scarred from NRL22 battle—a testament to how well it fits.
Vudoo Gun Works currently has patented application in the works on ACIS-patterned .22 LR magazines, which could affect RimX (and Bergara with the B-14 R) if granted. Only time will tell. Vudoo magazines supposedly work with the RimX action, but I didn't find this to be true. The RimX bolt didn't pick up rounds from the Vudoo cleanly or consistently, but this could likely be ironed out with some tweaking of action, stock and magazine.
Shooting the RimX
To dive into all things RimX, I was sent a barreled action with a 16.5-inch Proof. Zermatt is not selling barreled actions. It's on the consumer to pick out the best barrel for their use case and build the rifle themselves or seek out one of the many custom builders now working with the RimX platform. (South Dakota-based gunsmith TS Customs and Primal Rights are putting together some real stunners for sale.) For a trigger, I went with The Hit from Timney, adjusted down to 12 ounces, and sat it in a Greyboe Ridgeback with Greyboe bottom metal. The action arrived with a pinned 30 MOA Pic rail, to which I put a new 5-25x56mm Vortex Strike Eagle in Vortex rings. With an Atlas PSR bipod and Armageddon Gear Game Changer rear bag, it very quickly connected on an 18×24-inch IPSC target at 500 yards with Lapua Center X.
It seemed unfair, frankly, to put the rifle together in a rush and push it to 500 yards on the first outing, but after easy connections at 100 and 325 yards, 500 felt plausible despite the rifle being hardly broken in at all. It has since seen about 1,000 rounds, including a summer of NRL22 matches. The nitride-coated action runs slick as snot. In all those rounds fired, there hasn't been a single marred bullet, misfire, failure to feed, failure to eject, or any issue whatsoever. The action has been running flawless.
Proof will not say what chamber they cut into their .22 LR barrels, but they do recommend CCI Standard for a low-dollar ammo choice and Lapua Center X for a few dollars more. I've found this rifle shoots everything well. When it comes to good match ammo, it shows no real preference for Lapua over Eley.
To formally test things out, I shot a box of CCI Standard, Wolf Match Target, Eley Match and Lapua Midas+ into U.S.B.R. targets from American Target Company at 50 yards. Each shot recorded on a Labradar chronograph to determine average muzzle velocity and the standard deviation.
The Midas+ turned out the smallest groups, but not by much. Eley showed the lowest standard deviation. Truth be told, for a company only selling actions—not barreled actions—accuracy testing is a bit of misnomer. The beauty of the RimX is it's made to be built with whatever barrel you want on it. It's a platform to build on, and a wonderful one at that. Zermatt and RimX are pushing the precision rimfire envelope with an incredible, user-friendly action, worthy of the very best rimfire builds out there.
It's an exciting time when such players in centerfire precision shooting are looking at the rimfire world and innovating something different. The RimX is something different—the next evolutionary step in precision rimfire rifles.
For more information on RimX, please visit rimxaction.com.
Editor's Note: This article originally appeared in the December 2020 issue of Gun Digest the Magazine.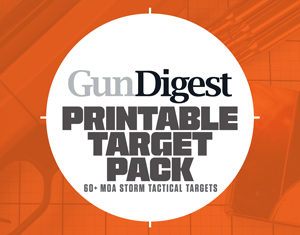 Next Step: Get your FREE Printable Target Pack
Enhance your shooting precision with our 62 MOA Targets, perfect for rifles and handguns. Crafted in collaboration with Storm Tactical for accuracy and versatility.
Subscribe to the Gun Digest email newsletter and get your downloadable target pack sent straight to your inbox. Stay updated with the latest firearms info in the industry.