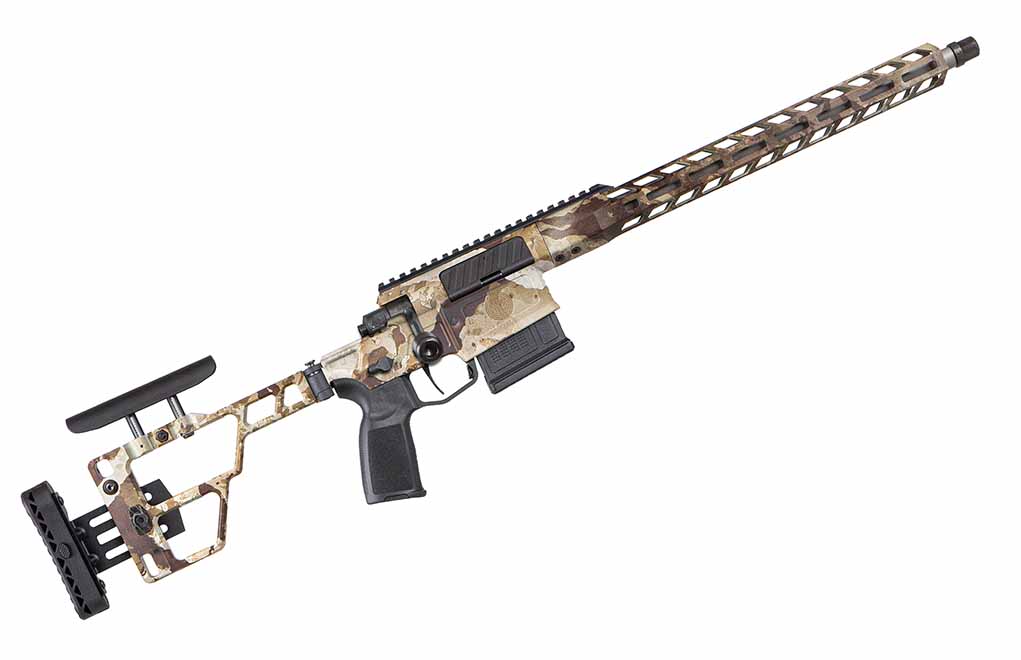 Sig Sauer reenters the bolt-action game with the lightweight precision Cross Rifle.
How The Cross Rifle Is Configured For Precision Hunting:
Lightweight, 6.2 to 6.4 pounds
Chambered 6.5 Creedmoor, .308 Win., .277 Sig Fury
Robust three-lug bolt head
One-piece Receiver
Barrel secured via barrel nut
Name the last bolt-action Sig Sauer came out with. Unless you're an out-and-out fanatic of the gunmaker's wares, the model most likely didn't trip immediately to mind. Born in the waning salad days of the 1990s ('98 to be exact), the Swiss Hunting Rifle 970 was a solid turn-bolt, but didn't exactly ripple across the gun-buying world. The company's latest endeavor into this end of the market might be another story.
Following recent trends, the newly minted Sig Sauer Cross Rifle is decked out to win precision shooters' hearts, no matter if they spend most of their trigger time on the bench or in the field. Even more so, given the rifle is the first American-made bolt-action to roll off the company's New Hampshire factory's line.
While the Cross Rifle has the look and most certainly could be used purely as a precision rifle, Sig is angling the iron at a different crowd. The firm tags it as a precision hunting rifle, perfect to make those dream cross-canyon shots hit right on target. To that end, where it seems to differentiate itself from its explicit match/long-range cousins is the weight department, coming in a svelte 6.4-pounds in its 6.5 Creedmoor chambering and 6.2-pounds in its .308 Win./.277 Sig Fury. As well as barrel length, 18-inches in the former caliber and 16 in the latter.
If you were paying attention, you'll have noticed the Cross Rifle also ushers in a new cartridge. The .277 Sig Fury is still awaiting SAAMI approval, but is essentially a commercialized rendition of the 6.8mm ammunition developed for the US Army's Next Generation Squad Weapon program.
It, and the other cartridges, should have a dandy launch pad in the Cross Rifle. In addition to what has become more common accuracy enhancing features, such as a skeletonized and fully adjustable buttstock, it has some more nuanced assets to get it on target. In particular, the short action is built on a one-piece receiver, with the barrel secured via a barrel nut, a combination that not only creates a rigid platform, but offers superior head spacing. Driving everything home is a robust three-lug bolt head, riding on a modular bolt carrier that locks into the barrel extension and has a 60-degree throw.
As to price, the Sig Cross Rifle isn't a freebie, but it's not exactly a bank breaker in the scheme of precision rifles with an initial MSRP $1,799.
More From Sig Sauer:
NEWINGTON, N.H. – SIG SAUER, Inc. is pleased to introduce the CROSS Rifle. The first SIG-built precision bolt-action hunting rifle is designed by SIG SAUER engineers, completely manufactured and machined at the SIG SAUER facilities in New Hampshire, and tested by premier competitive shooters, the world's best long range shooters, and a team of professional hunters that the CROSS is built for.

"When our product management team and engineers researched developing a bolt-action rifle, they looked at what was missing from the market, and what new innovation SIG could bring to hunters and precision shooters," began Tom Taylor, Chief Marketing Officer and Executive Vice President, Commercial Sales. "Hunting rifles are typically focused on less weight, and accuracy is secondary. Precision rifles are designed for extreme accuracy, with no weight limitations. What was missing from the market was a true crossover. Our product management team and engineers took the best of both worlds and developed the CROSS featuring the characteristics of a hunting rifle, with the accuracy of a precision rifle."

The CROSS Precision Bolt-Action Hunting Rifle is a lightweight precision rifle with a push button, foldable SIG precision stock, a one-piece aluminum receiver that eliminates the need for bedding the action, and AI magazines for creating the most accurate precision hunting platform. The CROSS features a stainless-steel rifled barrel with a free-float M-LOK handguard, a 2-stage match-grade trigger externally adjustable from 2.5 – 4 lbs., ambi-safety, a three-lug bolt design with a 60-degree throw and interchangeable bolt handle. The precision stock is spring-loaded for one handed operation and can be fully adjusted in the field for length of pull and comb height with no tools. The rifle has a full-length replaceable picatinny rail that allows for direct optics mounts, 20 MOA, and O MOA. The CROSS is available in 6.5 Creedmoor, 308 WIN, and the soon-to-be-released 277 SIG Fury Hybrid Ammunition with a black anodized or First Lite camo finish.

"Right out of the box the CROSS comes loaded with new innovation and features that hunters and precision shooters will appreciate at a very affordable $1,779.00 MSRP price point," continued Taylor. "The CROSS delivers on all fronts, and we are especially proud that everything about the CROSS from concept to completion is 100% SIG SAUER and comes directly from our U.S. operations here in New Hampshire."

CROSS Bolt-Action Rifle Specs (6.5 Creedmoor):
Overall Length: 35.5""
Folded Length: 27.0"
Barrel Length: 18"
Barrel Twist: 1:8
Weight (w/o magazine): 6.4 lbs.

CROSS Bolt-Action Rifle Specs (308 WIN / 277 FURY):
Overall Length: 36.5""
Folded Length: 25.0"
Barrel Length: 16"
Barrel Twist: 1:10 / 1:8.5
Weight (w/o magazine): 6.2 lbs.
For more information on the Sig Sauer Cross Rifle, please visit www.sigsauer.com.
---
Raise Your Sig Sauer IQ:
---
NEXT STEP: Download Your Free Storm Tactical Printable Target Pack
62 Printable MOA Targets with DOT Drills - Rifle Range in YARDS
This impressive target pack from our friends at Storm Tactical contains
62 printable targets
for rifle and handgun range use. Target grids and bullseye sizes are in MOA. Ideal for long-range shooting!
Subscribe to the Gun Digest email newsletter and we'll send your print-at-home target pack right away.
Just enter your email address below.
---