Full-Auto and a realistic feel, the Crosman R1 Rifle and P1 Pistol airguns kick up the fun factor.
1,400-rounds-per-minute rate of fire
480 fps muzzle velocity
Powered off 12-gram CO2 cartridges
R1 has a reciprocating bolt, P1 a reciprocating slide
Both feed off removable box magazines
Unless your heart is as cold and callused as winter asphalt, there's some nook that holds a special place for BB guns. Before you stepped up to a trusty .22 LR and centerfire guns, the smooth-bore shooting irons were most likely where you first learned to build your sight picture and practiced your trigger control. For those of us trapped in our suburban cages, they may even still have a place in our lives. You've got to have something to blow off steam or keep the squirrels away from the suet feeder.
Still, there are plenty out there who have strayed away from the style of gun and see no need for one, at least until they have kids of their own. If you fall into this category, Crosman is about to bring you home.
Recently released, the New York-based airgun specialists continue to unleash what might be the most intriguing—if not fun—BB launchers in a spell. That is, unless you don't consider full-automatic fun.
Next-Gen BB Guns
The Crosman R1 Rifle and P1 Pistol are the latest in the company's dive into full-auto BB guns.
A few years back, the airgun maker got into the unique niche partnering with DPMS on a short-barrel rifle FA BB gun and followed up with a Bushmaster MPW model. Both were met with great fanfare and why not? A style of gun almost purely defined by pleasure, Crosman delivered unadulterated delight.
---
Reap The Air Rifle Whirlwind:
---
It's most recent iterations are no different.
Both the Crosman R1 Rifle and P1 Pistol spit steel spheres for as long as you keep your finger on the trigger and your magazine juiced. And we're not just talking a pew … pew … pew step above semi-auto rate of fire. By Crosman's numbers, the R1 Rifle pitches 1,400-rounds-per-minute and the P1 Pistol 850 rounds—each at 480 fps. In a word, both are blistering.
They're also on the spendy side for CO2-powered guns. The R1 Rifle has an MSRP of $170 and the P1 Pistol $120, well out of the pricing tier of the old lever-action models most cut their teeth on. But, aside from the fun factor, Crosman sets you up with a solid package in both cases.
Crosman R1 Rifle
While not modeled after a particular AR-style rifle, the R1 gives you an authentic feel alongside full-auto operation. Full-sized and the controls in the right places, it's akin to stepping behind your favorite centerfire and could legitimately make the claim of being a trainer. This isn't just due to the synthetic-framed BB-gun's realistic weight and configuration.
It also feeds from a 25-round box magazine that drops free and reloads like an actual AR. Furthermore, it boasts a 6-position adjustable stock; though if you don't like Crosman's furniture, you can swap it out with any mil-spec upgrade you have in mind. If that isn't enough, the R1 has a removable bolt-carrier that reciprocates when firing. Heck, a red-dot sight is included with the package to ensure you stay on target.
If you harken back to your BB-gun days (even if that was yesterday), the one drawback to the system was the CO2 cartridge. They just never seemed to have enough gas. That might be the one drawback to the R1 system, given it runs off two 12-gram cartridges, which means you'll go through twice as much just as fast. Still, not much to gripe about, it's still cheaper than thumbing off 5.56 NATO.
Crosman P1 Pistol
Machine pistol aficionados will most likely find something familiar about the P1 … something awful Beretta. While it doesn't come out and say so, Crosman appears to have styled the gun after the select-fire Beretta 92—the 93R. A nice touch, if you happen to have a yen for the Italian gunmaker's creations.
Similar to the R1, Crosman has striven for the utmost reality in the pistol's operation and feel. Hefty for a BB-gun and full-sized, the metal-frame pistol has an actual firearm quality in the hand, accentuated by its blow-back operation (the slide reciprocates) and authentic controls (the thumb safety is where it should be). Moreover, it feeds off a 19-round box magazine that drops and reloads like an actual.
Crosman ships the P1 with a removable red-laser sight that attaches to a completely functional accessory rail. While the sight might make it easier to keep the gun on target, it is also outfitted with traditional iron sight; though they are fixed.
Again, the pistol is fueled by CO2 cartridges (12-gram), which is a blessing and a curse. Blessing, in their available nearly anywhere and are generally cheap. A curse, because it'll seem like you never have enough of them with the P1.
Parting Shot
While BB-guns have been, still are and will continue to be the choice to introduce youths to the shooting sports, that doesn't mean they're child's play. If you're looking for an addition to your collection that provides anytime fun and training opportunities, look no further than the Crosman R1 Rifle and P1 Pistol.
This isn't to say, they wouldn't make a dandy gift to your son or daughter. Only, you'd have to pry yourself off the trigger to give them a shot.
For more information on the Crosman R1 Rifle and P1 Pistol, please visit www.crosman.com.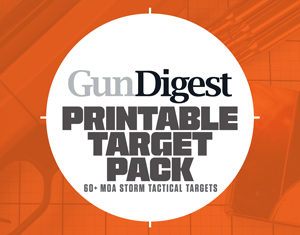 Next Step: Get your FREE Printable Target Pack
Enhance your shooting precision with our 62 MOA Targets, perfect for rifles and handguns. Crafted in collaboration with Storm Tactical for accuracy and versatility.
Subscribe to the Gun Digest email newsletter and get your downloadable target pack sent straight to your inbox. Stay updated with the latest firearms info in the industry.