Lightweight, rugged and now available in more chamberings, the new Weatherby Backcountry 2.0 rifles are ready for anything.
Weatherby Backcountry 2.0 Configurations:
Backcountry 2.0 – MSRP: $2,499
Backcountry Ti 2.0 – MSRP: $3,349
Backcountry 2.0 Carbon – MSRP: $2,999
Backcountry 2.0 Ti Carbon – MSRP: $3,749
Weatherby is an American hunting legend, having produced premium magnum-powered bolt guns since the end of WWII. These exceptional hunting instruments have been used to take game with great effect on nearly every continent since their introduction, and their rifles seem to only be getting better. While the company naturally focused on traditional, wood-stocked guns for most of its existence, their use of modern construction materials in recent designs has enabled them to produce even more efficient and capable hunting rifles. Weatherby's recently announced Backcountry 2.0 rifle family takes things to the next level. Building off the success of the original Mark V Backcountry line, the new Backcountry 2.0 rifles are now available with titanium receivers, carbon fiber components and more caliber options.
Lightweight, Low Recoil

All Backcountry 2.0 rifles come with the new carbon fiber Blacktooth stock, with the choice of a titanium receiver or carbon fiber barrel for further weight reduction. Depending on options, the Backcountry 2.0 can weigh in at as little as 4.7 pounds.
Creating ultra-light rifles chambered for magnum caliber loads is a recipe for bruised shoulders, so Weatherby remedied this by incorporating an innovative recoil pad and muzzle brake into the Backcountry 2.0 family. The recoil pad is 3D printed using a honeycomb pattern, designed to compress and prolong the recoil impulse, distributing the same energy over a greater period of time. The 30 symmetrically-spaced gas ports on the Accubrake ST muzzle device further help to reduce recoil.
Accurate And Hard-Hitting

The BSF tensioned carbon fiber barrel system available for the new Backcountry managed to achieve a .06-inch group at 100 yards during Weatherby's testing. This example set the company's accuracy record and was accomplished using Weatherby Select Plus ammo but is still an impressive demonstration of the rifle's potential for high mechanical accuracy.
The rifle's practical accuracy is aided by its TriggerTech adjustable single-stage trigger, which provides a crisp and light break. This should make taking game at long ranges as easy as possible and is a perfect match for some of the new calibers the Backcountry 2.0 is offered in, such as the fast and flat-shooting .30-378 Weatherby Magnum.
The new Weatherby Backcountry rifles will be available in four configurations and several different caliber options. Just in time for this year's hunting season, this new family of lightweight yet rugged rifles is set to hit store shelves in early Fall of this year.
For more, please visit weatherby.com.
---
More Weatherby Rifles: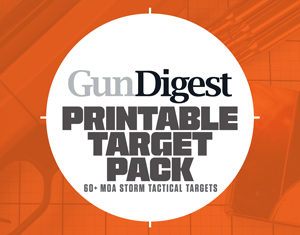 Next Step: Get your FREE Printable Target Pack
Enhance your shooting precision with our 62 MOA Targets, perfect for rifles and handguns. Crafted in collaboration with Storm Tactical for accuracy and versatility.
Subscribe to the Gun Digest email newsletter and get your downloadable target pack sent straight to your inbox. Stay updated with the latest firearms info in the industry.