Upgraded to excel in the hardest hunts, Wetherby's Mark V Backcountry and Mark V Backcounty Ti take the classic rifle design in a new direction.
In the bolt-action rifle world, there are few designs as enduring at the Weatherby Mark V. Virtually unchanged since its introduction in 1957, the 6- and 9-lug masterpieces not only live up to their billing as the "World's Strongest" turn-bolt. They also continue to define what a high-performance, top-shelf rifle should be. Not exactly a formula with which you'd want to tinker.
Weatherby, however, couldn't leave well enough alone—luckily for fans of the iconic brand. New for 2020, the company has rolled out the Mark V Backcountry and Backcountry Ti rifles, which offers everything you'd expect out of the timeless design and a whole bunch more.
First off, so you don't linger with bated breath, the Gibraltar-solid action is the same and every bit as tough as it ever was. But enhancing the rifle for long slogs into the wilderness, Weatherby has upgraded the Mark V in nearly every conceivable way. Both Backcountry rifles have carbon fiber stocks from AG composites, 3D Hex recoil pads, the company's first spiral fluted bolts, scalloped bolt sleeves, hollowed-out bolt handles and Accubrake ST muzzle brakes with 1/2x28TPI threads. They are also outfitted with excellent TriggerTech Mark V triggers, to help hit the mark after you've put in the miles. The Mark V Backcountry Ti goes one step beyond its cohort in weight savings, boasting an ultralight titanium action.
The well-thought-out designs make for true mountain rifles. The Mark V Backcountry tips the scales at a 5.3 pound with a standard action and 6.3 with a magnum; the Mark V Backcountry Ti comes in at 4.9 pounds with a standard action and 5.9 with a magnum. It certainly seems the Rocky Mountains got into the company's blood quickly with its recent move to Sheridan, Wyo.
The introduction of the Backcountry rifles coincides with the company's release of its new 6.5 Weatherby RPM cartridge—one of the rifles many chamberings. Living up to its past ballistics endeavors, Weatherby supercharged the 6.5mm with the cartridge capable of pushing a 140-grain bullet 3,075 fps at the muzzle. Not too shabby.
Weatherby's new rifles have steep entry points, the Mark V Backcountry's MSRP $2,499 and Backcountry Ti $3,349. But for the performance they offer, it could turn out a value for those dedicated pushing further during hunting season.
For more information on the Mark V Backcountry and Mark V Backcountry Ti, please visit weatherby.com.
---
Tune In More Gun Digest TV:
---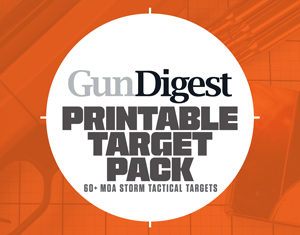 Next Step: Get your FREE Printable Target Pack
Enhance your shooting precision with our 62 MOA Targets, perfect for rifles and handguns. Crafted in collaboration with Storm Tactical for accuracy and versatility.
Subscribe to the Gun Digest email newsletter and get your downloadable target pack sent straight to your inbox. Stay updated with the latest firearms info in the industry.