Rock-solid actions, improved calibers and pinpoint accuracy – these are but a few qualities on which Weatherby built its name.
Now, with its latest line of rifles the Paso Robles, Calif., manufacturer aims to take the latter virtue to the next level. Running each of Mark V Terramark RC rifles through the rigmarole before shipping, Weatherby promises to deliver unparalleled out-of-the-box accuracy.
The RC in the new line stands for "Range Certified", with each gun going through a number of tests to ensure sub-MOA accuracy. Weatherby checks each rifle at its indoor range, mounting the guns with premium optics, boresighting them and determining their optimal load using the Oehler Research 83 Ballistic Imaging System.
All RC rifles are guaranteed to shoot Sub-MOA (a three-shot group of .99-inch or less at 100 yards) with specified Weatherby factory or premium ammunition.
The rifles are then sold with the proof targets, each signed by Weatherby president Ed Weatherby. The rifle also come with a number of features certain to aid their accuracy, including:
A raised-comb, Monte Carlo stock.
A button-rifled, fluted and free-floating stainless steel barrel.
A Pachmayr Declerator pad on the buttstock to reduce felt recoil.
The rifles also come with a special RC engraved floorplate and are available in 14 calibers: 240 Wby. Mag., 257 Wby. Mag., .270 Win., .270 Wby. Mag., 7mm Rem. Mag., 7mm Wby. Mag., .308 Win., .30-06 Springfield, .300 Win. Mag., .300 Wby. Mag., .30-378 Wby. Mag., .338 Lapua Mag., .338-378 Wby. Mag. and .340 Wby. Mag. Additional calibers and left-hand models are available through the Weatherby Custom Shop.
The MSRP on the rifles is $2,800. For more information, contact a local dealer, visit www.weatherby.com or call the company at (805) 227-2600.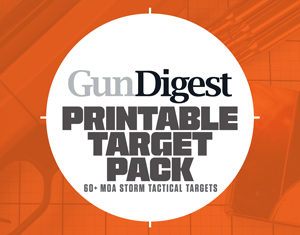 Next Step: Get your FREE Printable Target Pack
Enhance your shooting precision with our 62 MOA Targets, perfect for rifles and handguns. Crafted in collaboration with Storm Tactical for accuracy and versatility.
Subscribe to the Gun Digest email newsletter and get your downloadable target pack sent straight to your inbox. Stay updated with the latest firearms info in the industry.