From varminting to medium game hunting and benchrest shooting, a .22-250 rifle can serve you extremely well. Here are six top options to consider.
Updated 08/09/2023
Since the cartridge was first introduced, .22-250 Remington rifles have been the darling of varmint hunters, predator hunters and even some medium game hunters in jurisdictions without a .24-caliber minimum. For such a small, light-recoiling round, it packs a wallop for what it is, and its accuracy has made it popular with benchrest shooters over the years too.
Different tasks require different features, however, even with something as well-rounded as .22-250 Rem. Because of this, certain things must remain top of mind to select the best rifle for its intended job.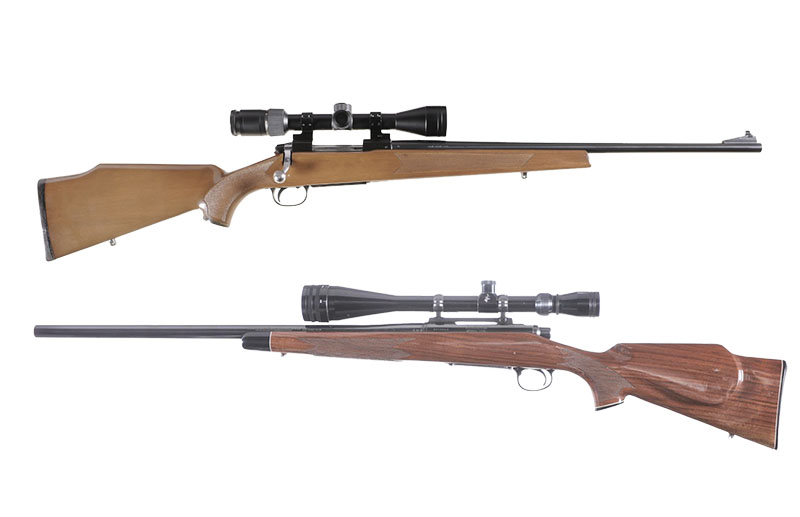 What .22-250 Remington Is Best At
The .22-250 Remington is an incredibly versatile cartridge. It's capable–with the right projectile–of filling just about every role besides those pertaining to big game hunting and modern combat.
Hunting
It's arguably the premier varmint and predator cartridge. It has been since its wildcat days in the 1930s when it was known as .22 Varminter. Much of this is thanks to its high velocity. With some loads moving at over 4,000 fps, it's known for an extremely flat trajectory. This attribute alone makes it an excellent long-range varmint cartridge, especially in western states.
With good shot placement and prudent ammunition selection, a .22-250 rifle is also tenable for medium game. The cartridge's light recoil has made it a popular choice–where legal–as a youth deer rifle. However, many argue there are equally mild options, such as .243 Winchester, that have a better track record with larger game.
Competition
The .22-250 is also a fantastic bench shooting cartridge. Jack O'Connor even noted its proficiency in this niche his The Rifle Book. Still today, the cartridge and rifles chambered for it are found in 300-yard bench events.
Military Applications
Odd as it might sound, the.22-250 may even have value in some defensive applications. Similar to the 5.56 NATO/.223 Remington, it utilizes a .224-caliber bullet. However, it pushes it a magnitude faster in most cases.
The Australian SAS, as well as the British SAS, have both used Tikka .22-250 rifles in urban counter-terrorism. In addition to the cartridge's ballistic talents, its light projectiles and fast energy dump on target also decreased the risk of overpenetration and ricochet, reducing the chance of collateral damage.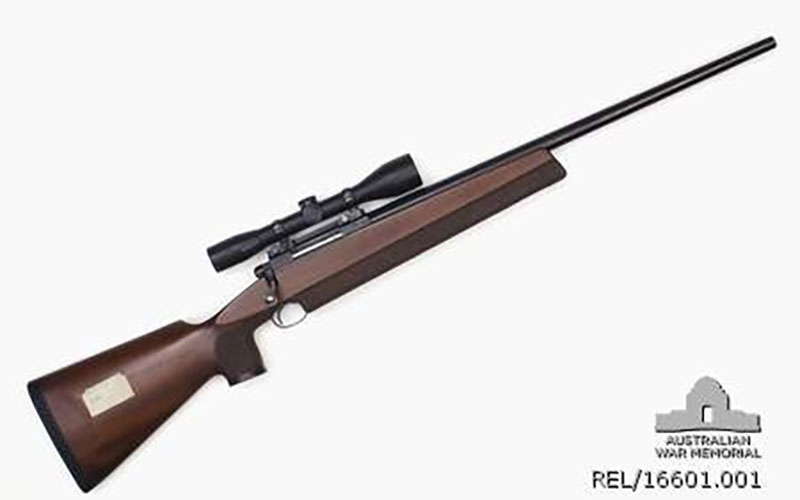 It's close to a factotum of rifle cartridges. But what do you need from a .22-250 rifle to get the most out of the cartridge?
Features To Look For In A .22-250 Rifle
First, consider the intended purpose for your prospective .22-250 rifle. Hunting and bench shooting are roles where the cartridge excels.
After establishing the rifle's primary job, the two things to look for in any .22-250 rifle: barrel length and twist rate. Because most .22-250 rifle choices are bolt-actions (there are a few AR-platform rifles as well as the Browning BLR lever-action), the barrel becomes a defining feature.
Barrel Length
A longer barrel generally equates to a more complete powder burn, thus higher velocities and increased terminal performance. A faster twist rate will better stabilize heavy-grain projectiles.
Most .22-250 rifles come outfitted with a 22- or 24-inch barrel, with 20-inch being the next most common length.
As for barrel length, competitors tend to favor longer–generally in the 24-inch class. Of course, they aren't tracking through the scrub for miles and miles. Hunting, where mobility is at a premium, the 20-inch sporters perform nicely, even if they don't milk every bit of velocity from a round.
Twist Rate
Most factory barrels have a 1:12 or 1:14 twist rate. The slower twists guard the bullet's integrity, ensuring it doesn't fly to pieces due to centrifugal forces.
Less common, 1:8, 1:9 and 1:10 twist rates are nevertheless available. Savage Arms' 12 Varminter Low Profile, for instance, comes in a 1:9 twist. However, the rest of the company's catalog comes in 1:12.
So what does this all add up to? Quite simply, most .22-250 rifles are relegated to light projectiles. You might get a 1:12 (perhaps the most common twist) to stabilize a 70-grain bullet, but overall it's more adept with lighter options. Conversely, faster twists are, typically the 1:9 the most accessible, are pretty much a heavy-for-caliber affair.
Honestly, unless you have designs on a competitive rifle or a dedicated deer rifle, the everyday 1:12 and 1:14 twists should satisfy most shooters. Not to mention, come in a heck of a lot cheaper.
Other Considerations
A sidenote on barrels, if you aren't hunting it's wise to consider a heavy barrel contour. The .22-250 is notorious for heating up the firetube. If you're just whacking bullseye, it's worth considering a hedge against barrel whip.
For youth rifles, look for lightweight guns with a shorter (13 inches or less) length of pull. For field (i.e., hunting) rifles, lighter than 7 pounds is ideal. If you like mounting optics to be as simple as possible, look for a receiver with a factory-installed rail. Of course, those guidelines can be applied to most rifles.
The 6 Best .22-250 Rifles
Winchester Model 70 Featherweight
If a classic varmint rifle appeals to you, look no further than the Winchester Model 70 Featherweight. As a Featherweight model, it tips the scales at a svelte 6.7-pounds without an optic. In .22-250 Remington with a 22-inch barrel and a 1-in-14 twist rate.
It still has all the classic features of the Model 70, including controlled round feeding, a three-position safety, a 5-round internal box magazine and Winchester's MOA trigger. The receiver and barrel are blued/black steel, set in a black walnut stock with fleur-de-lis checkering as a reference to the Al Biesen stocks that Jack O'Connor bedded his Model 70 actions in.
MSRP: $1,279.99 // winchesterguns.com
Savage Impulse Predator
The Savage Impulse is Savage's straight-pull bolt-action rifle, and the Impulse Predator has a serious predator-hunting theme. The action is bedded in a Mossy Oak Terra Gila pattern AccuStock (with adjustable LOP and cheek height). Additionally, the rifle features Savage's widely lauded adjustable AccuTrigger.
The rifle is fed by a 10-round AICS box magazine. The 20-inch barrel has a sporter profile, threaded muzzle (with cap) and a 1-in-12 twist rate. The final point makes it well suited for lighter projectiles common to preditor hunting. The receiver is outfitted with a Picatinny rail as well, making optics mounting much easier.
With a weight of 8.7 pounds, this isn't the lightest field gun. Then again, its other features and straight-pull action still make it an option worth considering.
MSRP: $1,379 // savagearms.com
Browning X-Bolt Micro Midas
Browning also offers its excellent BLR (Browning Lever Rifle) in .22-250. But the gem in its catalog is the X-Bolt Micro Midas. It's a compact/youth rifle, but it has some smart features making it a great pick for pretty much anyone.
The Micro Midas has a shorter (12.5-inch) length of pull, which mounts faster to the shoulder. The 20-inch sporter barrel has a 1-in-9-inch twist, giving it a bias towards heavier bullets. It comes with a 4-round detachable (flush-fit) box magazine.
The gun weighs just over 6 pounds, so it's easy to carry. And it's quite attractive to boot with a walnut stock and blued receiver and barrel. For an entry-level deer rifle or a long-range varminter, the X-Bolt Micro Midas is difficult to beat.
MSRP: $999.99 // browning.com
APF Armory AR10 Varmint 2.0
APF Armory is one of the few gunmakers to adapt the AR-10 to .22-250 Remington. Though, the exotic cartridge for the platform comes with some costs. First off, an overall weighty price tag. Secondly, proprietary magazines.
The Varmint has a 20-inch, 1:14 twist 416R stainless barrel, a rifle-length gas system and a nickel-boron bolt carrier group. Furniture includes a Magpul MOE grip, a Luth-AR MBA-2 stock and a railed M-LOK free-floated handguard. The trigger, charging handle and A2 flash hider are all mil-spec.
If you wanted a more tactical varmint gun, this is the ticket. Though, given its slow twist, expect to play in the lighter end of the bullet options. The rifle can be had in black or Cerakoted in FDE, Sniper Green or gray. A Target model, with a 24-inch barrel (with the same twist rate) is available as well.
MSRP: starts at $2,300 // apfarmory.com
Tikka T3x Super Varmint

As mentioned, Tikka supplied the British and Australian Special Air Service with sniper rifles chambered in .22-250. The T3x Super Varmint isn't that same gun, but it has everything you'd want in a .22-250 rifle.
The T3x Super Varmint has a Green Roughtech synthetic stock with an adjustable cheek piece and a Tungsten Cerakote finish on the bolt and receiver. The receiver is topped with a Picatinny rail for easier optic mounting, and it feeds from proprietary, detachable 5-round box magazines.
The rifle is available with a choice of either a 20-inch barrel with a 1-in-14-inch twist rate or a 23.7-inch barrel with a 1-in-14 or 1-in-8-inch twist rate. Regardless of which barrel you choose, all are threaded and include a muzzle protector cap.
MSRP: ~$1,600 // tikka.fi
Ruger American Rifle Predator .22-250

If you wanted to get into a .22-250 rifle for a little less, there are budget-friendly options. The Ruger American Rifle Predator would be high on that list.
It has an OD Green synthetic stock with a blued barrel and receiver. The 22-inch barrel has a 1-in-10 twist rate, the perfect middle ground for .22-250 Remington, and a threaded barrel with a protective cap.
The gun has a 4-round internal box magazine, and each comes with Ruger's adjustable Marksman trigger and a Picatinny rail on the receiver for easily mounting optics. It comes in at 6.6 pounds unloaded, perfect for field use.
The Ruger American is a solid working gun with no extra frills and an attractive price, especially considering that they can often be found for less than the listed MSRP.
MSRP: $619 // ruger.com
---
More On Precision Shooting: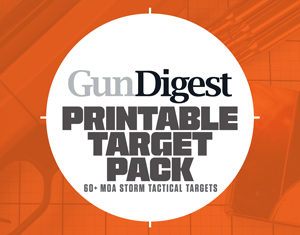 Next Step: Get your FREE Printable Target Pack
Enhance your shooting precision with our 62 MOA Targets, perfect for rifles and handguns. Crafted in collaboration with Storm Tactical for accuracy and versatility.
Subscribe to the Gun Digest email newsletter and get your downloadable target pack sent straight to your inbox. Stay updated with the latest firearms info in the industry.