Updated 3/10/2023
Choices abound when it comes to top 6.5 Creedmoor rifles. Here are some of the best to get the red-hot round dead on target.
Some of the best rifles to get the Creedmoor to go the distance:
The 6.5 Creedmoor, heard of it? If you haven't, then perhaps you're new to firearms or maybe you've been cloistered in some cave outside Moab for the past decade living off prickly pears and raw fish. At this point, those are about the only acceptable excuses why you haven't caught wind of the hottest cartridge to hit shooting since .30 met aught six.
The cartridge has gained notoriety for its ability to clip a gnat's ass at 1,000 yards without the shooter enduring rented-mule levels of punishment. However, the cartridge is really only one half of the story; the other is the marvelous array of precision shooters to deliver the long-range wunderkind where it needs to be.
With this in mind, here are some of the top 6.5 Creedmoor rifles on the market today. These babies will deliver, no matter the round, all you have to do is provide a steady hand.
Best 6.5 Creedmoor Rifle Options
Springfield Armory 2020 Waypoint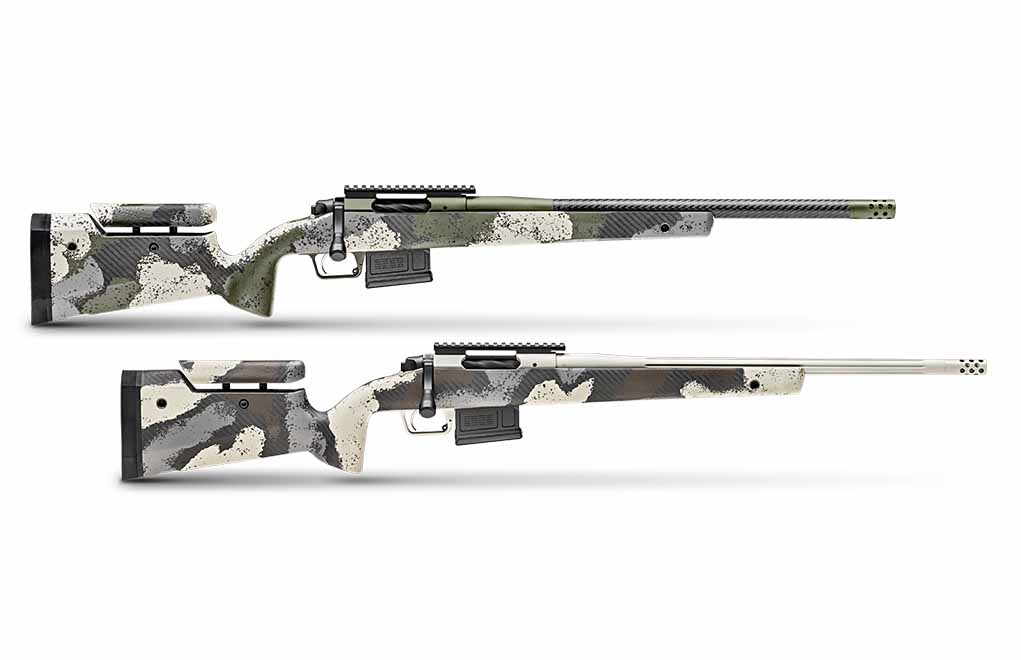 To some extent, the 2020 Waypoint shows how far the long-range craze has gone at this point. Strip away the camo and featherlight build and Springfield Armory's bolt-action hunter would fit right into a precision match, no questions asked.
At the heart of the 6.5 rifle, a tough-as-nails Model 2020 action. Springfield didn't reinvent the wheel here, basing it off the time-tested Remington 700. But with exceedingly tight tolerances for smooth-as-glass operation, it takes the omnipresent action to a different level. The same goes for the fire tube. With the choice of a fluted stainless steel barrel or ultralight Proof Research carbon-fiber wrapped barrel, shooters are rewarded with an extremely rigid system that eliminates a majority of flex for repeatable accuracy.
Light years away from a traditional hunter set up, Springfield mates the barreled action to a carbon-fiber stock with a hybrid match profile. A wide fore-end offers more area to rest the rifle. A pistol grip enhances control. And a high comb (there's an adjustable model too) ensures consistent cheek weld. Tack on a smooth trigger and ultra-fast lock time, you can't miss with the Waypoint. MSRP: $2,173; springfield-armory.com
Savage Arms Impulse Big Game
Typically, to pick up the pace with the 6.5 Creedmoor shooters shopped AR-10. Savage Arms opens up the game with a rarity this side of the Atlantic Ocean in the Impulse Big Game. A straight-pull, the 6.5 Creedmoor rifle runs just a tick under a semi-auto, while offering up the advantages of a bolt-action. In this department, expect a system as unyielding to flex thanks to its stoutly-built action and thick-enough, medium-contour barrel.
Of course, it's difficult to focus on the fundamentals of accuracy with the engineering Savage has poured into the Impulse. Utilizing six ball bearings instead of lugs, the straight-pull has an airtight lockup that runs as fast as you can operate the bolt. To aid the process, Savage includes an oversized handle and a relatively short linear throw. Additionally, the Impulse has a few extras shooters have come to expect on precision irons, such as threaded muzzle (5/8-24), fully-adjustable stock (AccuFit), fully-adjustable trigger (AccuTrigger) and rigid hybrid chassis (AccuStock).
Sure, Savage aims the straight-pull at hunters. But anyone who appreciates speed and accuracy is sure to love the Impulse. MSRP: $1,449; savagearms.com
Sako S20
In the past, shooters had essentially two choices when it came to a 6.5 Creedmoor rifle—one tailored to hunting or one tailored to match shooting. Sako took a look at this line and dashed it to pieces with the S20. What might be the first true hybrid hunter/match rifle on the market, the Finnish company marries the two sometimes contrary disciplines with a truly elegant system.
The secret is in the stock, or more exactly stocks. Boasting an interchangeable chassis system, the bolt-action rifle jumps between tactical and hunting configurations in a blink of an eye. Out for coyotes, slap on the thumbhole stock. Looking to drill bullseyes at range, go with the fully-adjustable tactical model. Did we mention, you won't have to zero after making a switch? Pretty sweet.
As expected from Sako, the S20's over-engineering extends past its interchangeable V-bedding chassis system. Such features as a rock-solid three-lug bolt, cold-hammer forged stainless steel barrel, adjustable trigger and integrally machined optics rail are all on target. The only question that remains, what's best configuration for your objectives? MSRP: $1,598; sako.fi
Roam R-10 Great Plains
When you're hale from Grand Forks, ND, you're painfully aware of the magnitude of the American West. Perhaps this is why Roam puts a premium on portability in its gun designs, particularly its AR-style 6.5 Creedmoor rifle. The Peace Garden State gunmaker understand you have to put miles under your boots to put meat on the table.
The R-10 Great Plains is optimized for this very job, among the lightest 6.5mm AR-10 (DPMS variant) options out there at an extremely manageable 7.28 pounds. Roam achieves this by turning to lightweight magnesium alloys for the receiver and handguard. The material matches the strength of aluminum while dropping a third of the weight. This weight savings allows for a longer 22-inch fluted heavy barrel, arguably better suited for the 6.5 CM, without upping the heft.
Enhancing the R-10, the choice of the excellent ATC Hybrid AR Gold or JMT Saber Single Stage triggers, upping its accuracy potential. It also has a load of other assets, such as a Radian ambidextrous charging handle, Hogue pistol grip, and Magpul stock with Limbsaver recoil pad. Arguably, it's the cream of the AR hunter crop. MSRP: $3,245, roamrifles.com
Rock River Arms RBG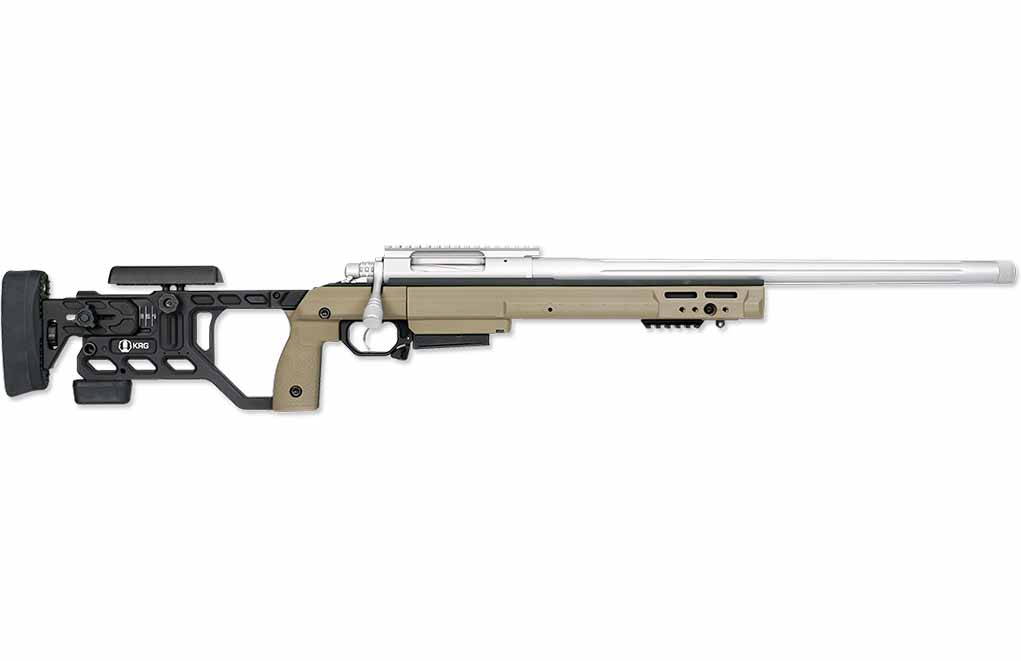 Safe to say, Rock River Arms (RRA) pulled out all the stops catching the precision-shooting wave. Newly minted, the RBG 6.5 Creedmoor rifle is a top-end build that demands a top-end price. Nobody ever said accuracy comes on the cheap.
At the heart of the system is RRA's stainless steel short action, mated to a 20-inch fluted Wilson barrel, complete with threaded muzzle (5/8-24) and protector. Air gauged and cryo-treated, the barrel is manufactured to exacting standards to deliver consistent sub-MOA accuracy.
Kinetic Research Group provides the chassis, its Whiskey-3, which is a gem—fully adjustable buttstock, precise aluminum bedding, tool-less adjustment, ample attachment points—the whole shebang. If that not enough, RRA also includes a Triggertech Trigger, oversized knurled bolt handle and built-in bubble canting device standard. It might run a pretty penny, but the RBG still is a great value. MSRP: $4,450, rockriverarms.com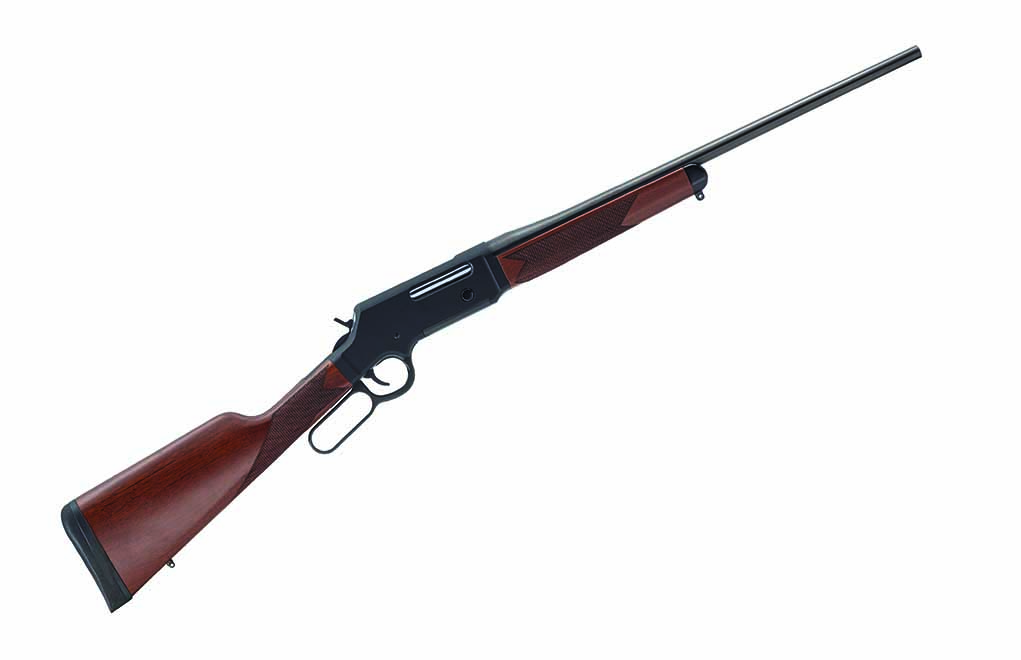 Henry Repeating Arms in a precision rifle list? Sounds crazy, but the purveyor of quality lever-action rifles more than deserves its place with the Long Ranger. The 6.5 Creedmoor rifle delivers accuracy akin to a bolt-action, but with the speed of a repeater.
It pulls off this feat through some ingenious engineering, a bolt that essentially mirrors a bolt-action's lock-up. The 6-lug rotary head adds an element of consistency, which is easily seen downrange. Not to mention, breathes new life into the lever-action, particularly for long-range hunting.
Aiding the Long Ranger is Henry incorporating a 4-round magazine, making it safe to chamber the rifle 6.5 CM. American walnut stock and richly blued 22-inch barrel and receiver, the rifle might be the most beautiful on the list. MSRP: $1,243, henryusa.com
MPA BA PMR "Pro" Competition Rifle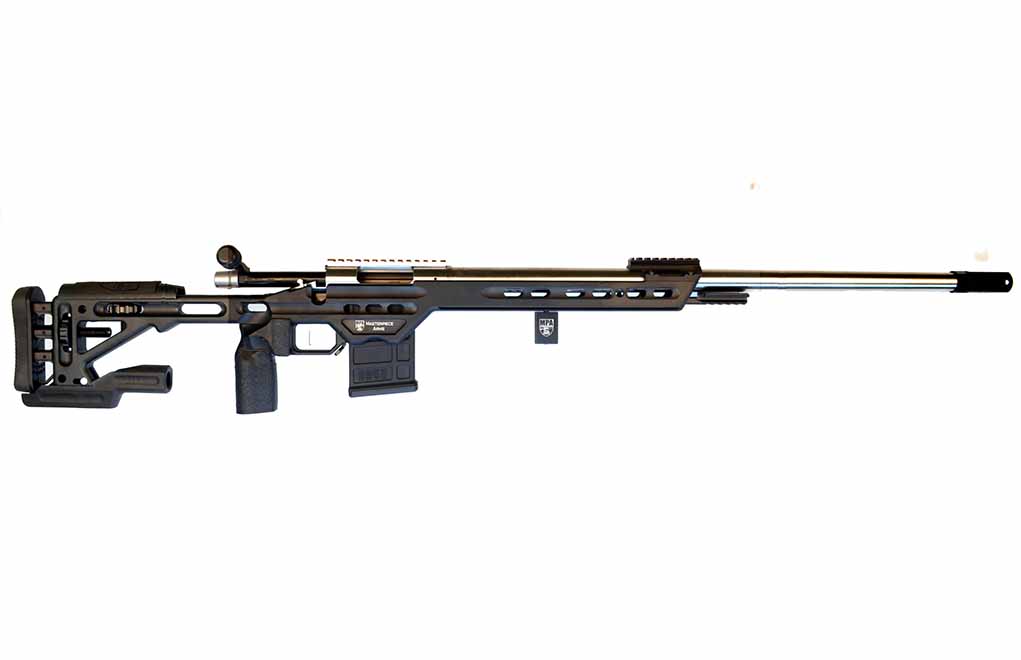 If you compete in or even mildly follow the Precision Rifle Series, you're cognizant MasterPiece Arms commands respect—and top dollar. While the Georgia gunmaker isn't jettisoning its premium label, it is making its gold-medal rifles a bit more accessible. Designed to meet the revised standards for the PRS Production Class—less than $2,500—the MPA BA PMR "Pro" Competition Rifle chips down on price, but not quality.
The 6.5 Creedmoor rifle's heart is MPA's BA Competition Chassis, a legend in its own right, which boasts unique V-bedding that allow clearance for glass bedding for both the action and straight section of the barrel. From there, MPA mates the chassis with Curtis Custom's 3-lug short action and a X-Caliber stainless steel barrel (M24 contour). Finally, you get the choice of a Trigger Tech Special (set to 1-3lbs) or Timney HIT (set to 6oz – 2 lbs range) trigger.
All this and about a ton of other features, too numerous to list, make MPA's Production Class rifle one of the best values to hit the market this year. MSRP: $2,200, masterpiecearms.com
Sig Sauer CROSS Rifle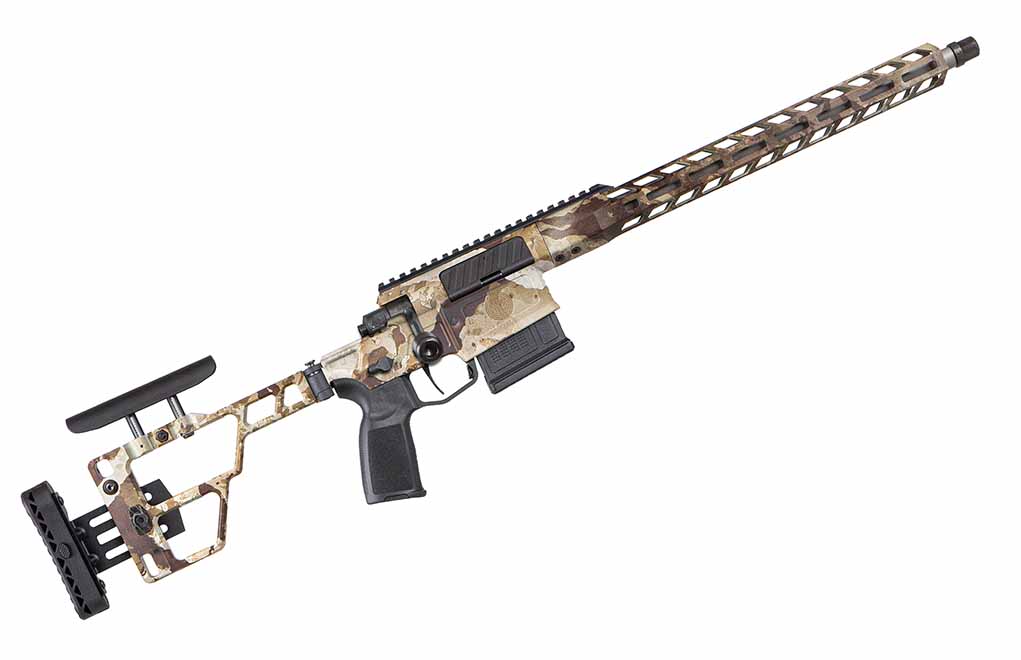 Up to this point, when you wanted a 6.5 Creedmoor rifle for hunting you had two options. A pure sporter, not quite tuned to get the most out of the cartridge or precision rifle, and drag a boat anchor around the backcountry. Sig Sauer saw an opportunity in this divide and produced what might be the perfect compromise between the two. A hybrid, the CROSS Rifle delivers all the accuracy enhancements of a match iron, with the lightness of a true mountain rifle. That's a deadly combination.
Ultra-lightweight, the CROSS Rifle tips the scales at a mere 6.5 pounds—around 40-percent less than anything else in its class. It boasts a fully-adjustable, folding buttstock—LOP and comb height—skeletonized to keep it svelte. Sig outfits it with a free-floating match barrel (18-inch in 6.5 CM) topped with the taper-lock that works with any of the company's suppressors.The barrel also is swappable without the aid of a gunsmith, giving you a host of other chambering options.
Other notables include a two-stage adjustable match trigger, M-Lok handguard, ACIS magazine compatibility and interchangeable Picatinny rail. There's more, but as is, it's safe to say Sig has rethought the hunting rifle for the better. MSRP: $1,779, sigsauer.com
Daniel Defense DELTA 5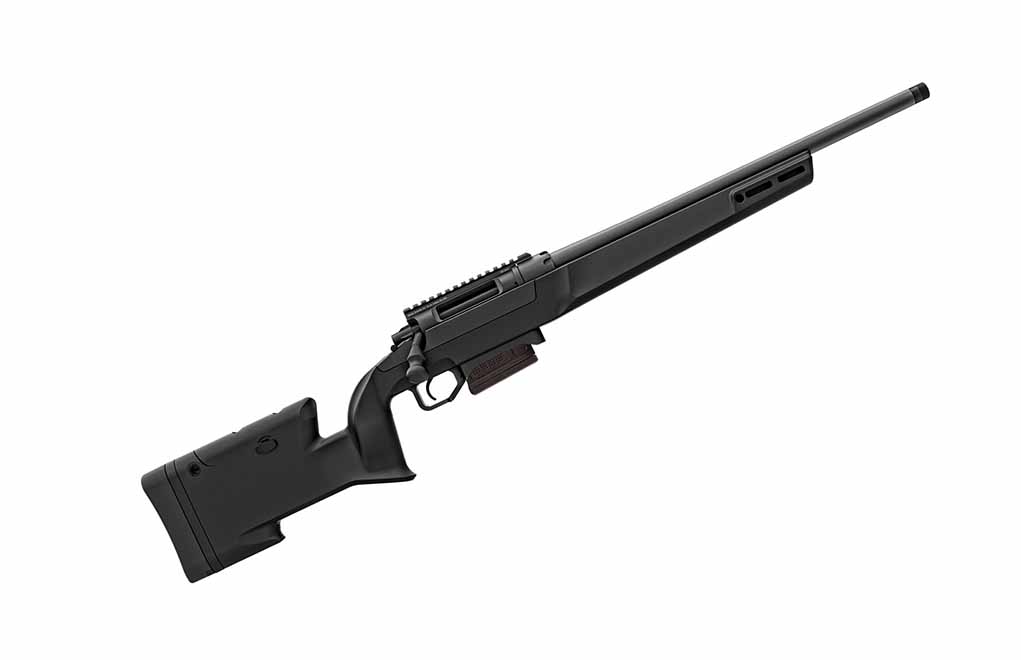 Taking the modularity of the AR-15 and applying it to a bolt action, Daniel Defense's DELTA 5 is among the most versatile 6.5 Creedmoor rifles to hit the market. That's because the turn bolt is more than simply the county-mile wunderkind. It's also a .308. Crazy, huh? A switch-barrel, the rifle jumps seamlessly between the two long-range standbys, giving you perhaps everything you need in a single precision boomstick. And Daniel Defense makes certain, no matter the caliber, you'll connect.
Indeed, the gunmaker has pulled out all the stops, decking out the rifle with a 24-inch stainless-steel Palma-profile barrel, mechanically bedded stainless-steel action, over-sized bolt knob, three-lug bolt and cutting-edge stock. The stock is particularly eye-catching, an advanced carbon-fiber reinforced polymer system that's fully adjustable for length-of-pull and comb height. The DELTA 5 also comes with a total of 14 M-Lok slots and three QD points, making it a breeze to add accessories and a sling. MSRP: $1,871, danieldefense.com
Badrock South Fork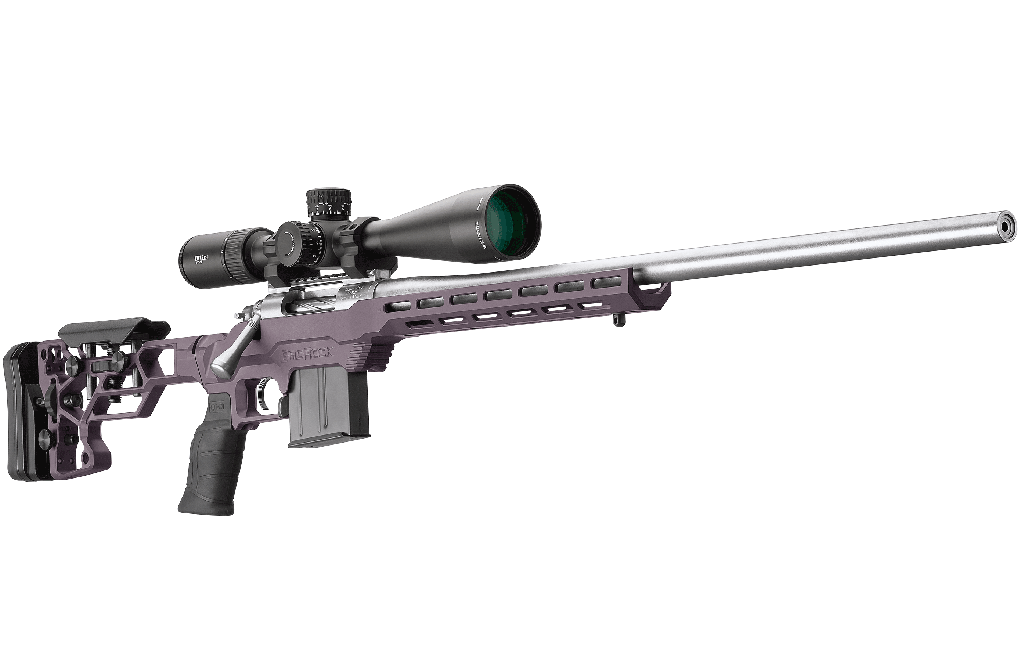 Not exactly cheap, but an incredible value, the South Fork 6.5 Creedmoor rifle teeters on custom-made performance. Makes sense, given Badrock is a division of Defiance Machine, well known for their tailor-made competition-grade actions. The company applies this expertise to piece together the dead-nuts chassis, yet keep the price sane. A steep task, known to turn a gunmaker's hair gray early.
At the heart of the South Fork is a rock-solid modified Remington Model 700 action, upgraded with a coned bolt-nose, fixed ejector and modified controlled-round feed. The gunmaker mates the action with a 26-inch match-grade stainless-steel barrel, then fits them into a Modular Driven Technology LSS-XL Gen2 chassis (fully adjustable, of course). Meant to meet production rifle standards for competition, the system does make some sacrifices to achieve its price point. The scope base and muzzle device are extras. But for what you get on the South Fork as is, that's not much to complain about. MSRP: $2,995, badrockrifles.com
Ruger Hawkeye Long Range Target

Since Ruger released the Long Range Target a few years ago, shooters have been champing at the bit for a 6.5 Creedmoor option. That wait is over. And the results, nothing short of magnificent.
Originally released as a .300 Win. Mag., the Hawkeye is a cruiserweight precision rig, offering among the sturdiest platforms to launch the 6.5. Thanks to a target stock made of laminated wood, the hefty 11-pound rifle soaks up recoil and anchors like a tick. Furthermore, its two-way adjustable comb and adjustable LOP ensures a perfect fit. QD attachment points and flush-fit M-Lok rail below the forearm gives you a way sling it up and accessorize it. And the 6.5 Creedmoor rifle features a heavy contour stainless-steel barrel paired with Ruger's famous M77 action, which boasts a one-piece bolt. Yup, it's controlled feed. Topping it off is a responsive two-stage adjustable target trigger and Ruger's Precision Rifle Hybrid Muzzle Brake. More than capable of achieving ½ MOA accuracy, the Hawkeye is a gem in 6.5. MSRP: $1,619, ruger.com
Howa Oryx Chassis Rifle

As previously shown on this list, Howa has carved a niche as a purveyor of affordable tack drivers. And the company doesn't show any sign of letting up. Its latest 6.5 Creedmoor rifle is a collaboration with Modular Driven Technologies, a partnership that – for the moment – has created among the most penny-wise chassis options on the market.
The M1500 Oryx features MDT's Spartan, yet effective monolithic aluminum Oryx chassis. While it doesn't boast the bells and whistles of some other options, it has what counts – spacer-adjustable length of pull, set-screw adjustable cheek riser, M-Lok mounting points below the forend and an overmolded grip. Howa's 1500 barreled-action is no slouch itself, featuring a two-lug push-feed bolt, which has built a reputation for tight groups on the cheap. A hair over $1,000, there are few other chassis that come close to what the M1500 Oryx offers. MSRP: $1,059, www.howausa.com
Seekins Precision Havak Bravo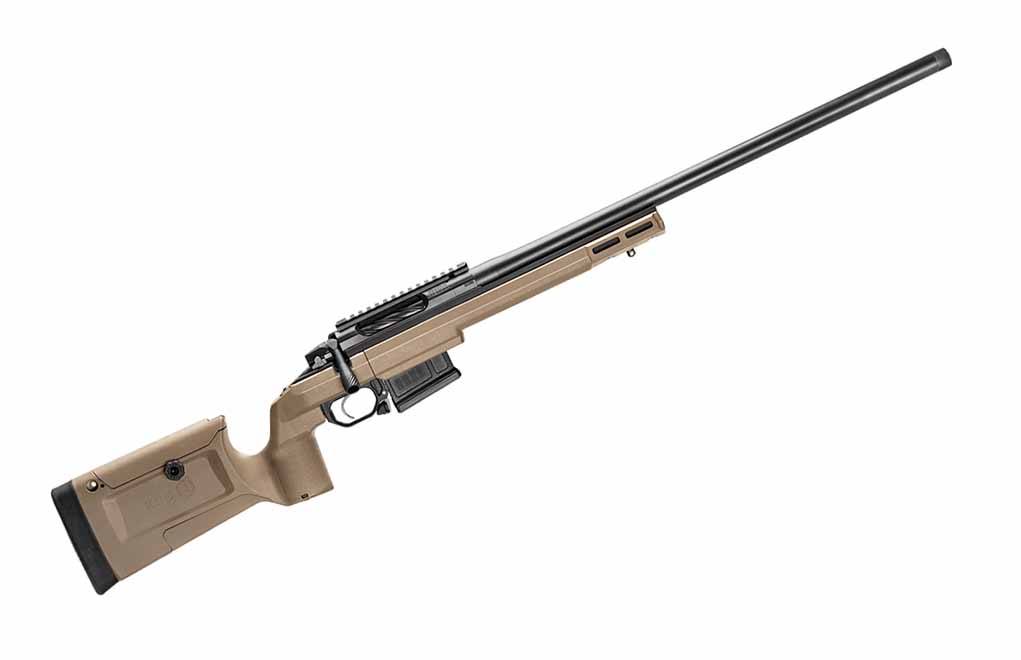 The Havak Action is something special. One of the more innovative to hit precision rifles in a spell, the custom job isn't simply built like a tank, but also is among the easiest to operate. It's also the heart of Seekins Precision's production-class rifle – the Havak Bravo. Given the action alone runs around $1,200, it's difficult to fathom how the gunmaker pulls off the rifle. Regardless, shooters benefit.
What makes the Havok Action unique is it's smooth as warm butter to work. A benefit if fast shooting and shot-to-shot accuracy are your goals. Part of this is thanks to a unique helical extraction cam, which sends the bolt back immediately when it's thrown. The other half of the equation is the 50/50 cocking mechanism, which splits the operation between the bolt's up and down strokes.
Seeking Precision marries the action with a 24-inch stainless-steel match-grade barrel and mounts them in a KRG Bravo chassis. As expected, the stock is completely adjustable. The 6.5 Creedmoor rifle is finished off with a Timney 510 trigger, which ups the fire tube and your potential accuracy. MSRP: $1,950, seekinsprecision.com
Smith & Wesson M&P 10

As far as 6.5 Creedmoor AR-10 rifles are concerned, there are few that come close to what Smith & Wesson offers for the price. In its second generation, the M&P 6.5 Creedmoor Rifle is a jack-of-all-trades – as adept on a hunt as it is in a match. Best of all, the Performance Center creation doesn't skimp. You have everything you need to milk the most out of the Creedmoor.
Foremost, S&W has opted for a longer 20-inch barrel, ensuring optimal performance with a cartridge that prefers more bore. This is 5R rifled, which, in theory, should help retain the ballistic integrity of the bullet once it's left the barrel. Keeping recoil in check, the company moved the gas block forward – maintaining shot-to-shot accuracy. To this end, its 9.5-pound weight is a nice middle ground, once again eating up some of the kick, but not making the rifle unwieldy. Furthermore, the Smith & Wesson boasts a Troy Industries 15-inch free floated handguard and a respectable two-stage match trigger. Only the stock leaves a little to desire, given it's fixed – a Magpul MOE. But given the rest of the rifle's pros, that's easy to overlook. MSRP: $2,095, smith-wesson.com
Barrett Fieldcraft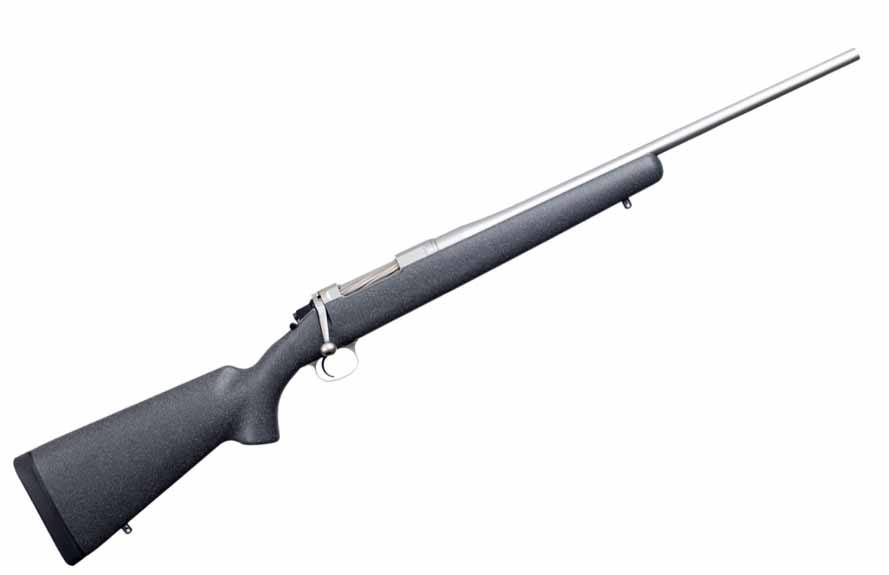 A backcountry rifle worth its weight in backstraps must be two things: accurate and light. Not always conducive goals. But it's something Barrett has accomplished in spades with its phenomenal Fieldcraft bolt-action.
Light as a daydream, the 6.5 Creedmoor rifle tips the scales at 5.2 pounds. You heard that right – 5.2. The secret behind the weight savings is Barrett drawing inspiration from NULA's custom action. There's simply no excess material left to weigh you down, given the action is built around the cartridge for a glove fit. Paired with a thin No. 1 contour barrel, then seated in a hand-laid carbon-fiber stock, you've got a rifle you can lug around all day, then some. Not that it doesn't come with drawbacks. Its litheness increases the generally mild-mannered 6.5's recoil, but not too unbearable lengths. Certainly not enough to knock you off a follow-up shot on that trophy bull across the canyon. MSRP: $1,879, barrett.net
Standby 6.5 Creedmoor Rifles
Ruger Precision Rifle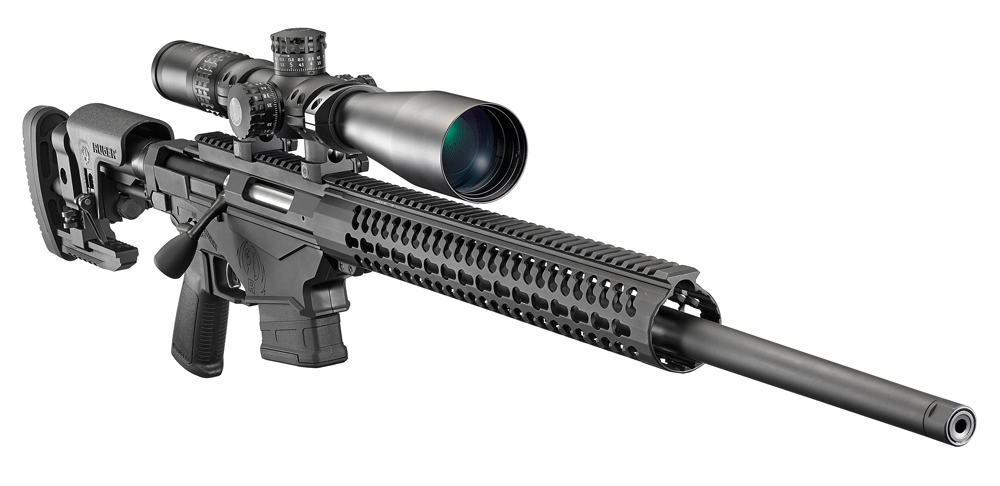 Arguably the gun that kicked off the long-range shooting craze, the Ruger Precision Rifle remains among the top in 6.5 Creedmoor rifles. Built around the American Rifle action, Ruger fitted a 24-inch cold hammer-forged medium contour barrel, complete with 5R rifling to protect the integrity of the 6.5's bullets. Mated to a pre-hardened 4140 chrome-moly steel upper, the platform provides rigidity and a true free-floating barrel.
Additionally, its inline recoil system, which directs kick straight backwards, makes the rifle more accurate shot to shot. A mainstay now, the Precision Rifle (also chambered .308 Win. and 6mm Creedmoor) was among the first economy long-range shooter to offer a fully adjustable stock. The Precision Rifle's competition has grown, but it more than has the yarbels to hold its own among other 6.5 Creedmoor rifles and otherwise. MSRP: $1,929, ruger.com
Bergara B-14 HMR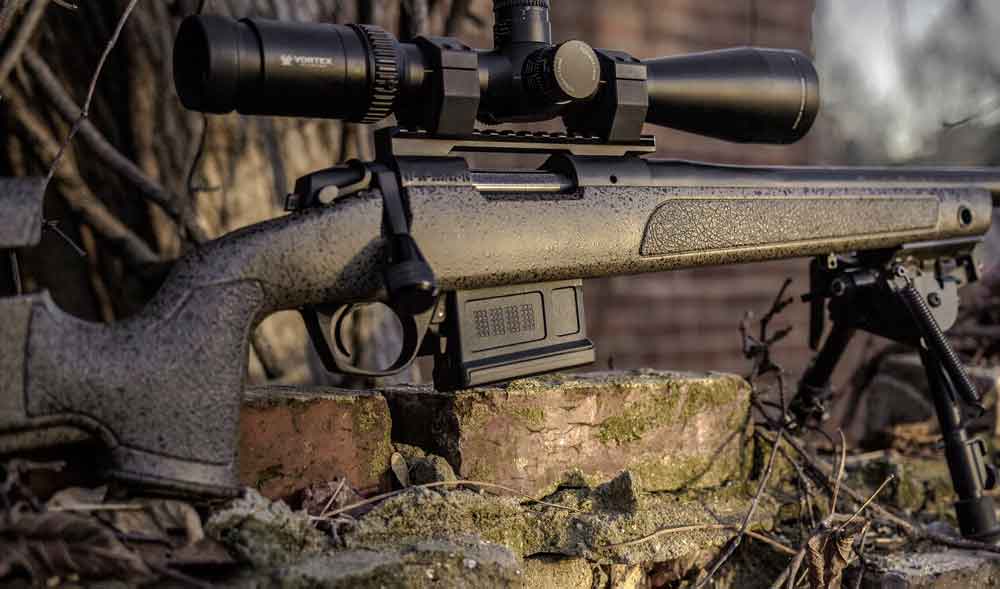 Suited to tackle any shooting situation you get a 6.5 Creedmoor tangled up in — from match to field — Bergara's B-14 HMR (Hunting & Match Rifle) is as flexible as they come. Not as tactically aggressive as some long-range rifles, the B-14 HMR (also available in .308 Win. and .450 Bushmaster) nonetheless is as advanced, with an aluminum skeleton (mini-chassis) molded into the polymer stock to provide indispensable rigidity any precision platform requires. Furthermore, fully adjustable length of pull and cheek riser fits the stock perfectly to any shooter.
Renowned for their actions and barrels, Bergara does not disappoint with its tack-driver, outfitting it with a 22-inch bull barrel and rock-solid B-14 action, known for its silky-smooth operation. A 3-pound trigger, threaded muzzle, AICS detachable box magazine and integrated QD flush cup mounts round out the system. If you can't truly decide your ultimate aim in the world of 6.5 Creedmoor rifles, Bergara's economical Jack-of-all-trades is your ticket. MSRP: $999, bergara.online/us
RISE Armament 1121XR
Designed for those who expect more out of their firearms, the 1121XR delivers in the form of a light and capable AR-10 chambered for the 6.5 Creedmoor. The gas-operated semi-auto (also chambered .308 Win.) dispenses bolt-action sub-MOA accuracy with lightning speed aided by RISE Armament's exceptional RA-535 Advanced-Performance Trigger with a 3.5-pound pull, terse release and micro reset.
Furthermore, the 22-inch barreled rifle has all the accouterments to make life easy off the bench or in the field: streamlined billet aluminum M-LOK compatible handguard, Picatinny upper rail and an overall weight just a tick north of 10 pounds. Additionally, the whole shebang gets a durable Cerakote finish available in three color choices — black, foliage green and flat dark earth. If that's not enough, RISE Armaments throws in two 10-round magazines and a hard case to safely transport the tactical gem. Of all 6.5 Creedmoor rifles, the 1121XR is most certainly the fastest to get you on target again and again. MSRP: $2,575, risearmament.com
Savage Model 10 GRS
A no-compromise precision rifle with a relatively decent price point, Savage's 10 GRS comes outfitted with a stock certain to help you deliver a 6.5 round where it needs to go. Constructed of 65-percent fiberglass and featuring pillar-bedding blocks, the Norwegian made stock is the sturdy and stiff platform long-range shooters aim for in their rifles. Moreover, slip-nut controls make length of pull and the cheek rest adjustment push-button matters and an ergonomic full grip gives you the ability to provide the needed rear pressure for solid shouldering.
Time-tested, Savage's Model 10 short action is a near perfect heart for the rifle and gets matted with a 24-inch fluted barrel, which provides great harmonics, while keeping the overall platform at a reasonable weight — a hair under 9 pounds. The GRS also comes chambered in .308 Win., and 6mm Creedmoor. The 6.5 Creedmoor rifle feds off AICS magazines, boasts Savage's popular adjustable AccuTrigger and comes outfitted with optics rail and sling swivels. MSRP: $1,449, savagearms.com
Browning X-Bolt Hells Canyon SPEED

Built for long-range backcountry hunting, Browning's X-Bolt Hell's Canyon SPEED is wickedly effective at everything it's designed to do, particularly not bog you down. At 6 pounds 5 ounces, the rifle (available in 13 calibers) is among the lightest 6.5 Creedmoor rifles on the market, hastened by its featherweight composite stock and just enough barrel (a 22-inch sporter) to ensure optimal ballistic performance.
Solid as a concrete slab, the X-Bolt remains a top choice among precision hunters with its fast-operating 60-degree bolt lift, dependable detachable rotary magazine and three-lever Feather Trigger. Drilled and tapped, the receiver comes ready for scope mounts and the free-floating barrel is hand chambered to ensure the tightest tolerances. MSRP: $1,349.99, browning.com
Kimber Advanced Tactical SOC II

Engineered to meet the exacting needs of military, law enforcement and serious precision shooters, the Kimber Advanced Tactical SOC II (Special Operations Capable) comes with a sub-0.5-MOA guarantee, which it delivers. The fastidiously designed and executed instrument is hand built, outfitted with an adjustable aluminum folding stock, 22-inch stainless-steel barrel and threaded muzzle with protector.
Moreover, Kimber hits the right notes with traditionalists in the SOC II (also chambered .308 Win.) with a Mauser Action, complete with an oversized claw extractor for controlled feed. Rounding out the rifle, a whisper-break trigger factory set to 2.5 pounds, a match-grade chamber and M-LOK compatible accessory rail. The SOC II runs at the upper end of 6.5 Creedmoor rifles, but is worth every penny. MSRP: $2,661, kimberamerica.com
Howa Carbon Elevate
If you want your 6.5 Creedmoor rifle to be as light as possible, the Howa Carbon Elevate is a top contender. Starting at only 4 pounds, 10 ounces, this model is packed to the brim with carbon fiber components.
It features a Stocky's super lightweight carbon fiber stock with a Limbsaver buttpad and ACCUBLOCK lug bed, as well as a 24-inch heavy carbon fiber threaded barrel. The ability to mount a brake or compensator is extra appreciated for a rifle that's this lightweight.
Howa's tagline for the rifle, "Carbon on Carbon," couldn't be more appropriate. The generous use of carbon fiber isn't cheap, but it still isn't the most expensive rifle on this list. While it may not have all the bells and whistles of a chassis rifle, if weight savings are what you're after, the Carbon Elevate has it in spades.
MSRP: $1,639, howausa.com
Mossberg Patriot LR Tactical

Getting started in long-range precision shooting can be expensive, so affordable options are always appreciated as act as a gateway for new shooters to extend their range. Of the affordable 6.5 Creedmoor bolt-action rifles, few are as feature-rich as the Mossberg Patriot LR Tactical.
Sporting a 22-inch medium threaded (5/8"-24 TPI) bull barrel with a target crown, it's ready to accept a suppressor or compensator right out of the box. An adjustable LBA trigger, with no creep and a very crisp break, helps you extract the most accuracy out of the Patriot as you can.
The setup is finished off with an MDT chassis system, featuring aluminum V-block bedding, M-LOK slots, sling swivels and compatibility with AICS-style magazines. The chassis is a bit heavy at 8 pounds, so it may not be the best mountain rifle, but the extra weight will help absorb recoil when shooting at the range.
MSRP: $1,085, mossberg.com
Tikka T3x Tactical Compact Rifle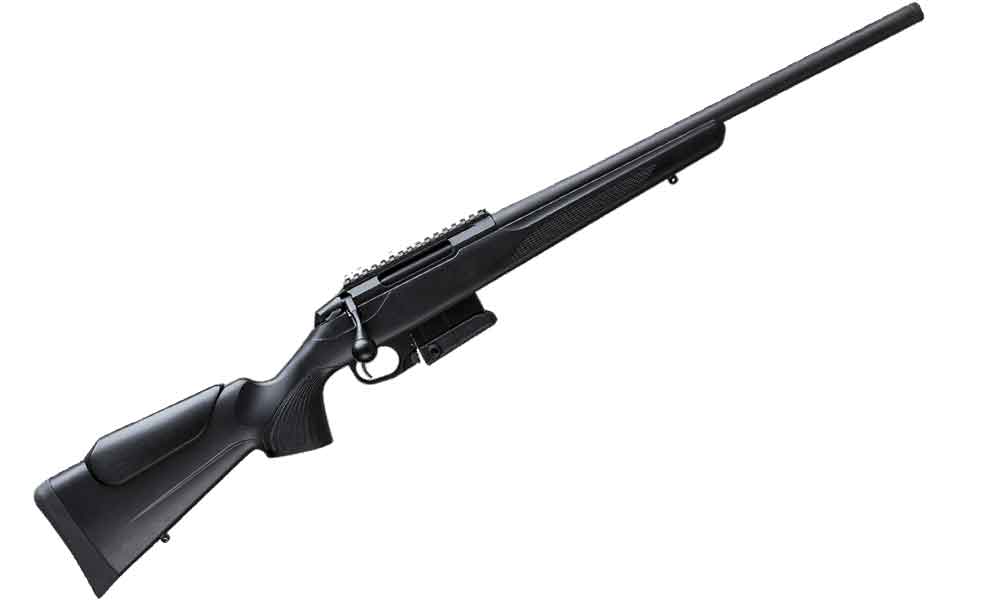 6.5 Creedmoor rifles generally tend toward long barrels, but Tikka gives shooters a more petite option with this neat little tactical gem. Available with a 20- or 24-inch semi-heavy contour barrel, the T3x Tactical Compact Rifle can fill the role of traditional long-range shooter or nimble sniper rifle.
Built around Tikka's broached action, the Finnish rifle (also available in .260 Rem., and .308 Win.) is stiff as starched sheets and features an enlarged ejection port making it possible to feed a round directly into the action. More traditional, the lightweight rifle's fiberglass-reinforced stock nevertheless provides desired rigidity to the firearm and an oversized bolt handle makes the bolt-action lightening fast in operation. An interesting touch, the buttstock comes with a foam insert to keep the rifle whisper quiet when stealth is at a premium. MSRP: $1,275, tikka.fi/en-us
Springfield M1A Loaded Precision
A staple in match shoots for decades, Springfield took the M1A's accuracy a step further with the introduction of a 6.5 Creedmoor model. The semi-automatic version of the M14 platform (also available in .308 Win.) has everything you need to shoot a country mile in a New York minute: air-gauged National Match barrel, 4.5-pound two-stage trigger, front blade and rear aperture sights.
However, this M1A goes a step further than its siblings boasting a stock fully adjustable for length of pull and comb height. The rifle is a beast, tipping the scales at 11.4 pounds and measuring 45-46.25 inches, but the extra material should make the M1A among the softest shooting 6.5 Creedmoor rifles at the range or anywhere else. MSRP: $2,149, springfield-armory.com
Do you have a favorite you think should figure into this list? Think we've included a stinker? Tell us about it in the comments.
---
More 6.5 Creedmoor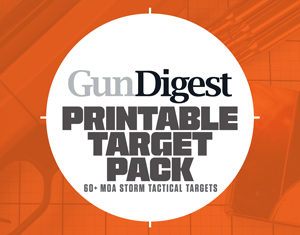 Next Step: Get your FREE Printable Target Pack
Enhance your shooting precision with our 62 MOA Targets, perfect for rifles and handguns. Crafted in collaboration with Storm Tactical for accuracy and versatility.
Subscribe to the Gun Digest email newsletter and get your downloadable target pack sent straight to your inbox. Stay updated with the latest firearms info in the industry.