Updated 3/25/2022
For hunting or shooting, these bolt-action rifles are at the top of their game.
The top bolt-action rifles:
Things are getting really complex around here. From precision rifles with micro-adjusting stocks, to a flood of black striker-fired pistol options, to ARs with enough handguard attachment room that it's quite literally possible to make that gun too heavy to carry — there's a lot going on in the world of new guns right now.
Don't break your neck reading too hard between the lines: Each one of those categories has its place, and I enjoy tinkering with all new guns more than most. But with all that happening, the classic bolt-action sporting rifle platform has been all but overlooked. And that's a shame, because there's nothing more therapeutic than slow-rolling a buttery bolt and watching a round slide up into a hungry, long-action chamber.
Here's a nod to those who are not only keeping the sporting bolt-gun heritage alive, but who are making impressive improvements on a platform that was never broken to begin with.
Franchi Momentum

Known exclusively for its waterfowl, sporting and upland shotguns, Franchi enters 2018 by not just dipping their toes into the sporting bolt-action world, but by going all in with their Italian influenced Momentum. Leading the momentum of the Momentum (sorry, couldn't help it), is the stock, which combines raised curves and checkering in the hold areas of frequently used shooting positions.
Let me say it like this: Think about where you put your hands to support the rifle while shooting from prone, or kneeling, or sitting — or while shooting offhand. The Momentum features unique grips in each of these locations.
In addition, the tri-lug bolt is spiral fluted for a rock-solid lockup and features a short 60-degree throw. While I appreciate the convenience of a rotary box magazine, Franchi chose to go with the more classic hinged floorplate mag, which I like. During some shooting of the Momentum prototypes, I had suggested that Franchi etch an elegant "F" on the belly of the floorplate to further distinguish the fine Italian craftsmanship within, but I've yet to see that come to fruition. Maybe on a Gen 2 model?
I also appreciate that I could still operate the bolt with the two-position safety engaged, and the single-stage trigger is adjustable from 2-4 pounds and is built to impress — especially on a rifle of this price point.
Other features include a TSA recoil pad; and a cold-hammer-forged, chrome-molybdenum, free-floating threaded barrel. The 6.6-pound Momentum has an impressive offering of calibers right out of the gate — .243 Win, 6.5 Creedmoor, .270 Win., .308 Win., .30-06, .300 Win. Mag. — and is available in three configurations: black synthetic, black synthetic combo (with a Burris 3-9x40mm riflescope) and a wood-stocked 150th Anniversary Limited Edition.
MSRP: $609/black synthetic; $729/combo; and $1,069/Anniversary
Mauser M-18

More than 120 years ago, the introduction of the M98 action transformed everything that was known about bolt-action rifle design. While the M-18 Mauser isn't as monumental as the M98 was in its day, the level of quality Mauser has brought to the budget-friendly sporting rifle category is equally as jaw-dropping.
According to Mauser, the goal of the M-18 is to return the art of rifle building to its original form — pure, no-frills workmanship — by offering a genuine tool for genuine hunters with a sensational price-to-performance ratio.
Features of the M-18 include a three-position safety system that acts directly on the trigger lug, soft grip inlays on the grip and fore-end, a removable double-row five-shot magazine, cold-hammered barrel and an adjustable direct-action trigger.
Unique to the M-18 is what Mauser is calling a "multi-purpose-cap," which consists of a quickly removable butt pad that opens to allow access to an in-stock storage compartment. As released in early 2018, the rifle is currently available in .308 Win. and .30-06. Come July 2018, .243 Win., .270 Win., 7mm Rem. Mag. and .300 Win. Mag. options will be added to the M-18 family.
MSRP: $699.99
Bergara B-14 Ridge

If you're seriously shopping for a bolt-action sporting rifle and have yet to look under the hood of a Bergara, your search simply is not complete. New for 2018, the B-14 Ridge features a molded synthetic, glass-fiber reinforced polymer stock, which adds as much strength to the rifle as is does beauty. A SoftTouch coating is then applied to create a soft yet tacky feel for exceptional grip. The Bergara 4140 CrMo steel barrel is finished in matte blue and available in a 22-inch (7.9 pounds) and 24-inch (8.1 pounds) configurations. B-14 Ridge stocks are bedded with integral pillars for stability and enhanced accuracy, and the barrel is threaded to accept muzzle brakes or suppressors.
And, of course, what would a Bergara rifle be without mentioning the Spanish Bergara barrel around which this rifle is built? The action is Bergara's own B-14 Action, featuring a two-lug bolt with a sliding plate extractor and a "coned" bolt nose and breech to create ultra-smooth feeding and extraction. The Bergara curved trigger comes set at near 3 pounds, and the action is drilled and tapped to fit Remington 700 style rings and bases.
The B-14 Ridge is available in: .22-250 Rem., .243 Win., .270 Win., 6.5 Creedmoor, .30-06, .308 Win., .300 Win. Mag. and 7mm Rem. Mag.
MSRP: $865
Mossberg Patriot LR Hunter

It's been a handful of years since Mossberg first unveiled the Patriot, and the family of Patriot rifles has continued to grow each year since. To date, Patriot models include: Hunting, Vortex-scoped combos, Night Train, Youth, and Predator— with stocks available in either walnut or synthetic. For 2020, Mossberg added the Patriot LR Hunter to the lineup.
The entire Patriot line is best known for Mossberg's LBA (Lightning Bolt Action) Adjustable Trigger, which is adjustable from 2 to 7 pounds and designed to eliminate creep. The Patriot's button-rifled fluted barrels are free-floated and have a recessed crown, and the spiral-fluted bolt features an ergonomic bolt angle and knurled bolt handle for quick cycling of the action. They're sweet-looking rifles.
New features on the LR Hunter include its Monte Carlo stock with machined aluminum bedding pillars, a fluted and threaded barrel and an ergonomically shaped stock with grips that are ideal for both benchrest and field shooting. The stock is also polymer-coated to provide a micro-texture surface for an improved grip.
The Patriot LR Hunter is available in either .308 Winchester, .300 WIN. MAG., 6.5 Creedmoor or 6.5 PRC.
MSRP: $797
Savage Impulse

When most people hear "straight-pull bolt-action", they think of European rifles. Understandable, as the system was pioneered by Mannlicher and is probably best known for its use in the Swiss K31. Savage was looking to change that perception in 2021 when they introduced the Savage Impulse. An American-designed and made straight-pull rifle, the Savage Impulse utilizes modern manufacturing methods to create a system that's smoother, faster and at least as accurate existing straight-pull rifles.
The Impulse uses what Savage calls the Hexlock action, which features six ball bearings and corresponding detents as opposed to traditional locking lugs. Because of how this design cleverly takes advantage of leverage, it requires the shooter to use less force to unlock it. The resulting action is incredibly smooth and fast, enabling faster follow-up shots and target acquisition.
Like many Savage bolt-actions, the Impulse features the company's AccuFit, AccuStock and AccuTrigger systems for enhancing ergonomics and practical accuracy. As a bonus, the bolt handle on the Impulse is easily reversible too, making it a great choice for lefties.
Savage has four Impulse models available in a variety of calibers, making them suitable for hunting a wide variety of game as well as for more tactical applications. Impulse models include the Hog Hunter and Big Game available in .243 WIN., 6.5 Creedmoor, 300 WSM, .30-06, 300 WIN. MAG. and .308 WIN. There is also the Impulse Predator available in .22-250 REM, .243 WIN, 6.5 Creedmoor and .308 WIN., and the Impulse Elite Precision available in either .308 WIN., 300 PRC, 300 WIN. MAG., 338 Lapua, 6.5 Creedmoor or 6mm Creedmoor.
MSRP: $1,397
Savage 110 Storm

For rifle shooters, the Savage 110 is as much a household name as Remington 870 is for shotgunners. The 110 has seen its share of innovation in its 60-year reign, but 2018 perhaps marks the biggest advancements that the 110 has ever experienced.
New for 2018 is the Savage 110 Storm, which features all the tried-and-true guts of the Model 110 action, but with a completely different body centering around the AccuStock. The Savage AccuStock consists of a rigid rail system embedded in the stock that extends through the fore-end of the rifle, engaging the action three-dimensionally along its entire length. But here's the tangible part: The AccuStock also features five comb risers and four length-of-pull inserts that are included to provide the perfect fit — and it's all easily interchangeable and locked down by the buttplate screws.
And, with 17 chamberings available, finding a Model 110 Storm to "fit" your needs should be quite simple.
MSRP: $849
Weatherby Mark V Backcountry 2.0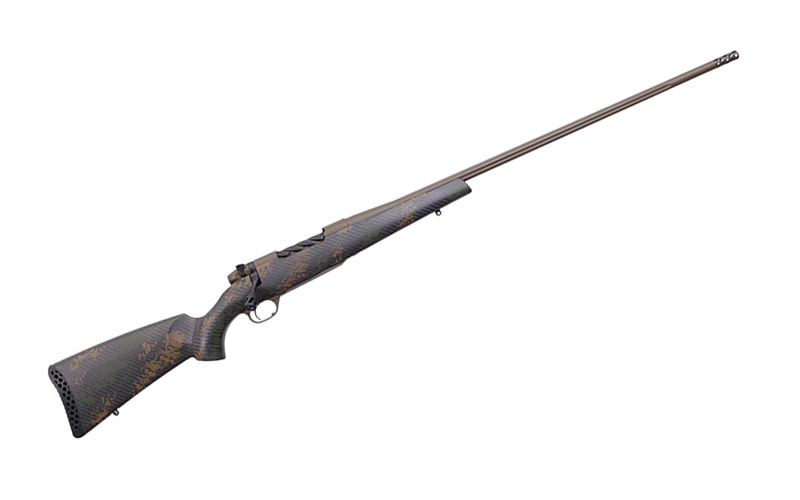 As the name implies, Weatherby designed the Mark V Backcountry 2.0 to be the ultimate backcountry hunting rifle. Built to be rucked long distances deep into rough country without becoming cumbersome, Weatherby utilized many modern materials and construction methods to bring the weight of the Mark V Backcountry 2.0 to be as low as possible.
Space-age materials like carbon fiber and titanium are expensive, however, so the Backcountry 2.0 is available at a few different price points depending on options. If purchasing the most expensive variant, the Backcountry 2.0 can weigh in at less than five pounds, making it ideal for hunting that requires a good amount of trekking. Regardless of the price, each Backcountry 2.0 comes bedded in a carbon fiber Peak 44 Blacktooth stock, still making the rifle much lighter than most similar models on the market.
Because large calibers fired from light rifles aren't always the most fun to shoot, Weatherby has also included a 3DHEX recoil pad and Accubrake ST with each Backcountry to help ease the pain.
In terms of mechanical accuracy, Weatherby guarantees sub-MOA capabilities out of the Backcountry 2.0, and the included adjustable single-stage TriggerTech trigger should help with practical accuracy as well.
The Weatherby Mark V Backcountry 2.0 is available chambered in .240 WBY MAG, .257 WBY MAG, .270 WBY MAG, .280 Ackley Improved, .300 WBY MAG, .308 Winchester, 6.5 Creedmoor, 6.5 WBY RPM and 6.5-300 WBY MAG. Some are available in left-hand configurations as well.
Kimber Open Range Pro Carbon

Launched in 2020, the Kimber Open Range Pro Carbon series was yet another rifle line to get caught up in the carbon fiber craze. It features an AG Composites carbon fiber stock, a 24-inch PROOF Research carbon fiber-wrapped barrel and a total weight of just over 6 pounds when unloaded.
The Kimber Open Range rifles utilize Mauser-style, controlled-feed actions and feature precision machining in their barrels and chambers. This results in an incredibly consistent lockup and is what enables Kimber to guarantee sub-MOA accuracy out of these guns. The adjustable match-grade trigger should help shooters squeeze every last bit of accuracy out of the design as well.
For hunters or shooters who tend to subject their rifle to the conditions of the great outdoors, the Open Range series features Kimber's all-weather KimPro finish, and the stock is available in a camouflage pattern as well.
Kimber Open Range Pro Carbon rifles are available in either 6.5 Creedmoor or .308 Winchester.
MSRP: $3,301
Springfield Waypoint 2020

Springfield turned some heads in 2020 when they released the Waypoint, the company's first bolt-action rifle in over 100 years. It uses a Remington 700 action, but a lot has been done to improve upon the design. The bolt has been spirally fluted, polished and then nitrided to reduce friction as much as possible, resulting in what feels like an action that's much smoother than traditional Remington 700s.
The Waypoint's barrel is advertised as being capable of .75-MOA accuracy and is threaded 5/8×24 for attaching suppressors, although they ship with an SA Radial muzzle brake attached. The barrel is also available with an optional carbon fiber sleeve.
The stock is made from carbon fiber and includes an adjustable cheek comb, and each rifle includes an adjustable TriggerTech trigger as well. The cherry on top of each Springfield Waypoint is the slick camouflage paint job each receives before shipping, with two different patterns to choose from.
The Springfield Waypoint is available chambered in .308 Winchester, 6mm Creedmoor, 6.5 Creedmoor and 6.5 PRC.
SIG Sauer CROSS

Sig shook things up in 2019 when they announced the CROSS. It was the company's first bolt-action rifle to be released since the 1990s, but being made by Sig wasn't the only thing unique about it. Sig claims that the CROSS was designed to "meet the demands of both precision long-range shooting and extreme backcountry hunting", and one look at the gun will tell you that is true. With skeletonized parts throughout and the liberal use of lightweight materials, Sig markets the CROSS as being the "lightest and most portable rifle in its class" due to its sub-6.5-pound weight and folding buttstock.
Portability and a light weight do not a precision rifle make, however, but thankfully, the CROSS is plenty accurate as well. Available in either .308 Winchester or Sig's .277 FURY with a 16-inch barrel, or in 6.5 Creedmoor with an 18-inch barrel, all CROSS rifles feature a solid, single-piece receiver that is more than capable of producing sub-MOA groups.
Other precision features on the Sig CROSS include its highly adjustable buttstock, 2-stage match trigger and three-lug bolt.
MSRP: $1,779
Editor's Note: Adam Borisenko contributed to this article.
Editor's Note: This article originally appeared in the Shooter's Guide 2018 of Gun Digest the Magazine.
---
Build Your Rifle IQ:

---

---

NEXT STEP: Download Your Free Storm Tactical Printable Target Pack 62 Printable MOA Targets with DOT Drills - Rifle Range in YARDS

This impressive target pack from our friends at Storm Tactical contains

62 printable targets

for rifle and handgun range use. Target grids and bullseye sizes are in MOA. Ideal for long-range shooting!

Subscribe to the Gun Digest email newsletter and we'll send your print-at-home target pack right away.

Just enter your email address below.

---