Updated 3/22/2023
Few guns are more fun to shoot than a .22 pistol. Here are our top rimfire handgun choices that will provide hours of affordable backyard shooting enjoyment.
What are the best .22 pistol options available today:
Like so many shooters, the very first handgun I ever fired was a .22 LR — my father's Smith & Wesson K-22 Masterpiece. Since that time, I've shot a wide variety of pistols chambered for a number of different cartridges, but when I'm looking to have low-cost fun at my backyard shooting range, you can bet a .22 pistol will be there.
Whether I'm shooting a bag of dollar-store balloons, adding vent holes to an empty soda can or pureeing the leftover Halloween pumpkin that's started leaking internal fluids on my front porch, I find no end of cheap targets to punch with a .22 handgun.
And now that .22 LR ammunition is once again widely available — and sanely priced — I can have all that fun on a shoestring budget.
In addition to being such fun to shoot, there's also a practical side to .22 handguns: They serve to dispatch vermin, harvest small game … and you can compete in small bore competitions.
I believe that .22s are the ideal training pistols for new and experienced shooters alike. The minimal recoil, muzzle rise and blast allows rookie shooters to control these guns effectively — and even experienced shooters should, from time to time, run through a few boxes of .22 for a low-cost, low-impact tactical tune-up.
The mild .22 offers a great platform for improving trigger control and other important shooting skills.
Here's a list of eight great .22 pistol options currently on the market. They vary in price, design and function — but they all share one common (and important) trait: They're loads of fun to shoot.
Ruger Mark IV: The Classic .22 Pistol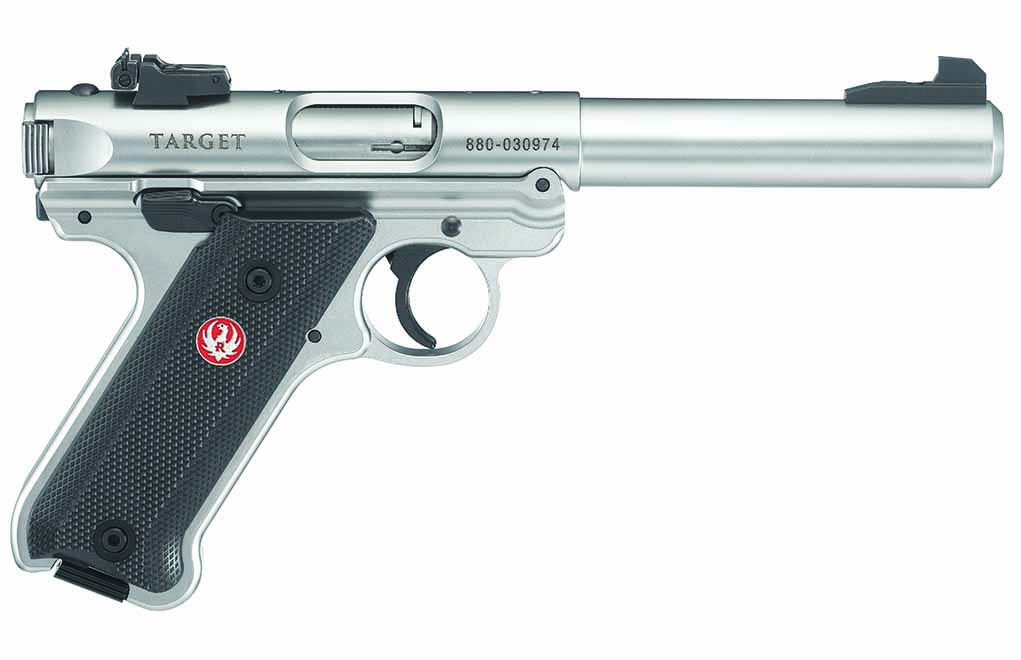 Ruger makes a number of excellent .22 handguns, and the brand has earned multiple mentions on this list. Leading off is the Mark IV. As the name implies, this is the fourth generation of the family of semi-auto pistols that set the standard for blowback-operated .22s.
As you might expect, the Mark IV is extremely reliable and is capable of superb accuracy right out of the box. What you might not expect, however, is how simple this gun is to break down for routine maintenance.
If Ruger's blowback semi-auto pistols have a blemish, it's the fact that they're not easy to field strip — until now. With the push of a button, the Mark IV can be disassembled … and cleaning is a snap.
There are a wide variety of configurations of this pistol, including everything from the classic Standard model to target, hunting and tactical versions. MSRP: $519-$1,039 www.ruger.com/
Smith & Wesson Model 617
Like Ruger, Smith & Wesson offers several excellent .22 rimfire guns. One of the very best is their Model 617, a 10-shot stainless double-action revolver built on their sturdy K-Frame. The 617 is fine for backyard plinking, but this is a gun that was built for serious accuracy.
It features a full-length underlug, stainless-steel construction with a satin stainless finish and excellent adjustable sights. The polymer grips fit grown-up hands, and at 44 ounces it's hardly a featherweight. Nevertheless, the Model 617 is an excellent .22 that's built for competition — yet it's fun to shoot. MSRP: $959 www.smith-wesson.com
Browning 1911-22
John Moses Browning invented the 1911 pistol, and now the company that bears his name offers an 85 percent scaled-down version of the original 1911 chambered in .22 LR.
There are several versions of the fun-to-shoot 1911-22, including the Black Label Medallion Full-Size version shown here, which comes with an alloy frame and machined aluminum slide, 4¼-inch barrel, rosewood grips with a gold Buckmark logo, and three-dot sights.
The 16 versions of the Browning 1911-22 currently in production offer a wide variety of optional features, including accessory rails, threaded barrels and a number of finishes. Regardless of which version you choose, these pistols combine the look and feel of a 1911 in a reduced package that's accurate, reliable and a joy to shoot. MSRP: $749.99-$879.99 www.browning.com
Charter Arms Target Pathfinder
Charter Arms produces solid guns at reasonable prices, and the Target Pathfinder is no exception.
This double-action .22 revolver comes with a 6-shot cylinder, matte stainless finish and a large, comfortable polymer grip with finger grooves. With a 4.2-inch barrel, these guns weigh just 24 ounces — so they're a suitable option for teaching a young shooter the ropes … and yet they're both accurate and durable.
Plus, they offer the reliability of a revolver, which means you'll spend less time cleaning your gun and more time actually shooting it.
Plan on buying a boatload of .22 ammo (and you can afford to do so since this gun is so inexpensive) and punching tin cans and paper targets in the backyard with this revolver for years to come. MSRP: $425.60 www.charterfirearms.com
Ruger 22 Charger
Hardly a conventional .22 pistol, the Charger is a product of Ruger's 10/22 blowback action.
If you know anything about the 10/22, you're aware of the gun's reputation for unfailing reliability, so you can expect this gun to run with a wide variety of ammunition.
The threaded, cold hammer-forged 10-inch barrel is capable of superb accuracy, and the included top rail provides a platform for mounting all sorts of optics.
Other key features borrowed from the larger 10/22 semi-autos include Ruger's BX-15 15-round magazine and a crisp, smooth trigger. Each Charger includes a bipod to help stabilize the pistol for maximum accuracy, and if you plan on hunting small game with a .22 pistol, this is an excellent choice.
It's also a great gun for backyard plinking, and it's extremely affordable. There's even a breakdown model that disassembles easily for convenient storage and returns to zero when pieced back together. MSRP: $399 www.ruger.com/
Smith & Wesson SW22 Victory
The SW22 Victory is a recent addition to Smith & Wesson's firearm line — and it's a welcome addition.
This blowback-operated semi-auto offers a long list of excellent features, including adjustable fiber-optic sights, a Picatinny rail for mounting optics, textured polymer grips and an adjustable trigger stop.
Two 10-round magazines come standard, and takedown is extremely easy, requiring the removal of a single screw.
The match-grade barrel can be easily removed and swapped out as desired. There are models available with Kryptek camo and threaded barrels, and Smith & Wesson's Performance Center offers a number of high-end models with extra touches, like carbon-fiber barrels and pre-mounted red-dot optics.
Regardless of which version you choose, the SW22 is a superb .22 handgun that's accurate, budget-friendly and fun to shoot on any occasion. MSRP: $454-$945 www.smith-wesson.com
Browning Buck Mark
Another blowback .22 semi-auto, the Buck Mark is available in, ironically, 22 different styles — perfect for everything from backyard shooting to small game hunting and competition.
These guns offer excellent reliability and very high build quality, as well as a number of great optional features, such as optional fluted and threaded barrels, full-length top rails and a choice of walnut or polymer grips.
Alloy receivers keep weight to a minimum, yet these pistols are large enough for adults to comfortably grip and shoot. They come equipped with good triggers, and they cycle reliably with a wide range of ammo — you can expect to spend your time on the range shooting instead of clearing jams.
Buck Mark pistols look and feel like expensive firearms, and yet they're affordably priced. MSRP: $439.99-$1,079.99 www.browning.com
Ruger New Bearcat
Rounding out our list of top-flight .22 handgun options is Ruger's sleek New Bearcat revolver, a perfectly-proportioned rimfire revolver that pays homage to Bill Ruger's love of single-action wheelguns.
With an overall length of 9 inches and a weight of 24 ounces, this is a gun that's great for young and old shooters alike. Available in both blued and stainless versions, the Bearcat is adorned with hardwood grips and bear and cougar rollmarks on the cylinder.
The capacity is six rounds, and the fixed sights are basic but functional for shooting at close to moderate ranges. The single-action design with Ruger's patented transfer bar system is very safe, and this is a great gun to introduce new shooters to the sport since the hammer must be cocked between shots.
This is a classic Ruger design that has been a favorite of shooters young and old for generations — isn't it time you made space in your safe for at least one more .22? MSRP: $819-$919 www.ruger.com/
---
Find Your Next .22 Pistol
---
Colt Woodsman .22
When it comes to the .22 pistol for hunting, the classic Colt Woodsman is hard to beat. Designed by John Browning in 1915, it was the first commercially successful semi-auto .22 pistol.
The Woodsman was a handfit .22 pistol, designed to feed cartridges smoothly thanks to slanted magazines. That design solved rimfire cartridge feeding issues that had plagued other designers of the era.
Today, a used Colt Woodsman will fetch north of $4,000 for the Match Target variant in excellent condition. In fact, they are much sought-after collectors' items. Indeed, many still consider it to be the best .22 target pistol of all time.
First Series and Pre Woodsman Colts are characterized by a 6 5/8-inch barrel in the Target model, or a 4 ½-inch tube in the Sport version. Moreover, Second and Third Series pistols sported 6- and 4 ½-inch barrels in the Target, Targetsman, and Huntsman versions, respectively. MSRP: Discontinued. www.colt.com/
High Standard .22 Pistol
The High Standard .22 — sometimes spelled "Hi-Standard" as engraved on the slides of some early models — is chiefly regarded as a .22 target pistol.
High Standards were produced starting in 1926. For service pistol competition, the High Standard reigned supreme in its role "on the line." Available in a dizzying array of model designations, High Standards were known for their exceptional barrels and triggers.
Popular models included the High Standard Supermatic and Supermatic Trophy, High Standard Olympic and High Standard Victor. In 2018, the company (then known as the High Standard Manufacturing Company) made its last valiant stand and ceased operations.
In the collectible gun market, a 102 Series Supermatic Trophy will command upwards of $1,350 at auction. And you'll still see them winning trophies in NRA Bullseye Precision Pistol competition. MSRP: Discontinued.
Smith & Wesson Model 41

The reigning king of the .22 pistol in NRA Bullseye competition is unquestionably the Smith & Wesson Model 41. With its 105-degree grip angle to mirror the 1911, it was the darling of post-World War II target shooters. In fact, it remains so for precision pistol competition today.
With barrel lengths of 5 1/2, 7 and 10 1/2 inches, weighing around 44 ounces (depending on barrel), and with a honed trigger that breaks like fine china (2.75 to 3.25 lbs), the Model 41 was designed to keep your front sight on the 10 ring.
According to current gunbroker gun auctions, a Model 41 will set you back about $1,200 NIB. Similarly, expect to pay $1,350 or better for the Performance Center and 7-inch barreled versions. Hence, it's one of the more expensive .22 target pistols you can buy and remains the best .22 pistol in current production for rimfire competition. MSRP: $1,500-$1,763 www.smith-wesson.com
Colt King Cobra Target .22 LR
If you want the classic look and feel of one of Colt's famous snake guns, but with a bit less bite, the King Cobra Target in .22 LR is the answer. Colt has been hard at work bringing some of its other larger caliber snake guns back, like the Python, but now new-production baby snakes are available as well.
The King Cobra Target .22 LR has a 10-shot cylinder, a polished stainless-steel finish and is available with either a 4- or 6-inch barrel. Both barrel length options feature a 1:16RH twist. They come with adjustable rear target sights and fiber optic front sights, and both versions also ship from the factory adorned with Hogue rubber grips for a more pleasant shooting experience. MSRP: $999 www.colt.com
Walther PPK/s 22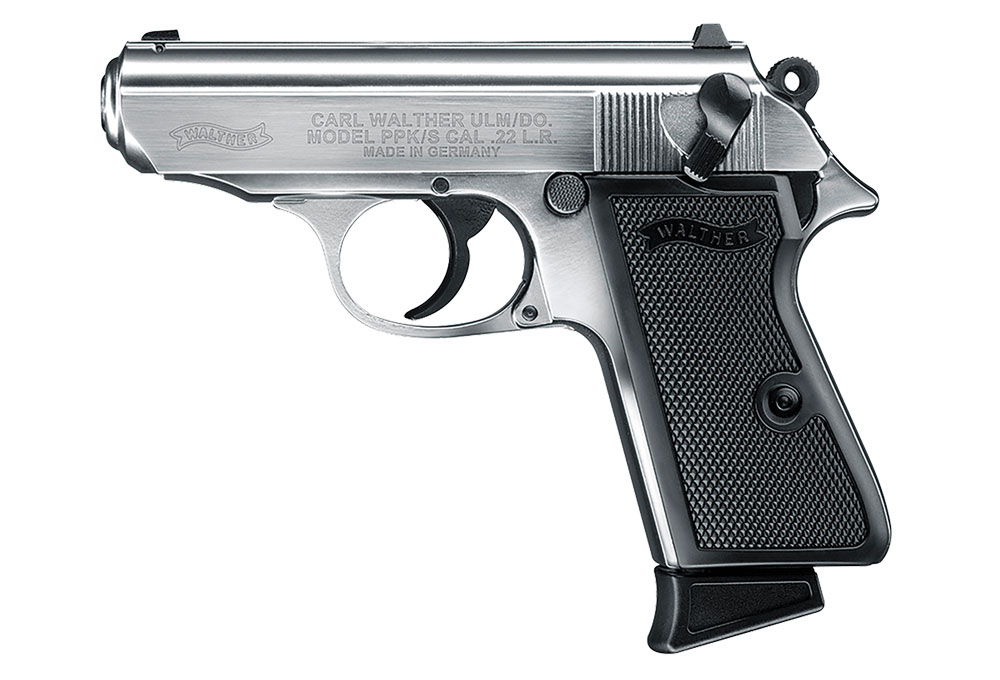 An elegant .22 LR pistol scaled to the exact dimensions of the popular .380 ACP model, the Walther PPK/s 22 is a plinker's dream come true.
The upscale .22 pistol sports single action/double action (16.5/6.1 lb. trigger pull) with a safety decocker, and a threaded barrel for suppressor use. The little James Bond .22 spews enough firepower to take on slithery evil-doers (such as rattlesnakes) that endanger the free world.
With its puny 3.3-inch barrel and 10-round capacity, it's a looker. MSRP: $449 www.waltherarms.com
Kel-Tec PMR-30

The only .22 Magnum in our list, the lightweight Kel-Tec PMR-30 packs quite a wallop (in rimfire terms). So it's ideal for those who can't shoot larger calibers well but still want to pack heat for self-defense.
As its model name suggests, it holds 30 rounds of .22 WMR and has an integral light/laser rail, a reminder of its intended use for some as a home defense handgun. MSRP: $495 Black Finish, $469 Nickel Finish. www.keltecweapons.com
Glock 44
Released during the frenzy leading up to the 2020 SHOT Show, the Glock 44 is the first .22 pistol made by the Austrian manufacturer. It's size? Identical to the Glock 19 Gen 5. That makes it the perfect trainer for one of Glock's most popular concealed carry handguns.
The Glock 44 sports a 4.02-inch barrel and tips the scales at just a smidge over 12 ounces. Magazine capacity is 10 rounds. And a threaded barrel for suppressor use is available.
Plus the polymer .22 pistol retains Glock's well-known polygonal rifling. Glock says extensive testing proved reliable with a wide array of .22 LR ammo evaluated. MSRP: $430 us.glock.com
Ruger LCP II .22
Face it, small concealed carry pistols are oftentimes difficult to shoot. Light and bucky, even in milder calibers such as .380 ACP the easy-to-carry heaters oftentimes prove too much for effective self-defense. Ruger's answer, create the nearly perfect training pistol.
The LCP II .22 LR is modeled after the company's extremely popular concealed carry gun, mirroring the .380 in nearly every way. Yeah, its operation has been tweaked—straight blowback—and it features the company's Lite Rack system, making the rimfire's slide easier to manipulate. But from there it's a dead ringer for the original and one heck of a training aid, one that costs pennies on the dollar to perfect. Even if you don't run a Ruger for self-defense, the 2.75-inch, 10+1 pistol still proves an excellent and affordable option to hone your skills to a razor's edge.
It's a shooter too—no surprise from Ruger. The company knows .22 LR, and the micro pistol is as fun as every full-sized plinker they offer and ideal for wreaking havoc on soup cans, though a bit closer in. MSRP: $439 www.ruger.com
Sig Sauer P322
The Sig Sauer P365 has quickly became one of the country's favorite concealed carry pistols, and given the similarities, it won't be surprising to see the Sig P322 become a very popular choice for plinking too. Especially for those who like to accessorize their handguns.
However, the P322 is not exactly just a .22 LR version of the P365. The rimfire is slightly larger and uses an internal single-action-only hammer rather than a striker mechanism. It is about as customizable as the P365 though, as the P322 comes with a 1913 rail, an optics-ready slide (RMSc-pattern footprint) and a threaded barrel. The pistol also takes advantage of .22 LR's small size by packing 20 rounds into the standard magazine, of which two are included. Sig also has 25-round mags for purchase separately.
Other features that should be appreciated are its integrated, slightly flared magwell for easier loading, its fiber optic front sight and its ability to swap triggers between flat and curved models. The P322 is also a good choice for lefties, as the manual thumb safety and slide stop are both ambidextrous and the mag release is reversible. MSRP: $399 www.sigsauer.com
Corey Graff and Elwood Shelton and Adam Borisenko contributed to this article.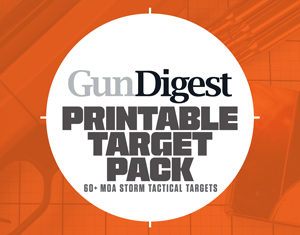 Next Step: Get your FREE Printable Target Pack
Enhance your shooting precision with our 62 MOA Targets, perfect for rifles and handguns. Crafted in collaboration with Storm Tactical for accuracy and versatility.
Subscribe to the Gun Digest email newsletter and get your downloadable target pack sent straight to your inbox. Stay updated with the latest firearms info in the industry.