A review of some regal German engineering in the form of the Mauser M18 bolt-action rifle.
It was 1955, and I was a 12-year-old kid hunting deer in Minnesota's heavy timber northwest angle with my dad. The years after World War II had the USA awash with surplus military rifles of every kind. As such, my rifle, as assigned by dad in those days, was a German Model 98 Mauser chambered in the German military standard 8mm. That was my first rifle, and on the hunt resulted in my first harvested whitetail.
During the years that followed, the Mauser brand in German surplus rifles, and also a few lookalikes in additional brand names, were a major part of my total experience when it came to learning the craft of using a rifle. Model 95s in 7mm, make-over rifles chambered in 30-06 and even .45-70 (large ring) took up their share of space in the old-school-style basement gun room. Even today, far too many years later, I still carry a blue-printed receiver Mark X Mauser that mounts to a custom barrel and is chambered in .224 Valkyrie. Old habits die hard.
With a call from one of my brand contacts in July of this year, I became quickly involved with the introduction of a totally new Mauser, German built and engineered from the buttstock up. With just a few words over an email introducing the basic rifle, I became hooked at once on another very famous, and to this day solid brand-named offering, in firearms.
What's In A Name?
Mauser's Model 18, which also carries the name "Sauana" attached to it, is a hunter's rifle to the core. Upon its arrival for testing and overall evaluation, I noticed the design in its polymer synthetic stock to be very attractive to the hunter who covers a lot of ground and can't deal with massive amounts of excess weight. While the rifle is also offered in a wood-stocked model, the synthetic design carried soft grip inlays as well as buttstock storage for some small items that fit the bill perfectly for the long-distance mountain hunter. Every single ounce counts when on the move.
This rifle stock is adequate for the type of rifle that the M18 is, built for tough use with a lighter-weight handling. I found the barrel at 22 inches to be free floated to the receiver ring and lacking any advanced bedding systems, as you'll soon see little in the way of a general-purpose hunting rifle out-shooting this new offering by Mauser.
With a carry weight load of 8½ pounds—including a scope—the new Mauser 18 would be classed as a light porter and designed well away from the current trend in heavy chassis rifles and other long-range big-game offerings. Mounting the GemTech Dagger suppressor, the rifle's weight comes up just under 10 pounds. Keep in mind that this rifle is offered as a medium cartridge system (.308/6.5 Creedmoor), as well as a heavy magnum version. Carry weight will vary with different chambering and add-on elements associated with sight system and sound suppression.
The stock drops down to a slim forend that mounts sling swivels and also houses a wide, generous box magazine design that makes use of an inline magazine. Just ahead of the magwell is a button that functions with total ease when dropping the box for loading.
So many times this is where rifles fall short: The magazine itself allows a very smooth, easy cartridge drop straight down into it, and when installed again down into the magazine well, the fit is perfect and retains a solid lock. Nothing is worse than having a magazine drop into 6 inches of powder snow with a trophy buck looking straight down the barrel as you're working the rifles action.
In exact terms of chambering for this rifle, Mauser is offering it in the following cartridges: (mini models) .222 Rem. and .223 Rem.; (medium models) .243 Win., 6.5 Creedmoor, 6.5×55, .270 Win., .308 Win., .30-06 Springfield, 8×57 IS and 9.3×62; and (magnum models) 7mm Rem., and .300 Win. Mag. The total magazine capacity is five rounds for the medium-grade cartridges, and four rounds as applied to the magnum group.
In terms of barrel length, 22 inches meets the yardstick, and this is a nice length when applying a full-size suppressor, like my GemTech military-grade unit.
The Ever-Evolving Action
The rifle's action is a major change from the old-school Mauser-style turn-bolts. This action makes use of a straight, clean 0.805 one-piece bolt tube that retains a rotating head, button extractor and three locking lugs. The bolt handle will produce a pivot turn when at full function of 60 degrees regarding an opening angle. I found this to be a very fast bolt design, and it didn't require much, if any, forced lifting of the bolt when in the process of making shots off-hand or from benchrest positions during a second shot. The action was very smooth, and lockup was fast and solid regarding my selected 6.5 Creedmoor fodder. The bottom line is that I like this rifle a whole lot from a hunter's perspective.
The controls on the rifle are field-dirt simple, with a thumb safety on the right side of the receiver housing that's a push-forward firing-position design. I found the safety to be a bit noisy when operated with a single thumb push, but when using two fingers to guide the latch, all sound leaves the function.
The safety is a trigger-lug design and a direct link to the rifle's firing mechanism. The safety has three-position full safe, ready and fire. Keeping the rifle in full safe position, being all the way to the rear, the action is locked, but the magazine can be removed. Using the second position, the action can be opened but the fire controls remain locked. With the safety lever full forward, the rifle is now operational. The system is outstanding for use in rifle scabbards when on horseback or packed into vehicles. In full safe, the bolt won't open, which has been an issue in the past for many mounted hunters in Western states. When the rifle is cocked, a red pin indicator is protruding from the rear of the bolt. Upon firing or release of the cocked bolt, this red pin recedes back into the rear of the bolt face. These are a hunter's dream features and will be well received by owners of this rifle.
Downrange
If lacking accuracy, I don't care what a rifle offers in terms of handling and looks—and the heart of the hunting rifle is its accuracy. What can't hit can't function. This, however, isn't the case regarding the Mauser M18. This rifle shoots. Even on the first day—after mounting a better grade 3-18x50mm Zeiss Conquest V6 over the standard Remington Model 700 bases by way of pair of six screw sniper-grade 30mm rings—it was time to see what made the new rifle tick.
Shooting for zero and bore sighting required two rounds sent to 50 yards. Right off, the rifle handled like a dream. (I own some much more expensive big-game rifles that don't have the smooth feel and control of this rifle.)
After just returning from a 100-yard to one-mile shooting event in Wyoming, and because we handload by way of Federal and RSCB all of our long-range loads via the 6.5 Creedmoor chambered rifles, I elected to run my handloaded Berger 130-grain Match bullet loads for starters in the live-fire test phase regarding the Mauser M18.
With a cold bore and green pipe to match, the rifle flat-out put bullets exactly where I wanted them. From the basic bore sighting round, one hit 3 inches high and 3 inches to the right of target center. It was sight correct and onto round two. Setting click adjustments by way of the ¼ MOA turret adjustments put the bullet spot-on with the second round fired.
Not caring to burn off my competition-grade handloads on a short range zero target, I moved at once to the 100-yard target to see what a three-shot group would look like. Keeping in mind that the barrel was green and the rifle was a light sporter, I was pleasantly surprised when the bullets impacted within a rough 1-inch group. What that told me was to get down and get serious on the next series of rounds downrange.
It needs to be noted here that in terms of testing for the M18's accuracy, both the standard barrel and a suppressed run were applied to the overall test. The rifle would be hunted out on the Dakota Missouri breaks using a suppressed system, and it has been my experience that rifles can change points of impact when the suppressor is installed or removed. It should also be pointed out that those first runs returning MOA results, and a quick zero as well, were the results of a suppressed weapon.
Getting out to the big 1,000-yard range and taking on steel from 200 through 500 yards proved interesting. Using a database DOPE developed as part of a previous hunt shooting 6.5 Creedmoor, the rifle slapped steel like a champion while shooting the handloaded 130-grainers. Suppressed, the rifle hissed moving air out beyond the barrel, and the bullet slammed steel with a loud crack. Selecting steel at variable ranges, as in a shot at 300 yards followed up with a second shot at 500 yards, made for some turret twisting, but I also began to develop a trust in the rifle's performance.
The single-stage, 3-pound adjustable trigger was a dream to use. Set to a solid wall with no creep whatsoever, it was simple process: depress the crisp, 3-pound, let off the trigger and wait for the slap of a bullet on steel.
On hold for a good day lacking the normal South Dakota prairie wind, it was a week later that I again returned to the range for some serious group and long-range work with the M18. Targets included 100-yard group shooting, and coyote full-size silhouettes at 200 through 400 yards.
Observed and measured was that the push-feed bolt-action Mauser trimmed of all the old-school long-extractor mountings, safety via a three-position design directly on the bolt rear face, and a long-lift bolt handle. The gun didn't return anything over 1 MOA.
These results involved 10 different brands and bullet types throughout my accuracy range work. In fact, the Mauser M18 actually produced some groups with specific ammunition that would qualify it as "bench rest accurate." Now I know that's a mouth full to be sure, but facts indicate by bullets on paper the above to be absolutely true.
Final Observations
During the testing of the Mauser M18, I was advised by some circles that the rifle bolt tends to bind upon closing with a live round chambered. I found this to be true, but only when questionable sizing of rifle cases were involved. In effect, the Mauser M18 is so closely machined regarding chamber tolerances that only a perfect turn metered cartridge will slip into the rifle's chamber, lacking any felt contact with the chamber walls whatsoever.
While some won't say much about a current issue, I'll state—being a consultant for direct manufacturing companies in the ammunition industry—that with the dreaded COVID mess now behind us, we're still left with poor supply chains, availability of materials and very different sources deviating from normal channels that have led to some inconsistencies among even major name-brand manufacturers. My point here is simply don't be too quick to blame the gun.
When Black Hills Ammunition stepped forward and offered their new multipurpose 6.5 130-grain Creedmoor ammunition for testing, during its use I could close the bolt on the M18 with two fingers.
With the Mauser M18 generating almost perfect accuracy, built with top-end German design and engineering—and modestly priced—this rifle is about to see a whole lot of field time among American big-game hunters.
Editor's Note: This article originally appeared in the January 2023 issue of Gun Digest the Magazine.
---
More Bolt-Action Rifles: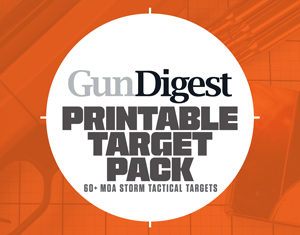 Next Step: Get your FREE Printable Target Pack
Enhance your shooting precision with our 62 MOA Targets, perfect for rifles and handguns. Crafted in collaboration with Storm Tactical for accuracy and versatility.
Subscribe to the Gun Digest email newsletter and get your downloadable target pack sent straight to your inbox. Stay updated with the latest firearms info in the industry.