The scout rifle needs to be short, lightweight, handy and chambered in .308 Win./7.62 NATO — a rifle to do just about anything needed from hunting to self-defense.
Updated 6/1/2023
What are five great do-all scout rifles?
What Are Scout Rifles?
The concept of the scout rifle was developed by recognized gun expert, the late Lt. Col Jeff Cooper. The rifle needed to be accurate with iron sights to 500 yards and powerful enough to take down large game animals for hunting or self-defense. For this, Cooper selected a bolt-action rifle (as these are far less restricted than semi-auto rifles) less than 40 inches long and weighing under 6.5 pounds.
He also chose the .308/7.62 caliber as an ideal all-purpose round and, as it is common with many militaries around the globe, easy to find.
There are many rifles that fit Cooper's criteria but then he added one very distinctive feature — a forward-mounted magnified optic with extended eye relief. Extended eye relief scopes are more commonly seen on handguns but there was method to Cooper's madness.
Speed and reliability were two of his concerns (another reason to opt for a bolt action) and he wanted to keep the area above the action free of any obstruction (like a scope). This allowed for scout rifles to be reloaded faster with stripper clips and ensured that ejection of empty cases was not engendered in any way.
Lastly, Cooper felt that having an extended eye relief scope prevented the development of tunnel vision and allowed the operator full peripheral vision and situational awareness. One drawback of extended eye relief scopes is that they lack the full magnification of larger rearward-mounted optics. Cooper felt that 2-3x magnification was sufficient.
There were some other less distinct features that Cooper insisted on, but they are not necessary to the core concept of the scout rifle. After all, he was building the rifle in his mind from scratch, so anything is possible. Only one company built Cooper his scout rifle while he was alive, the Steyr Scout. Since then, several more companies have come forward with their own Cooper-inspired scout rifles.


Steyr Scout Rifle

The original Scout Rifle, the Steyr Scout has all the features Cooper wanted. It's a lightweight rifle with backup ghost ring iron sights mounted on the receiver and not the barrel, a magazine cutoff device to be able to fire one shot only or with a 5-round detachable magazine. The polymer stock has a backup 5-round magazine in the buttstock. The fore-end of the stock sports an integral bipod that folds up completely into the stock, an accessory rail and five sling attachment points, another Cooper notion.
The Steyr Scout has a three-position safety with a fire option and two levels of safety, one locks the bolt and one does not. Of course, the rifle is available in different colors and calibers, as Cooper recognized that in some countries civilians are not allowed to own firearms that can function using military calibers. Extended capacity magazines (up to 20 rounds) are also available.
SPECIFICATIONS:
Steyr Scout
Caliber: .308 Win.
Barrel: 19 in.
Overall Length: 38.6 in.
Weight: 6.6 lbs. (without magazine)
Sights: Iron with rail
Stock: Plastic
Action: Bolt
Finish: Black, gray or green
Capacity: 5+1 rounds
Price: $1,889


Ruger Gunsite Scout Rifle

Ruger developed their own scout concept and dubbed it appropriately the "Gunsite Scout Rifle." Gunsite is, of course, the training facility established by Jeff Cooper.
These scout rifles feature a forward-mounted Picatinny rail for optics, ghost ring backup iron sights, a detachable 10-round box magazine (5 rounders are available), and a traditional scope mounting option. They are available in several different calibers.
The rifle was developed in conjunction with the Gunsite Academy and features their name engraved on the receiver. Interestingly, this rifle features a grey laminated wood stock that is weather resistant and includes rubber spacers that can be used to adjust the length of pull at the buttpad.
A synthetic stock model is also available, and in both stock types the barrel remains free floated. The barrel, available in two different lengths and in either stainless steel or blued, is cold hammer forged for improved accuracy and longer life. The barrel is topped off with a choice of different muzzle devices, a flash hider being the most common.
SPECIFICATIONS:
Ruger Gunsite Scout
Caliber: .308 Win.
Barrel: 16.1 in.
Overall Length: 38.5 in.
Weight: 7.1 lbs. (without magazine)
Sights: Iron with rail
Stock: Laminate
Action: Bolt
Finish: Black, gray or black
Capacity: 10+1 rounds
Price: Starts at $1,449


Savage Scout

Savage is known for making very accurate rifles at reasonable prices. The Model 11 Scout is no exception.
They key to any modern Savage rifle is the AccuTrigger, which allows you to adjust the trigger pull for increased comfort and accuracy.
The Savage AccuStock provides a rigid interface between stock, action and barrel, and supports parts along the entire length rather than at just two points. This diminishes pressure on the barrel and improves accuracy.
Like other scout rifles, the Savage 11 Scout is a bolt action with a forward-mounted optics rail, backup iron ghost ring sights, and a synthetic stock. Savage adds a cheek riser to the stock for improved comfort, a detachable box magazine with 10-round capacity, and a muzzle brake, along with three sling swivel points. It is only available in one size and one caliber.
SPECIFICATIONS:
Savage 11 Scout
Caliber: .308 Win.
Barrel: 18 in.
Overall Length: 40.5 in.
Weight: 7.8 lbs. (without magazine)
Sights: Iron with rail
Stock: Synthetic
Action: Bolt
Finish: Flat dark earth
Capacity: 10+1 rounds
Price: $919


Mossberg MVP Scout

Mossberg seems to be mostly known for its Model 500 shotgun, but the company makes plenty of popular rifles as well, including the Mossberg MVP Scout. One thing that sets the MVP Scout apart from other scout rifles is that it can accept both M1A and AR-10 magazines.
The longer length top Picatinny rail allows for more expansive options for optics while the backup iron ghost ring sights include a front fiber optic for improved visibility.
The short barrel is threaded so it can accept standard AR muzzle devices (Standard A2 flash hider is included) as well as a suppressor if so desired. The trigger pull is user adjustable from 3 to 7 pounds, the bolt handle is oversized for easier use, and the synthetic stock includes side rails for mounting accessories.
The rifle can be purchased with a Vortex scope and comes with a sling as well. It is only available in one size and caliber.
SPECIFICATIONS:
Mossberg MVP Scout
Caliber: .308 Win.
Barrel: 16.25 in.
Overall Length: 37.5 in.
Weight: 6.75 lbs. (without magazine)
Sights: Iron with rail
Stock: Synthetic
Action: Bolt
Finish: Black
Capacity: 10+1 rounds
Price: $711


Springfield M1A Scout Squad

Jeff Cooper was asked about the possibility of scout rifles being semi-automatic and he was certainly not opposed but insisted on reliability.
There is hardly a more battle proven and reliable semi-auto rifle than the M1 Garand and the M1A. Springfield Armory has been churning out M1A rifles for some time and has developed a scout version as well.
The Springfield Armory M1A-A1 Scout Squad takes the standard M1A concept and turns it into a much smaller and handier rifle with forward-mounted Picatinny rail, synthetic stock, and a recoil-reducing muzzle brake.
The rifle sports an 18-inch barrel, two-stage trigger, aperture adjustable iron sights, a standard box magazine, and gas piston-operated reliability in 7.62 NATO.
SPECIFICATIONS:
Springfield M1A Scout Squad
Caliber: .308 Win.
Barrel: 18 in.
Overall Length: 40.33 in.
Weight: 8.8 lbs. (without magazine)
Sights: Iron with rail
Stock: Synthetic
Action: Semi-auto
Finish: Black, tan
Capacity: 10+1 rounds
Price: Starts at $1,945
Editor's Note: This excerpt is from Modern Survival Guns: The Complete Preppers' Guide to Dealing with Everyday Threats, available now at GunDigestStore.com.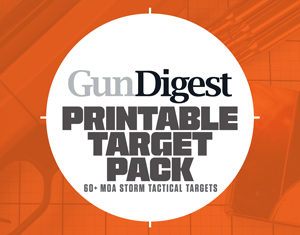 Next Step: Get your FREE Printable Target Pack
Enhance your shooting precision with our 62 MOA Targets, perfect for rifles and handguns. Crafted in collaboration with Storm Tactical for accuracy and versatility.
Subscribe to the Gun Digest email newsletter and get your downloadable target pack sent straight to your inbox. Stay updated with the latest firearms info in the industry.