[imagebrowser id= 459]
Morphy Auctions had a heck of start to 2016, moving $1.1 million worth of firearms at its January Las Vegas sale. And the Pennsylvania-based company is shooting to keep its momentum rolling with its next event of the year. Morphy is slated to hold a two-day auction April 9-10 at its Denver, Pa., location, with more than 1,500 lots ready to cross the block. The auction house has a fairly wide spectrum of firearms set for sale, including a number of one-of-a-kind guns. Here is a sneak peak of a few of the more desirable guns that are certain to have firearms collectors drooling at the sale.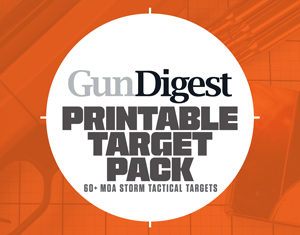 Next Step: Get your FREE Printable Target Pack
Enhance your shooting precision with our 62 MOA Targets, perfect for rifles and handguns. Crafted in collaboration with Storm Tactical for accuracy and versatility.
Subscribe to the Gun Digest email newsletter and get your downloadable target pack sent straight to your inbox. Stay updated with the latest firearms info in the industry.