Brand new for 2016, Lyman's Auto-Advance Remote Controlled Target System permits shooters to change over targets using a hand-held remote from up to 200 yards away.
This means that shooters don't have to wait for ceasefires to swap targets or walk down to the target stand to place a new sheet. Remote activation operates a scroll-like system, removing the used target and conveniently replacing it with a fresh sheet.
Whether used for serious target shooting or for casual plinking, no one can deny the inherent fun of shooting rimfire guns. Rimfires recoil very little, making them manageable for just about any shooter, and ammo is generally inexpensive in comparison to some of the larger centerfire cartridges. This ideal combination of affordability and lack of recoil means that shooters can participate in extended range sessions without tiring and without their pocketbook taking an intense hit.
Of course, shooters will need plenty of targets to make full use of their rimfire firearms. Many shooters will purchase sheets of bullseye, varmint and other paper targets to facilitate their target shooting needs. While this is certainly an effective way to shoot, there are some downsides, especially if you shoot at a public range or at a private range where other shooters will be present.
Every time a shooter wants to put up new targets, he or she must wait until a ceasefire is called and the firing line goes cold to walk out to where the targets are located. Because of this, time can be wasted waiting for the line to go cold or walking out to place new targets. Lyman's new target system saves time and allows rimfire shooters to get the most out of their trips to the range.
The Auto-Advance Target System is battery-operated and is easy to assemble and disassemble for transportation to and from the range. The target system's stand utilizes easy-to-find and inexpensive standard electrical conduit tubing, and its protection plates are rated for use with all rimfire calibers.
It comes with a 50-foot roll of standard bullseye targets, and additional 50-foot target rolls are available with bullseye, animal and silhouette designs. This kind of remote target advancing has only previously been available in expensive industrial-type systems, but this system is available at a more price-friendly $229.95. Additional target rolls are $19.98 each.
For more info visit lymanproducts.com
This article appeared in the Spring 2016 issue of Gun Digest the Magazine.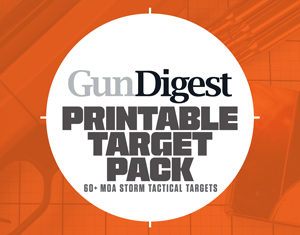 Next Step: Get your FREE Printable Target Pack
Enhance your shooting precision with our 62 MOA Targets, perfect for rifles and handguns. Crafted in collaboration with Storm Tactical for accuracy and versatility.
Subscribe to the Gun Digest email newsletter and get your downloadable target pack sent straight to your inbox. Stay updated with the latest firearms info in the industry.